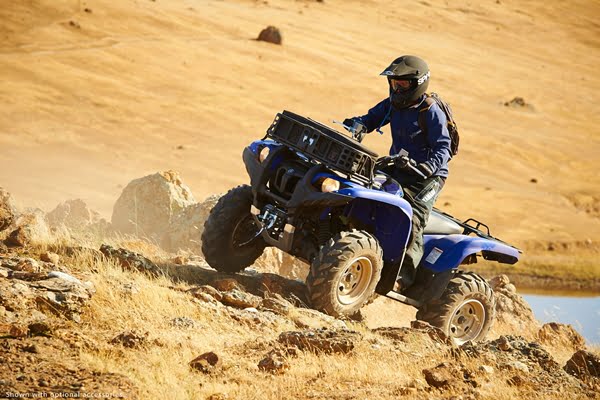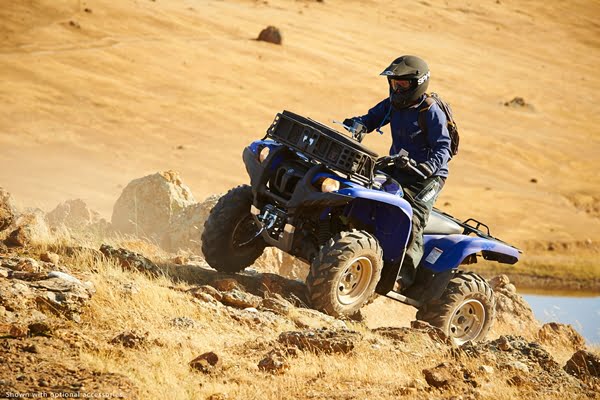 Since its introduction the Grizzly 700 EPS has been widely regarded as the benchmark model in the large-capacity automatic drive ATV class. Now Yamaha has released a new Grizzly 700 EPS aimed at raising the bar in this large-capacity ATV class even further.
The numerous technical changes for 2014 further enhance chassis and engine performance and satisfy the demands of everyone from leisure-oriented trail riders right through to professionals who use the rugged ATV in harsh operating work conditions.
The demand to improve environmental friendliness is matched by a new cleaner-running engine with reduced emissions and increased fuel efficiency. The demand for greater performance is satisfied by increased torque and horsepower output and crisper throttle response of the latest generation 686cc engine. And the demand for greater comfort is met with increased stability. while reduced fatigue is matched by revised suspension set up, new tyres and lighter steering.
The Grizzly 700 EPS is a true All Terrain Vehicle. With a dry weight of 272kg, this rugged and reliable machine allows the driver to take control in a wide range of situations. With its lively and more powerful engine, and a redesigned suspension set up and lighter steering, this truly versatile ATV delivers greater comfort and reduced fatigue when working, and gives more enjoyment and confidence on the harshest terrain.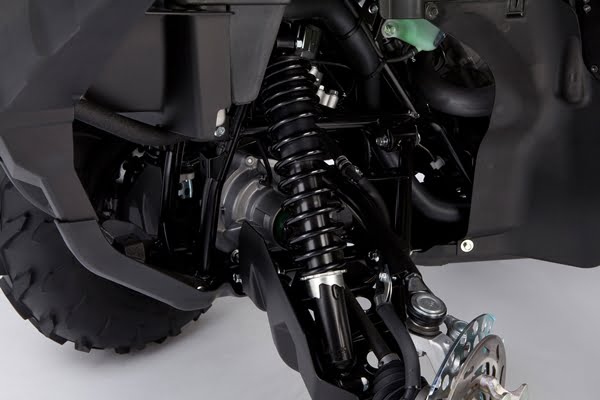 Redesigned suspension package
The Grizzly 700 EPS rugged steel frame is now equipped with additional gussets which increase overall chassis rigidity to adapt to the wider wheel track.
One of the most significant chassis changes is the use of a new suspension design that features longer upper and lower front and rear A-arms. These new arms are 30mm longer than the design used on the 2013 model, and the longer lower arms benefit from a new lightweight design.
The offset of the front wheels is reduced by 2mm, and front tyre wheel track width is increased by 56mm – while longer CV shafts and tie rods are fitted to permit a 60mm increase in rear wheel track width. Newly-designed longer-stroke front and rear shocks have been developed to suit the uprated suspension system, and these are equipped with optimised compression and rebound damping and 5-step pre-load adjustable dual rate springs.
Among the benefits of the new suspension package and the wider wheel track are higher levels of stability and increased riding comfort, making the new Grizzly 700 EPS a better performer in leisure and commercial situations.
The increased stability is especially useful when climbing and descending rocky mountains, as it helps to build confidence and improves this tough vehicle's terrain-crossing abilities.
Revised steering geometry
In addition to the new suspension design, the 2014 Grizzly 700 EPS benefits from revised steering geometry. The shape of the Pitman arm is optimised to reduce rider fatigue on longer rides by making the steering lighter, while maintaining a similar turning radius as the 2013 model.
Modified wheel design
The front and rear wheels have an involute design, and for 2014 they feature newly-designed inward-rolled edges which are protected by the tyres. The advantage of this design is that it helps to prevent the build-up of dirt and other material on the wheel rim which can happen with outside rolled rim edges. The new wheels also reduces unsprung weight, while the 2mm reduction in offset helps to achieve a lighter handling feel.
Exclusive Maxxis tyres
The new wheels are fitted with a set of second-generation Maxxis MU19 and MU20 tyres that have been developed exclusively for Yamaha. The inner structure on these tyres has been specifically modified to adapt to the new suspension set up and help enhance riding comfort. Externally the appearance and tread pattern of the front Maxxis MU19A AT25X8-12 and the rear Maxxis MU20A AT25x10-12 remains unchanged.
Dual mode EPS
The 2014 model is equipped with recalibrated EPS software which is designed to complement the changes to the steering geometry together with the new tyre design and wider wheel track. The initial assist force is increased, and inertia feedback is required before the EPS applies any assist power.
Another important change is the use of a new pre-determined programme that only comes in to operation during 4-wheel drive and engaged Differential Lock mode. Yamaha engineers have analysed the different forces that come into play when riding with 4WD/Diff Lock mode, and the new pre-determined programme is designed specifically to deliver the required levels of EPS assist in this situation.
CHASSIS CHANGE SUMMARY
– Revised steering geometry ensures lighter handling and maintains turning radius
– 30mm wider upper and lower A-arms increase front and rear wheel track for more comfort and stability
– Lighter lower A-arms
– Longer-stroke shocks with new settings
– Shape-optimised Pitman arm
– Longer tie-rods
– Longer CV shafts
– Revised front wheel offset
– New involute wheel rims
– New lighter second-generation Maxxis MU19A front and MU20A rear tyres give improved handling and comfort
– New dual-mode EPS programme with additional 4WD + Diff Lock mode to optimise new steering geometry
Leaner, cleaner and meaner engine
Yamaha's engineers have focused on making the 2014 Grizzly 700 EPS cleaner, leaner and meaner, and the 686cc single-cylinder liquid-cooled SOHC engine has undergone a wide range of technical modifications in almost every key area.
Torque and horsepower output are both increased due to a number of changes to the engine design. An all-new camshaft features completely revised valve timing with reduced overlap, and a new single-port head is used. The redesigned cylinder head features a pent roof combustion chamber, and together with a new lighter forged piston these changes give an increased compression ratio, up from 9.2 to 10.0:1.
To match the piston weight reduction, lighter counter balancer shafts are fitted, and to handle the higher levels of torque and power output, the big end bearing's strength is increased, while the con rod benefits from a different heat treatment.
As well as helping to deliver higher torque and power outputs, the new cylinder head/piston/camshaft configuration allows the 2014 engine to achieve strict EPA emissions standards. Also playing a crucial role making this 686cc engine cleaner is the honeycomb catalyser, as well as the Air Induction (AI) system which introduces fresh air into the exhaust port to ignite any unburned hydrocarbons.
In order to maximise the performance of the new engine components – and also to enable the 2014 model to achieve its strong environmental performance – a new ECU is installed. This features redesigned fuel injection and ignition mapping, as well as new software for the new AI system, and a port and connector for the new Yamaha Diagnostic Tool.
The outcome of all of these technical changes for 2014 is a more powerful, stronger pulling engine with crisper throttle response throughout the whole rev range. Not only is this engine more powerful, it is also cleaner running and complies with the strict EPA/CARB (LA-4 Mode) emissions standards. Furthermore, this totally re-engineered powerplant delivers fuel savings of around 30% compared to the 2013 design, to make this Grizzly cleaner, leaner and meaner.
ENGINE CHANGE SUMMARY
– Cleaner – clears EPA/CARB (LA-4 Mode) emissions standards
– Leaner – approximately 30% improvement in fuel economy over 2013 model
– Meaner – more torque and power feeling with improved throttle response
– New forged high-compression piston
– Higher 10:1 compression ratio
– Redesigned cylinder head with pent roof combustion chamber
– New camshaft with revised valve timing
– New single exhaust port design
– New single-pipe exhaust
– Stronger big end needle bearing
– New heat treatment for the con rod
– New Air Induction (AI) valve
– Honeycomb catalyser
– New ECU for AI, with new mapping for the fuel injection and ignition mapping