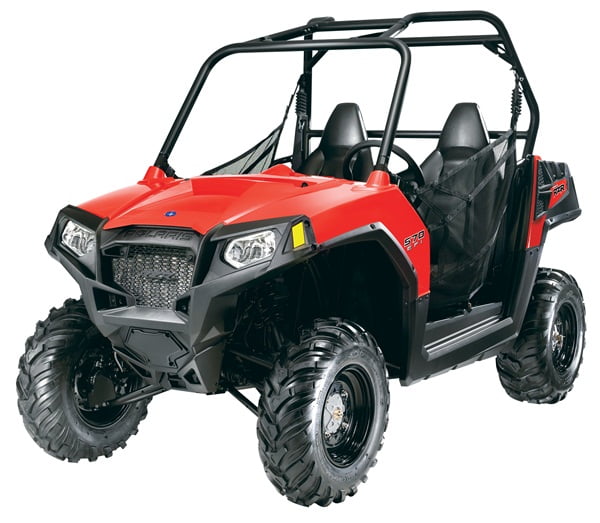 Since 2008, Polaris has introduced a new RANGER RZR model every year and Model Year 2012 will be no different, introducing the new RANGER RZR 570 to the RANGER RZR family. The single-cylinder unit offers a value machine that stays true to the RANGER RZR family promise of being the ultimate combination of power, suspension and agility.
"The launch of the RANGER RZR 800 in 2008 introduced the industry to the first sport dedicated Side-by-Side," said Peter Harvey – Polaris Australia Country Manager. "With the success of the RANGER RZR 800, we saw the need for a single -cylinder model at a price point that will allow more customers to enter the Side-by-Side segment."
At the heart of the RANGER RZR 570 is an all-new ProStar™ 570 single cylinder, DOHC, electronic fuel injected engine. The engine is the second in the ProStar family, made specifically for Side-by-Side vehicles, which also includes the ProStar 900 introduced earlier this year in the RANGER RZR XP 900. The ProStar 570 has 650 watts of stator output and features a removable cargo bed floor and a wet sump for easy serviceability.
To complement the new engine, Polaris equipped the RANGER RZR 570 with a new transmission that was specifically built to optimize the power of the new ProStar engine. Its optimized gear geometry means more power to the ground, less driveline noise and lighter weight. The innovative design, first featured on the RANGER RZR XP 900, features a helical cut final drive with high torque capacity to maximize efficiency.
To tackle rugged terrain, the RANGER RZR 570 features an all-new, ultra smooth Independent Rear Suspension (IRS) with specifically-designed geometry that provides 9.5-inches/24.1 centimeters of travel in the rear. The front suspension features Dual A-Arms with 9-inches/22.9-centimeters of suspension travel. Coupling the front and rear suspension with a 77-inch long/195.6-centimeter wheelbase, pre-load adjustable ZF Sachs Shocks on all four corners and exclusive front and rear anti-sway bars that keep the chassis flat while cornering, gives the RANGER RZR 570 the ability to soak up anything the trail can throw in its way.
Since the launch of the RANGER RZR 800, Polaris has been the only manufacturer to offer a Side-by-Side capable of squeezing through tight forest trails. The RANGER RZR 570 is also 50 inches/127 centimeters wide, boasting that same advantage, at an entry level price.
Built with the patented design that places the engine behind the seat, the RANGER RZR 570 has a low center of gravity delivering agile, razor-sharp handling. When the terrain gets rough, the vehicle's True All-Wheel Drive (AWD) is the easiest-to-use and fastest responding on-demand system. It automatically engages all four wheels when forward traction is needed and it reverts back to two-wheel drive automatically when AWD is no longer needed. The system provides easier steering, less wear and tear on driveline components, and maximum power when you need it most.
For comfort, RANGER RZR 570 also sports comfortable ergonomics with tilt steering offering the widest range of motion, adjustable hand rails and seats. Safety features include a Certified Roll-Over Protective Structure (ROPS) and side nets designed for easy in-and-out access. For gear, the unit features a new, rear 300 lb/136 kg capacity, flat cargo box with Lock & Ride® accessory technology and built-in rack extenders to maximize carrying capacity.
Offered in Indy Red, RANGER RZR 570 will be available at Polaris dealerships February 2012.
The excitement is mounting ahead of the inaugural season of the Australian Rally Championship Side By Side Challenge. RZR XP 900 owners are welcome to enter, regulations will be available via the ARC. Round One kicks off on March 2nd at Melbourne's Calder Park, followed by rounds in WA, QLD and NSW. This new racing option is the result of passionate involvement of Polaris RZR owners in other motorsport classes, such as the Australian Off Road Championship, Karnacross, Navrun and Cross Country Drivers Association events.
Key Details
•Taking deposits now
•Limited numbers arriving February 2012
•570cc EFI engine
•On-Demand True AWD
•Continuously Variable Transmission
2012 Polaris RZR Lineup
RZR170 – The world's first youth Side by Side A$5995
RZR 570 – Razor Sharp Performance for Tight Terrain A$12,995
RZR S 800 – Razor Sharp Performance A$18,995
RZR S 800 LE – Limited Edition 'S' A$19,995
RZR XP 900 – Razor Sharp Xtreme Performance A$23,495
RZR XP 900 LE- Limited Edition 'XP' A$24,995
RZR XP 4 900 LE – Razor Sharp Xtreme Performance for 4 $TBA
Polaris reserves the right to change specifications at any time without incurring obligations.