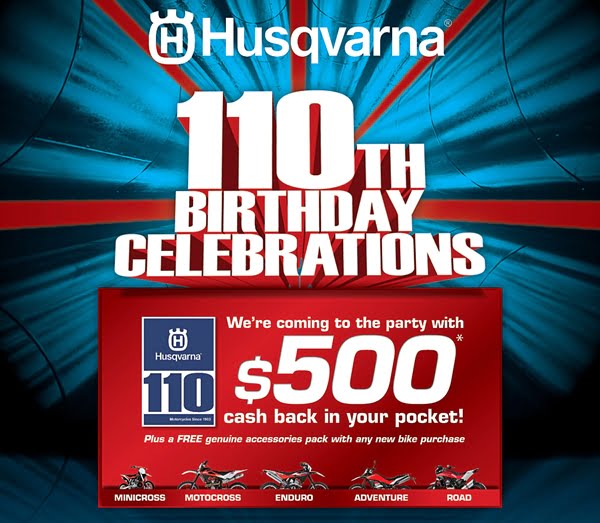 2013 marks the 110th anniversary for Husqvarna Motorcycles.
The 110 year anniversary showcases Husqvarna as the oldest motorcycle manufacturer in continuous production worldwide.
As part of the celebrations, Husqvarna Motorcycles have commenced a retail campaign effective Thursday 17th January running through until Sunday 31st March 2013 unless sold out prior.
There has never been a better time to get on a new Husqvarna with a generous $500.00 retail cash back direct to the purchaser with 'ANY' new Husqvarna motorcycle purchased from the range.
In addition, Husqvarna are offering purchasers a free genuine Husqvarna accessory pack with a retail value of $133.75 incl gst. The free accessory pack will be sent directly to customers after purchase and includes:
A Husqvarna cap, a pair of Husqvarna racing goggles, a Husqvarna Racing Coffee mug and a Husqvarna key ring.