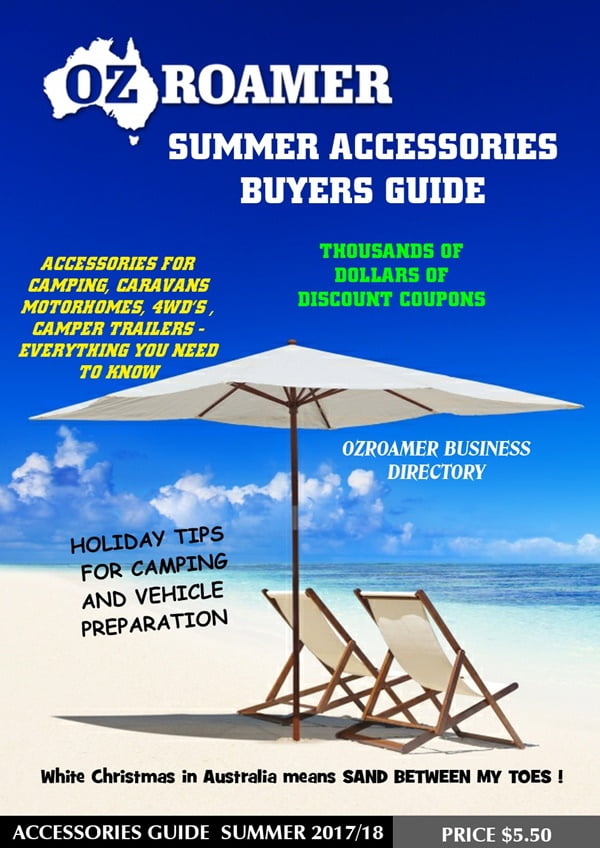 COMING DECEMBER 11TH 2017
OzRoamer, for the first time will produce a dedicated Summer Accessories Buyers Guide. The purpose behind the guide is to assist buyers in making educated buying decisions about what accessories they need and what to buy.
Whether people travel in a motorhome, caravan, campervan, camper trailer, 4WD, AWD SUV, motorbike, 2WD or hiking , they all have one thing in common. They want to buy accessories to make their travels better!
Our readers have told us they want to find out this information from a trusted source, free from advertorial. They have asked and we will deliver!
The OzRoamer Accessories Buyers Guide is independent and comprehensive.
OzRoamer has a long history of producing special e-magazines like the Camper Trailer and Slide On Camper Buyers Guides and Guide to Towing to name a few. These e-magazines have proved extremely successful in the past with over 35,000 magazines downloaded each issue.
The Summer Accessories Buyers Guide will follow on in this tradition. There are two issues per year, Summer and Winter, so your advertising dollar has a long shelf life. Inside the magazine are sections on accessories for each of the RV categories, across categories and the best use for them. In addition, there are useful tips for buyers.
Related posts: