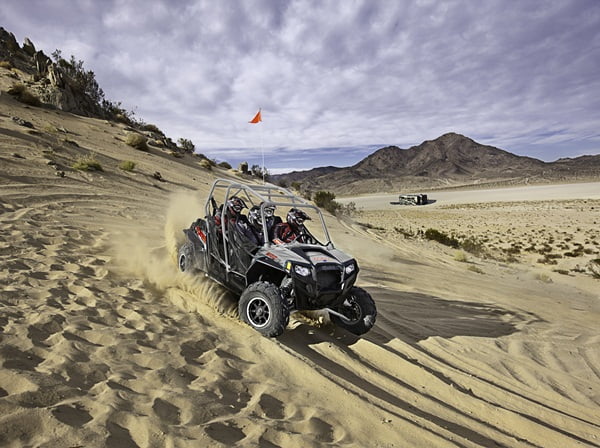 Australian farmers have enough risk in their lives – drought, fire, flood, plague, commodity prices, currency fluctuations…you name it, Aussie farmers take it on the chin. Farmers are often forced to spend a good portion of their small piece of the pie to limit their risk. If they can get it, sometimes they use insurance, sometimes they hedge or buy futures. It's costly, it's complicated and frankly, it's a pain in the …neck.
Imagine if your Fairy Godmother could make your risk disappear?
Well Polaris may not be a Fairy Godmother – but they have come up with a ripper idea that can all but eliminate risk when buying an ATV or Side by Side.
Sometimes you don't know how much happier you can be with an alternative if you never try it.
Polaris, the world's number one off road vehicle brand, has a history of encouraging trial of its ATVs and Ranger Side by Sides. The Minnesota USA brand has openly challenged the status quo in a market which back in the 1990's was dominated only by Japanese brands. Polaris is currently enjoying its eighth straight record sales year, and continues to build its loyal Australian customer base.
Polaris' willingness to challenge convention has never been restricted to their USA engineering team. Now Polaris will again challenge the conventional way of buying an ATV.
Dubbed the 'LOVE IT' promotion, for the month of July 2012, if you buy any new Polaris, you'll have 30 days to try it, and if you don't love it, return it for a refund. The deal applies to every new Polaris vehicle, from the Outlaw 50 kids quad to the big Ranger six-seat diesel. Even Polaris Mowers are included. See the Polaris website for details. What have you got to lose?
The idea for the campaign came from an event that sparked Polaris' growth in 2005. Dubbed the 'Bet you $100' campaign; the promotion was an open challenge to the public. As Michael Caton spruiked on the TV and radio: "We're so confident that nothing rides like a Polaris, that if you test ride a Polaris, and buy another brand, we'll give you $100!" "This certainly ruffled a few feathers in the motorcycle world" said Peter Alexander – Polaris Managing Director.
"We had opposition dealers sending their customers down to our dealers. They underestimated Polaris. That didn't last long at all – we won plenty of customers that way, families that are still loyal to Polaris." Polaris ran the campaign for 3 months. So many people fell in love with the Polaris ride quality that sales boomed. Polaris then upped the ante. 'Bet you $100' was replaced with 'Bet you $500.' "These were two of our most successful promotions of all time. People still talk about them."
Since 2005, Polaris has launched 27 new models – and has focused on the promoting their unique features to Australian farmers. Polaris has dominated the Side by Side market, releasing the world's largest range of models, among the variants are 4WD, 6WD, electric, petrol, diesel, two-seat, three-seat, four-seat and six-seat Rangers. The innovation has continued with the ATV lineup also, with products such as Sportsman X2, the only ATV on the planet with a rear tip tray that can hold 181kg, and that converts in seconds into a two-seater.
Call your nearest Polaris Dealer today on 1300 654 142 to arrange a demo.
Deal at a glance
•'LOVE IT' offer applies to any new Polaris ATV, Ranger or Mower.
•Return it within 30 days
•Conditions apply, see a dealer or www.polarisindustries.com.au for details.
Caption 1: 'LOVE IT' deal even applies to mowers
Caption 2: Sportsman X2550 – ideal for bigger spray tanks