Suzuki has a number of super sales happening right now on quad bikes, ATV, Enduro and farm bikes and sports bikes. If you are in the market you should buy now as sales are strictly limited till 30th June in most cases.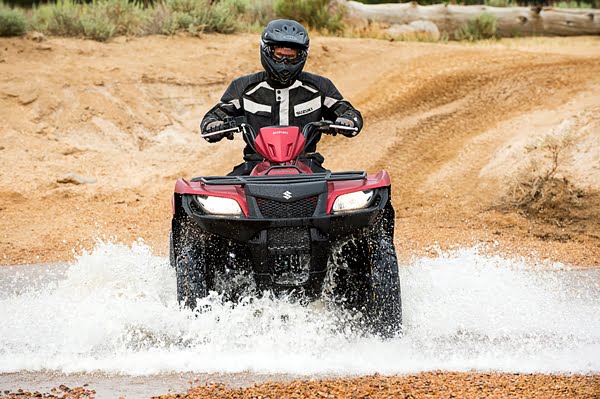 Suzuki's Stock Sale On Farm ATV
Suzuki is doing its part to share the load with its rural customers by slashing the pricing on its range of farm ATVs.
"We know how tough conditions are for Australian farmers at the moment and we would like to offer this generous deal to help them through these difficult times," said Suzuki Australia Motorcycles National Marketing Manager Lewis Croft.
"The Suzuki range of Farm ATVs has cultivated an enviable reputation for being as tough as the Australian farmers who own them.
"With the introduction of this limited offer, Suzuki is giving our rural cousins the chance to switch to a tougher breed and upgrade to the latest and greatest farm ATV this financial year without breaking the bank."
Pricing for the Suzuki farm ATV range starts from just $5,940* ride away for the entry level Ozark 250 to the tough as nails KingQuad 750AXi 4×4 with power-steering for just $12,690* ride away.
The first manufacturer on four wheels, Suzuki's ATV range offers purpose built features for Australian rural conditions with benefits such as fuel-injection, a choice of automatic or manual transmissions, selectable 2WD or 4WD and an option of two power steering models included in the KingQuad line-up.
The special ride-away pricing is strictly limited and will end on June 30, 2014.
Suzuki Bonus Value On Best-Selling Enduros
Suzuki is giving enduro riders even more bang for buck on their best-selling models.
One of Australia's favourite enduro motorcycles, the Suzuki DR-Z400E and Suzuki's most popular street-legal trail bike, the DR650SE offer even more value with a generous $500* Suzuki Bonus Value.
"The DR-Z400E and the DR650SE are ideal for long haul trips and short bursts on the trail, guaranteeing a comfortable ride to work or play. Both are 100 per cent street-legal and learner approved," said Suzuki Australia Motorcycles National marketing Manager Lewis Croft.
Both models feature powerful four-stroke engines, producing ample power and torque, and offering a mix of agile handling with a rugged chassis designed to take on the toughest terrain.
This offer is strictly limited, with the Bonus Value scheduled to finish June 30.
Available for Recommended Price of $7,990* and $8,090* respectively for the DR-Z400E and DR650SE, both models are now even better value with the generous Suzuki Bonus Value which can be taken off the purchase price or spent on accessories, apparel, bling and even servicing.
Suzuki Extends Championship Bonus On Its Iconic GSX-R Range
Suzuki has extended its championship bonus offer of up to $1500 available on the GSX-R range of sportsbikes*.
The Suzuki GSX-R1000 dominated the 2013 Australian Superbike Championship, winning the premier class title for a second consecutive year and filling two of the three podium positions at every round.
Suzuki is offering Australian riders 1500 more reasons to own the machine that was the basis of that domination.
Until June 30, every Suzuki GSX-R1000 customer will receive a $1500* bonus.
And fans of the GSX-R750 and GSX-R600 sportsbikes haven't been forgotten; they will be eligible for a $1000* bonus if they purchase before the limited offer expires.
"There's never been a better time to buy a GSX-R and own the motorcycle that owns the racetrack," said Suzuki Australia Motorcycle Marketing Manager Lewis Croft.
"In addition to its unrivalled championship pedigree, the GSX-R range now comes with a bonus that represents outstanding value."
* Offer applies to 2013 and previous model years.
Suzuki Inazuma 250 $4,990 Ride Away
Whether it's to work or play, Suzuki is redefining value with pricing for its entry level learner approved model, the INAZUMA 250 for just $4,990 ride away* at participating dealers.
Specially developed for the growing demand of reliable and cost effective transport, it comes packed with smooth performance wrapped in a sleek, stylish design and finished with proven Suzuki quality and reliability.
The liquid-cooled, SOHC, in-line, two-cylinder engine makes for a lightweight powerplant with the 6-speed transmission ensuring a smooth ride in low-to-mid range engine speed in urban areas when commuting as well as on longer rides when touring.
Deliver gutsy low-end and mid-range power through a low-emission and easy-to-master package. That's the goal of the INAZUMA's 250cc engine package. The lightweight twin cylinder stands up strong inside the naked chassis. Overall, it's engineering that meets the same goals as the styling package – to give motorcyclists more than they expected.
"This new pricing represents fantastic value and means that for as little as $4,990 customers can ride away on a brand new Suzuki," said Suzuki Motorcycles National Marketing Manager Lewis Croft.
"The savings will give new riders more money to spend on riding gear, which can be financed and insured with easy, attractive weekly payments by accredited Suzuki Finance and Insurances dealers.
"For further peace of mind, the INAZUMA 250 also comes with Suzuki's renowned two year, unlimited kilometre warranty."
*Suzuki INAZUMA 250 $4,990 ride away offer only available at participating Suzuki dealers.
Race Away With Championship-Winning Pricing On Suzuki's RM-Z Motocross Range
Suzuki is kick-starting its 2014 MX Nationals campaign offering championship-winning pricing on its top-selling, state of the art motocross models, the Suzuki RM-Z250 and the RM-Z450.
Available now for a limited time, any new Suzuki RM-Z250 or RM-Z450 purchased and delivered will be available for a recommended ride away price of $9,190 and $9,990 respectively*.
2013 saw RM-Z's dominating the race track, claiming both premier class Australian Supercross and Motocross championships. The RM-Z450 claimed five out of the six 2013 Australian Supercross Championships round wins with a 67% podium percentage.
Drawing inspiration from Suzuki's championship-winning RM-Z factory race bikes, the 2014 RM-Z250 and RM-Z450 have been manufactured with race technology in mind ensuring the ultimate in cutting edge, off-road weaponry.
Featuring the latest version of Separate Function Fork (SFF-type2) from Showa, separating the spring and damping tasks. The right leg contains the spring, while the left leg incorporates the cartridge assembly to manage damping. It results in reduced friction, increased absorption performance and weight saving.
The 2014 Suzuki RM-Z range is equipped with an array of top shelf componentry, including rich & lean fuel couplers, Renthal FatBars and Excel rims.
The 2014 Suzuki RM-Z250 and RM-Z450 are available in Suzuki's trademark Championship Yellow / Black livery.
*RM-Z Championship-winning ride away pricing offer only available at participating Suzuki dealers.
Suzuki Trojan Working With You For $4,490 Ride Away
Australia's most popular farm bike in 2013*, the Suzuki Trojan, will continue to assist farmers at an unbelievably low ride away price.
From now till the end of the June, the Suzuki Trojan is available for just $4,490 ride away at participating Suzuki dealers.
Purpose-built to handle the tough and rugged Australian conditions, the hard-working four-stroke Trojan is a must-have for every farm.
Compact and lightweight, the Trojan is powered by a gutsy 199cc, four-stroke, single-cylinder SOHC engine producing loads of usable torque, with a highly efficient oil cooler and a 13 litre fuel tank.
The value-packed Trojan also includes convenient dual side stands with large footpad, alloy hand guards and an electric starter for confident and easy starts.
* ERG retail industry data, January-December, 2013
Suzuki Covers On-Road Costs For Legendary Hayabusa
Suzuki Australia is tempting customers with its best offer yet on the legendary Hayabusa motorcycle.
Australian customers can now own a genuine two-wheeled icon and Suzuki will cover all on-road costs.
"It means Suzuki's most powerful production motorcycle has never been more affordable," said Suzuki Australia Motorcycle Marketing Manager Lewis Croft.
The latest version is the first Suzuki sportsbike to feature an Antilock Brake System (ABS), complementing the Hayabusa's excellent handling and adding another chapter in the ongoing evolution of this legendary sportsbike.
The iconic hyper-sports bike also features the advanced Suzuki Drive Mode Selector
(S-DMS) giving the rider a choice of three available engine maps to suit rider preferences and riding conditions.
Designed for maximum performance, the latest generation Suzuki Hayabusa represents the pinnacle of sportsbike engineering, performance and styling.
It is available in three aggressive and sporty styled colour schemes – Glass Sparkle Black/Metallic Grey, Pearl Glacier White/Metallic Grey and Marble Daytona Yellow/Glass Sparkle Black.