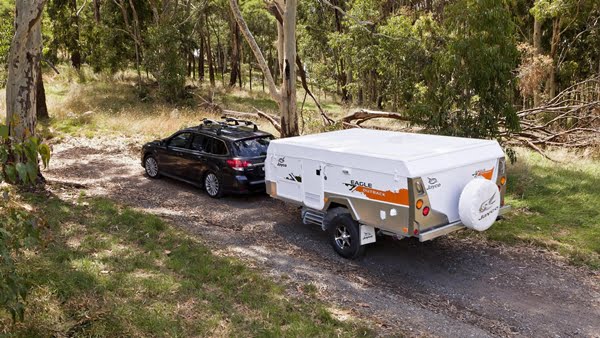 Jayco has released the 2011 updated versions of the Jayco Outback Camper Trailer and the Jayco Touring Camper Trailer.
The humble Jayco camper trailer has just got smarter, with innovative new features across both the Touring and Outback models in 2011.
Jayco's camper trailers include all the standard features you'd expect for a fun family holiday, with a modern and sleek finish.
The updated door design of the camper trailer features an insulated resin transfer moulded top door and fibreglass bottom door, giving the van a modern feel. A new, innovative roof with interlocking design adds strength and style.
Jayco Marketing Director, Andrew Ryan, said that the camper trailer remains the recreational vehicle of choice for Australian families, and believed that the new range would not disappoint.
"The old style roof has been relatively unchanged for 35 years, so this innovation is a huge advancement," Mr Ryan said.
Both the Outback and Touring models are the result of extensive research and development from the dedicated design team at Jayco's headquarters in Victoria.
Jayco's Outback Range has its own unique look and feel, with front and rear mouldings and updated graphics. This tougher version allows you to venture throughout Australia's vast network of unsealed roads, freeing you up to explore some of the country's most incredible hideaways.
"The added strength of Jayco's Outback camper trailer offers families the extra flexibility to go further into the countryside than ever before," Mr Ryan said.
"Whether it's on the highway or off the beaten track, the Jayco Outback Range camper trailers are perfect for any kind of RV holiday."
As with any Jayco, there is also a great range of extra options available for added convenience and comfort. The 2011 range includes external barbeques, bike racks and roof racks. A new and exciting optional extra is the electric winch – which conveniently lifts the roof with the push of a button, rather than winding it up by hand.
Both models include a range of updated features such as a new front and rear design, as well as a contemporary interior finish and choice of five new decor colours, with each model defined by their own graphics, front and rear styling and tent colour.