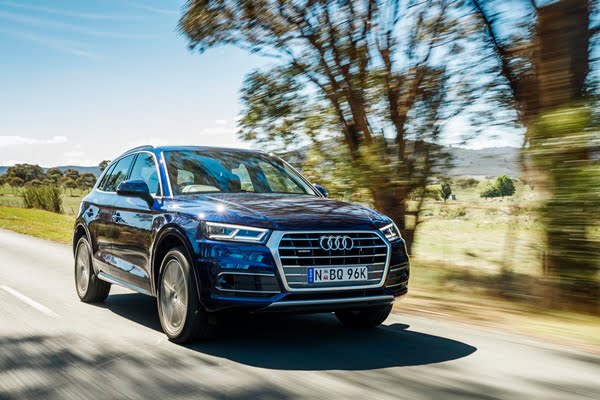 Amongst the prestige AWD SUV's the Audi Q5 range has a special place. The first generation Audi Q5 was very successful in Australia selling over 4,100 vehicles with almost a third of those being the SQ5 variant. The Audi SQ5 is a previous winner of the coveted Sports SUV award for OzRoamer.
Audi has now launched the second generation of its very successful Q5 and SQ5 models. The Audi Q range in general is extremely important to Audi with one in three sales a Q model. The Q5 range is the most successful of all the Q range.
Audi's 2nd generation Q5 and SQ5 was launched with a two day drive from Melbourne to Adelaide, which gave us an opportunity to experience the various models in depth.
The Q5 AWD SUV is ideally suited to those families or couples that harbour some adventurous spirit. In normal fit out the Q5 boasts 200mm of ground clearance but poor approach and departure angles. With the adaptive air suspension the vehicle sits at a normal ground clearance of 175mm but can be lowered 50mm for ease of loading and raised another 50mm to have a ground clearance of 225mm.
For those adventurous Q5 owners that like to tow jet skis, camper trailers or smaller boats the tow rating for the Q5 is 2000kg, with a tow ball rating of 200kg. The adaptive suspension has a self-levelling feature when loaded and towing, which is great.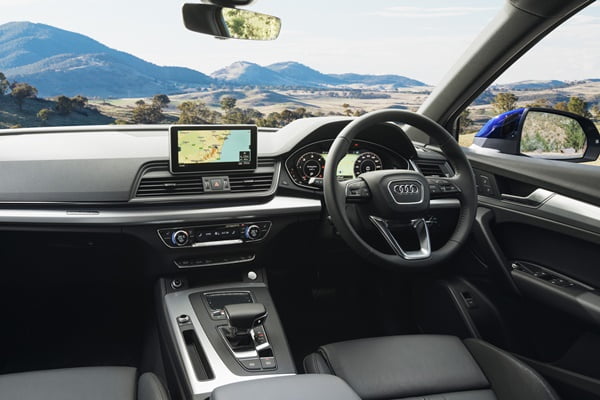 Sitting inside the all new Audi Q5 range, the front occupants are treated to an exceptionally comfortable cabin. There is more than enough room , even for someone my size, and the ergonomics are first class as is the ambience.
The Audi virtual cockpit is awesome as is the centre stack display. I am just a fan of the transmission lever and the coffee cup holders are a little small and buried deep, but otherwise the cockpit is spot on.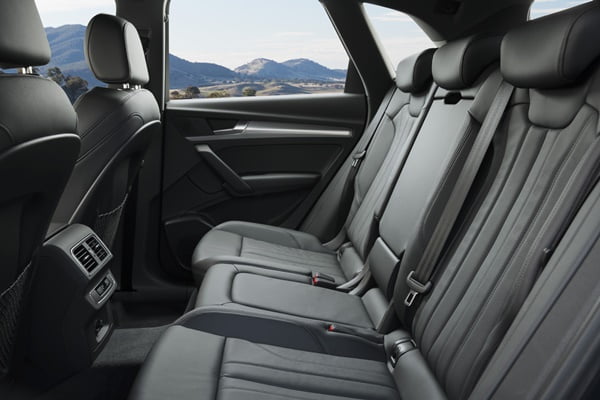 The rear seat passengers, two rather than three, are also treated to a comfortable ride and with a normal height driver there is ample head, shoulder, knee and foot room. The rear boot space has been improved and with the rear seats folding almost flat there is a practical storage area.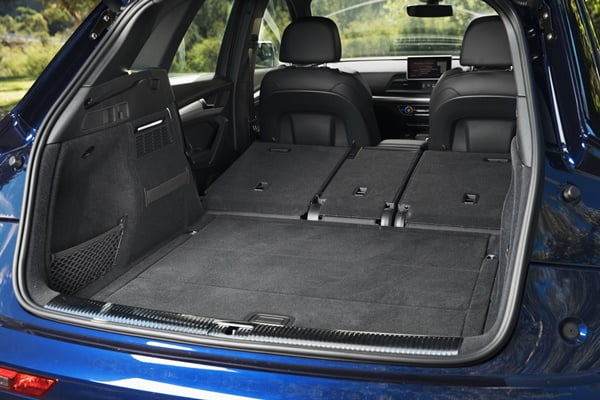 The Audi Q5 in the second generation format comes with three engines, two different specification levels and a range of surprisingly good value packages. Audi has also managed to introduce more features into the standard levels from $2000 up to $16000 of extra value for no extra price.
The entry level Q5 Design comes with the 2.0 L TDI engine that produces 140kW of power @ 3800 – 4200 rpm and 400 Nm of torque @ 1750 – 3000. This engine will sip fuel at 5.3L/100Km. It will accelerate from 0-100kmh in 7.9 seconds and has a top speed of 218kmh.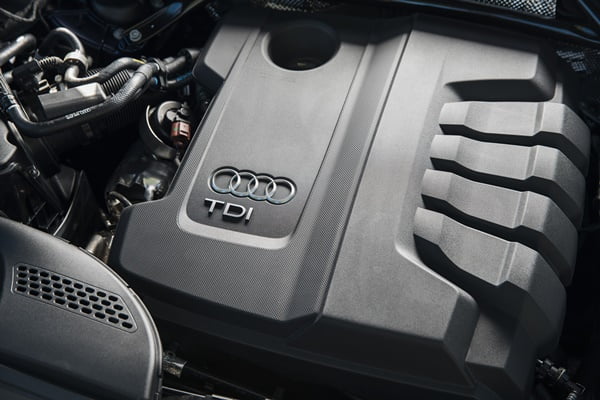 The second engine for the Q5 Design is the 2.0 L TFSI petrol engine. This engine produces 185kW of power @ 5000 –6000 rpm and 370 Nm of torque @ 1600 – 4500. This engine will sip fuel at 7.3L/100Km. It will accelerate from 0-100kmh in 6.3 seconds and has a top speed of 237kmh. The Sport version only comes with this engine.
Both of these engines are mated to the 7-speed dual-clutch transmission that provides maximum use of available power and smooth driving. For those that want to use the Q5 as more than around city transport I would take the TDI version, better towing characteristics, better economy and running on 18 inch tyres more rubber to absorb track imperfections.
For the launch there is a Q5 S Line Black special edition that is limited to 70 units.
The range topping SQ5 doesn't have the barn busting diesel motor of the previous model, which sold at a rate of about 1 in 3 of all Q5 vehicles sold. It does however have the 3.0 l V6 Turbocharged TFSI petrol engine for the enthusiasts. This is electronically governed at a top speed of 250kmh, and accelerates from 0-100kmh in 5.4 seconds, which unfortunately is a little slower than the previous model. The 3.0 l v6 TFSI produces 260Kw @ 5400 – 6400 rpm and 500Nm of torque @ 1370 – 4500 rpm. It is mated to an 8-speed tiptronic with DSP and sport program transmission.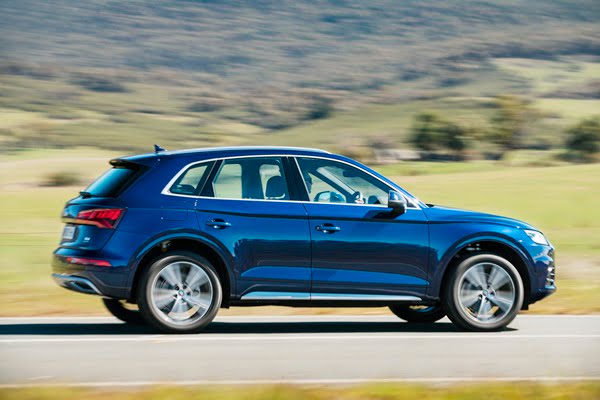 Of special importance to OzRoamer readers is the fact that the Q5 range also boasts a game changing new quattro technology that swaps from 2WD to AWD as needed and is predictive in nature. In other words it anticipates when you will need AWD and is ready for you. The changes from 2WD to AWD are totally imperceptible and as it turns out the ratio of 2WD to AWD is about 70/30 for most drivers under most conditions. This use of AWD for only about 30% of the driving time saves money for the driver.
We will go into more detail about this stunning technology at another time, however for now, simply marvel at the lengths that Audi have gone to, to improve what was already an awesome quattro system. The Audi Q5 is perfect for dirt roads, ski trips on snowy ior icy roads, towing the family toy. I dont know what it is like on the sand yet but will also test this later.
We will have full drive impressions as we get the vehicles for testing, but again for now let's just say that the all new 2nd generation Audi Q5 is a game changer.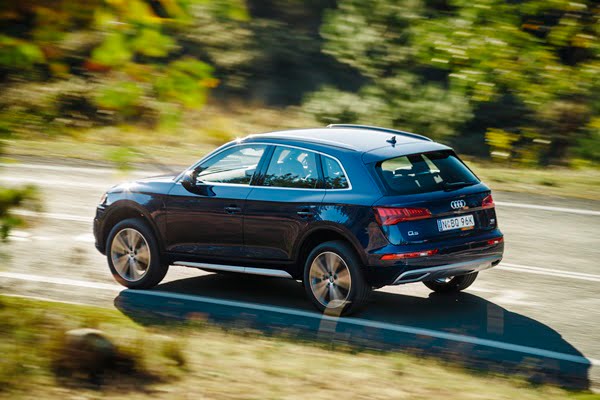 The key points of the new model are
All new model
All new quattro system
Three engines
2.0 L TFSI
2.0 L TDI
3.0 L V6 TFSI
Between $2000 and $7000 extra value
5 Star ANCAP Safety rating
Design and Sport models
Comfort, S line and Technik packages
Pricing MLP (excludes on road costs)
Q5 design 2.0 TDI $65,900
Q5 sport 2.0 TDI $70,700
Q5 sport 2.0 TFSI $73,211
Q5 2.0 TDI quattro S tronic  S line black $82,900
Q5 2.0 TFSI quattro S tronic S line black $86,611
SQ5 3.0 TFSI tiptronic $99,611