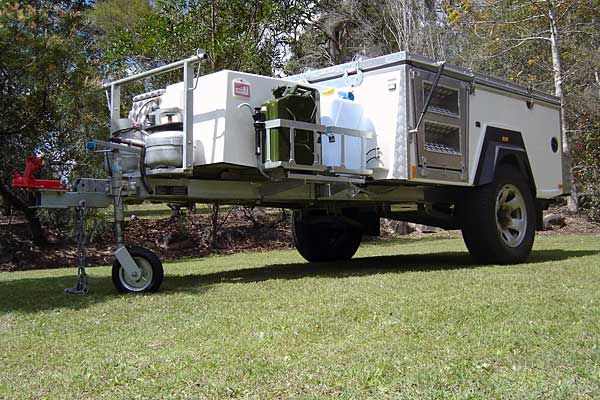 Camp in Comfort Journeyman Campertrailer is a recent entry to the already packed market. However it has some identifiable differentiators from the general run of the mill camper. The Camp in Comfort Journeyman is part caravan part campertrailer and designed for two.
The design is a step in style with a fold over bed area and a sit in kitchen area. The top is canvas but the whole camper is up off the ground like a caravan.
The advantage of this design is that it is easy to set up by one person in a matter of minutes. It doesn't have the weight of any number of hard floor trailers.
Externally the design is compact and streamlined. Overall dimensions are 3800mm(d) x 1830mm(w) x 1400mm(h) which makes for great visibility and easy manoeuvring . It also means smooth towing with air bag suspension, plenty of ground and side clearance and tow hitch versatility allowing two sizes – high/low. There are Heavy duty shock absorbers, Replaceable stub axles (carry a spare) and Zeon rubber bump stops.
There is a durable fibreglass exterior which provides UV-protection and is high-gloss smooth for easy cleaning. The base is extra-strong plated chassis, supporting the camper while driving it, supporting you while living in it.
Unusually the Camp in Comfort has an extendable drawbar that enhances towing, reversing, and weight distribution characteristics in combination with a retracted drawbar that allows manoeuvrability in tight off road conditions and easier storage
The hot dipped galvanised chassis main rails are 100 x 50 x 2.5 RHS and the main cross members that carry the independent airbag suspension system are 75 x 75 x 5 RHS. Electric drum brakes on a choice of 15 or 16 inch steel wheels provide stopping power. Major stress points are all reinforced with 5mm, fully welded plates.
Quality in construction is evident throughout and clever design is seen in the way that all heavy loads attach directly to the chassis (storage box, batteries, jerry cans, gas bottles).
Other external features include high mount LED, tail, indicator and brake lights, an 85 L stainless steel water tank, large aluminium lockable double door chassis mounted storage bin up front, 2 x 4.5 Kg gas bottles and jerry cans and wind down stabiliser legs.
A really clever design feature is the tyre handler which allows easy fold down access.
The Camp in Comfort Journeyman has a spacious and relaxing feel inside with comfortable standing room in main kitchen/dining area, ergonomic furniture with full working height bench and flip-up table, reclinable chairs.
The interior is easy-clean high-gloss material and the kitchen includes a 2 burner LPG stove, grill, sink, splashback and drain board, a 60 litre Evakool, Danfoss compressor fridge and freezer.
Something I'm not quite sure of is the internal portable chemical toilet. Great idea but a little cramped and well?
The bed is high density reflex foam mattress (no folding required) with insulated floor and bed base , plus waterproof bedroom lining for damp-free sleep and with secure cupboards, roller drawers and pockets.
Overhead the Canvas is 15 oz. roof and end walls, with 12 oz. side wall panels. The extra internal height gives relief in hot conditions and minimises condensation at night, combined with the heat shield fly tarp above the roof insulates against the heat. There is a central exhaust vent sewn into the roof that improves circulation.
The light and open feeling is provided by large window openings to take advantage of breezes and views, window shades which serve as storm covers, full insect screening on all openings and detachable side shade canopy at entry.
To keep everything going day or night there are Two chassis mounted 120 a/h AGM batteries, housed in lockable (checker-plate) boxes, Heavy duty cabling (6 B&S) with Anderson plug for charging from tow vehicle, comprehensive, heavy duty wiring, switch panel and fuse protection.
All wiring is run with maximum cable protection as a priority, efficient 25 amp C TEK smart charger. Lighting includes bed Lamps, overhead fluorescent and LED courtesy light, along with 4 12v power outlets.
The Camp in Comfort Journeyman is reasonably priced at $44,450 (inc GST) and is covered by a full 2-year guarantee against faulty workmanship and materials and a conditional 5-year chassis and suspension warranty.
Overall the Camp in Comfort Journeyman is an exceptionally well built camper trailer. Ideally suited to a couple is crosses over the boundary between caravan and camper trailer. It is also different to the main stream campers and for that reason alone it is worth a good look.