2019 Subaru Forester Overview
Subaru first launched the Forester in 1997 and has sold about 250,000 of them since in Australia. It was their top selling model in 2017 with 12,000 sales.
Fast forward to September 2018 and they have just launched the 5th generation Forester, based on their new Subaru Global Platform (SGP) and I had the opportunity to drive the Forester at the launch.
We have reviewed the Forester on many occasions and it has always been a favourite with our drivers.
This is the third vehicle on SGP after the Impreza and XV, both launched earlier this year. The difference this platform makes to a previously excellent car is astounding.
The new platform transforms the Forester in almost all aspects, with improved interior space, ride, handling, safety and quietness.
There are four models in the line-up, the Forester 2.5i, Forester 2.5i-L, Forester 2.5i-Premium and Forester 2.5i-S. For pricing head to our pricing and specifications article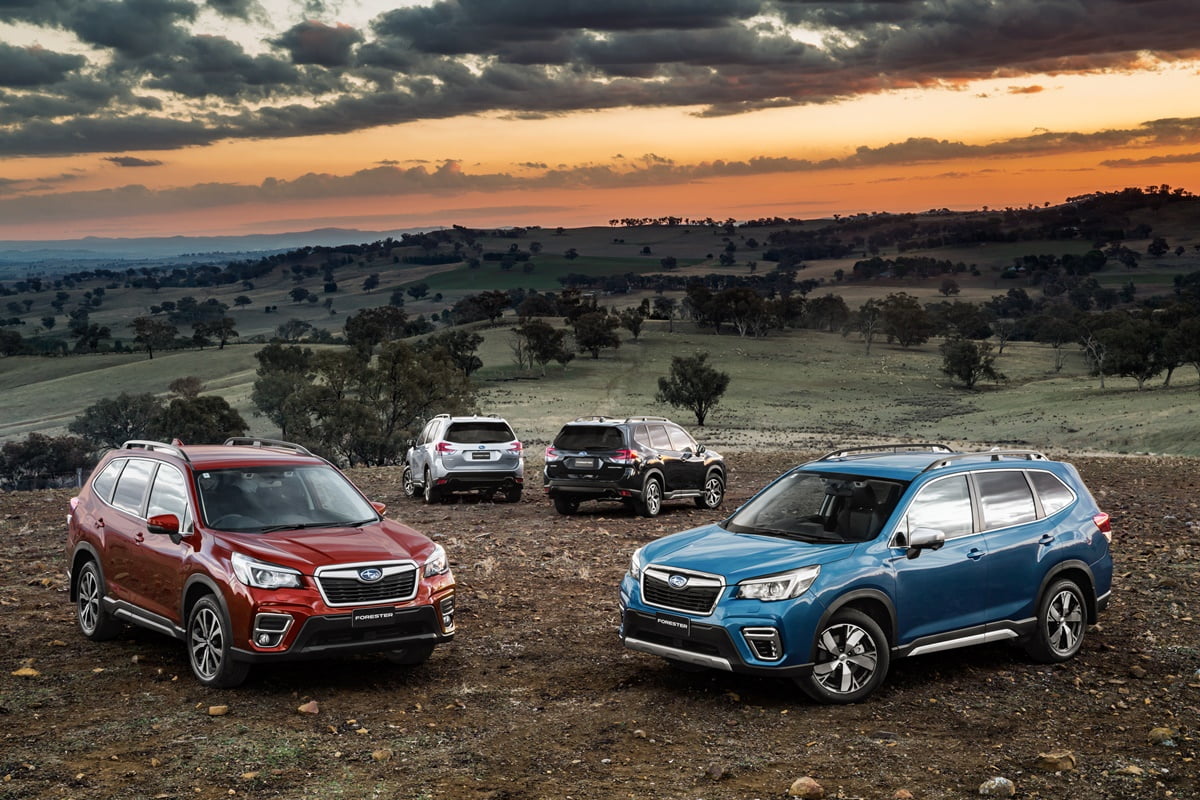 All vehicles have Subaru's awesome Symmetrical All-Wheel Drive system, all feature the 2.5L boxer engine, all have a seven speed manual mode Lineartronic™ Continuously Variable Transmission (CVT) and EyeSight® driver assist is now standard across the entire Forester range
The fifth-generation Forester AWD SUV debuts with the Subaru Driver Monitoring System – Driver Focus (DMS) – enabling drivers to personalise cabin preferences – a first for a mainstream brand in Australia.

2019 Subaru Forester Exterior
First off, the style of the new Forester is subtle. It is able to distinguish itself from its competitors, without resorting to dramatic styling. It looks exactly as it should for the market, with a bold, muscular look that evokes a sense of adventure.
The bonnet and grill have a presence about them, with a subtle flaring towards the sides to accentuate the adventure aspect. All Forester variants have alloy bonnets and front guards, for weight-saving.
New Forester is 15 mm longer (at 4,625 mm), 20 mm wider (1815 mm) and has a 30 mm greater wheelbase, at 2770 mm. However, it has a turning radius of just 5.4 metres.  While it is definitely bigger, it looks sleeker than the model it replaces.
All models have roof rails, heated external mirrors, shark fin antennae and smart looking alloy wheels, with distinctive new design 17-inch (2.5i and 2.5i-L) and 18-inch wheel patterns (2.5i Premium and 2.5i-S).
An interesting feature and attention to the target market, the roof rails have loopholes added to the roof rails of Forester 2.5i-S, enabling ropes and straps to be tied down directly onto the rails.
Adding to both the style and safety, all models also have LED tail lights and LED Steering Responsive Headlights, dusk sensing, with integrated Daytime Running Lights (DRLs)
The new C-shape rear light design creates a signature style that complements the headlight look. LED lights help reduce power consumption and improve fuel efficiency.
 2019 Subaru Forester Interior
It inside where the main differences are noticeable. It positively cavernous for its size. As most of you will know I am 190cm tall and larger than the average bear, and I can sit in both the front and back seats in absolute comfort. That is great for a mid-sized SUV.
It's not only the size that impresses. Subaru has mostly had quality interiors. The Forester takes that up a notch or two. The doors shut with a solid feel. There are soft touch points everywhere, the attention to detail in stitching and joins etc. is noticeable.
The driver's seat in all models is comfortable. The fabric seats are better than many others but the leather seats are better. Unfortunately there isn't any additional lumbar support.
It was also evident that there is plenty of head room, even with the sunroof in the top spec model.
The thick rim steering wheel is both height and reach adjustable and houses an array of controls all ergonomically designed for easy reach and use. The dash features two large white on black dials with a digital MFD between them that allows a degree of customisation and a large menu of information displayed. Below and to the right of the steering binnacle is an array of switches for the safety features.

The centre stack is busy and packed with information. The widescreen 6.3-inch colour display in all Forester variants is located at the top centre of the dashboard, providing the driver and all passengers with useful and entertaining information, with easy-to-understand visual cues. The MFD works with the instrument cluster gauges and infotainment system to provide essential information when needed.
Every Forester is equipped with the new third generation infotainment system, with 6.5-inch (Forester 2.5i and 2.5i-L) and 8-inch (2.5i Premium and 2.5i-S) screens. The third generation head unit at the heart of the infotainment system enables better smartphone connectivity and better voice recognition, for a rich array of information, similar to the home or office, and accessible anywhere. Smartphone connectivity, based on Apple CarPlay™ and Android Auto™ services, is used to boost mobile connection functionality.

It's the little things that make for comfortable driving, like the relative positioning of the brake pedal to the accelerator, the almost perfect positioning of the left foot rest, the arm rest positions, both on the door and centre console are softly padded and just the right height, the amount of features that can be controlled form the steering wheel etc.
Visibility from the driver's seat is greatly enhanced with the addition of the front three quarter glass panels. The front 'A' pillars, while thick, don't intrude as much as some others. Add to this the Vision Assist (2.5i-L and up) and you quickly feel an openness that is unusual in a vehicle in this class.

Jumping in the back seat and again I was surprised. Not only by the wide opening doors and amount of available space, but the comfort of the seats, the availability of rear air vents and USB ports and clever rear seat pockets. Even behind my driver's seat, I had just enough room to sit in relative comfort. I think only the Honda CRV has anywhere near the same rear leg room.

Another key aspect is that the 'C' pillars are set a little further back, which makes it much easier when fitting child seats. We have all struggled like circus acrobats trying to fit seats for the kids in the rear seats. Subaru has made that more comfortable now.

The boot space is larger, wider and more practical than before. The rear seats fold almost flat allowing a long load area, and the width now accommodates what seems to be the standard measure, a set of golf clubs, but more importantly, is better suited for prams and porta cots.
Some key measurements are that the width between the wheel arches is a handy 1100mm, the cargo volume (with back seats up) is 498L, the boot door opens high enough for most people to stand comfortably under it and the whole cargo area is a squarer shape for more practicality.

2019 Subaru Forester Features
The 2019 Forester is absolutely jam packed with features, and pleasantly, most of them are standard across the range.
Rather than go into detail here, we have another article that explains what comes with each model in detail.
Let's just say that there isn't much missing, and you get excellent value for money.

2019 Subaru Forester Engine and Drivetrain
The Subaru Forester features the Euro 6 compliant, 90%-new 2.5-litre direct injection four-cylinder horizontally-opposed Boxer engine offers increased combustion efficiency.
This has increased power and torque and better fuel economy. The engine produces 136 kW@ 5,800 rpm of power and 239 Nm @ 4,400 rpm of torque. This transfers to all four wheels though the Symmetrical All-Wheel Drive system and a seven speed manual mode Lineartronic™ Continuously Variable Transmission (CVT).
Subaru Intelligent Drive (SI-Drive) makes its debut in Forester 2.5i Premium and 2.5i-S.  SI-Drive is optimized to improve fuel efficiency in I mode and increase engine speed in S mode, for even greater responsiveness.
Even though they sold in ridiculously low numbers, there is no diesel engine option and disappointingly no turbo version coming.

2019 Subaru Forester What is it Like to Drive and AWD capability
Way back in my university days I owned, with a mate, a Leone wagon. Now that wagon went places it realistically shouldn't have gone, often keeping up with much fancier LandCruiser etc.
Much later in life I owned a Liberty Wagon with air suspension, and again it went places people said it couldn't.
The point of this diatribe, is that Subaru knows how to build an adventure vehicle.
The Forester has a ground clearance of 220mm. Let's put that into perspective. The Mitsubishi Triton 4WD Ute has a ground clearance of 205mm. The LandCruiser Sahara has a ground clearance of 230mm.

All Foresters are fitted with the clever X-Mode system. X-Mode is particularly helpful on steep declines and inclines, on dirt or slippery surfaces like gravel or mud.
In Forester 2.5i, 2.5i-L and 2.5i Premium, when X-Mode is activated when the Traction Control System (TCS) is switched off – simply by switching the dial to TCS OFF.
The top spec Forester 2.5i-S has two switchable modes, controlled using an easy-to-check dial. When D.SNOW/MUD is selected, ECU torque control allows the engine to generate maximum torque more quickly, producing moderate wheel slip, making it easier to unstick the vehicle, in deep snow or mud.
In Forester 2.5i-S with two-mode X-Mode, incline angles, plus left and right roll angle are displayed in detail on the Multi-Function Display (upper centre console), for easy understanding by drivers.

What limits the Subaru slightly is the lack of a true dual range 4WD system and the approach and departure angles. However it is important to note that the Forester is never designed as a 4WD vehicle, rather an exceptionally capable adventurous AWD vehicle, which is better than all in the class.
On dirt roads the Forester is as good as some more highly priced and fancied SUV's. In fact many people would be surprised at just how compliant the ride and handling is, and surefooted the Forester is over all dirt road surfaces. The suspension simply soaks up the bumps and corrugations, and deep ruts and potholes are dispatched with minimal disdain. The quietness, while doing all this is surprising as well.
On road ride and handling is amazing for the type of vehicle it is. It feels tight and well connected to the road. The steering is responsive and the suspension soaks up mid corner bumps. It's hard to explain just how good the revised set up on the new SGP makes the Forester.
At the risk of starting an argument amongst the enthusiasts, the Forester seems to match the Audi Q5 for ride and handling. (Let the arguments commence).

What they have done is match the CVT to the engine to extract the best from it. It will happily power along in gears (so to speak) but is a little strained under heavy acceleration from start. However the engine is responsive under normal driving conditions.
The increase in power and torque is noticeable while driving, which is way more important than simple figures. It makes the Forester a more enjoyable and relaxing drive. I would love a hot version though, that would be a lot of fun.

2019 Subaru Forester Dimensions
overall length of 4625mm,
wheelbase of 2670mm,
width of 1815mm,
Height of 1730mm,
Turning circle is 10.8m,
Kerb Weight 1617KG (2,5i-S) , GVM of 2223kg,
Unladen ground clearance is 220mm,
Approach angle is 18.7 degrees, rampover is 19.6 degrees and departure angle is 24.6 degrees,
Towing capacity is 1500kg and tow ball rating is 150kg

2019 Subaru Forester Safety
Ok, I'm not really sure where to start, there so much to talk about here. At the time of release the MY19 Forester hadn't undergone ANCAP testing, however that shouldn't be an issue as all Subaru's have a 5 Star ANCAP safety rating. It's a company policy.
There is improved visibility all around, especially over the bonnet, through the 'A', 'B', and 'C'' pillars, and then through the rear window, objects one metre tall, like small children can be seen by the driver, as well as through the reverse camera.
For a full list of the safety features we wrote a separate article here.
Before we list the features let's look at a few key highlights starting with the
Primary safety features such as:
Eyesight Assistant Monitor that displays details on the windscreen
Steering Responsive Headlights (SRH) are now standard across the range
Adaptive Driving Beam (ADB)– Forester 2.5i-L, 2.5i Premium and 2.5i-S)
Active Safety features include the Active Torque Vectoring, which is optimized so when Forester is turning, Vehicle Dynamics Control (VDC) applies brakes to the inner wheels, diverting more power to the outer wheels – producing better turning and more stable driving.

Subaru's Preventative safety features include the third generation clever Subaru EyeSight® driver assist, which is now standard across the range.
This system is so clever and simply works. Stereo camera images are in colour and the recognition is optimized, enabling "vision" of multiple items simultaneously. Third generation EyeSight uses a CMOS camera, with higher resolution than the conventional CCD, enabling recognition of even low-contrast objects.
Added to the previous Forester EyeSight functions is Emergency Lane Keep Assist (LKA) which helps prevent accidents if a driver unwittingly starts drifting into another lane.
The system also adds:
Lane Centreing Control And Preceding Vehicle Adaptive Steering Control – When driving at speeds up to approximately 120 km/h, the system assists steering operation to keep the vehicle near the lane centre.
Manual Speed Limiter – Controls torque or applies brakes if the driver is about to exceed the speed they set.
Enhanced pedestrian avoidance
Pre-Collision Braking Assist
Advanced performance of Adaptive Cruise Control (Brake light recognition etc.)
Let's take a moment to chat about the Pre-collision Braking. On the launch Subaru had set up a demonstration where I drove the vehicle directly at a blow up parked car. It was a weird experience simply letting the car proceed towards a crash without my foot on the brake, yet the system worked brilliantly and the car stopped with plenty of room to spare. Even more impressive was the reverse demonstration. Here I let the car simply roll towards the "vehicle" without any control other than steering and the system again detected the collision and stopped the car before it collided.
I believe that these reverse systems are now preferable for ANCAP yet the forward collision system works a treat as well and definitely will help avoid many rear end bingles in future.
The speed difference criteria for collision with a vehicle in front is expanded from a maximum of 30 km/h to a maximum of 50 km/h, for enhanced collision prevention. For the reverse braking the upper speed limit for operation is approximately 15 km/h or less and Impact avoidance target speed is approximately 8 km/h or less.
Brake light and object recognition are improved, even at relatively high speeds, and when the vehicle in front decelerates rapidly. This allows faster activation of primary brake control and increases the collision avoidance area.

2019 Subaru Forester Fit for Purpose
The Subaru Forester is aimed at the adventurous family with 2 or 3 children that wants to use their vehicle not only for school runs, but as an escape on weekends and holidays.
For this purpose it is perfectly designed. It will take the family to the snow, to farm visits, to the hard to get to picnic spots in National Parks. It will also tow a small boat or camper trailer or sea doo trailer with ease. Forest trails, beach excursions and drives through the back roads are all taken in its stride. It will also sit the bikes or canoes on the roof rails as well.
The size allows four adults or three children and two adults to fit in comfort and carry their luggage.
The important key it that the Subaru Forester will do all that in comfort, style and safety.

2019 Subaru Forester Summary
Subaru has always had a successful model with the Forester, with over 250,000 sold since its initial launch in 1997.
The latest version, the MY19 Forester shows significant improvements on an already excellent vehicle. It is perfectly suited for the adventurous family with younger children, or even an older couple that just wants a little space.
Life is about experiencing moments that you remember, and the Subaru Forester will certainly help the family do that.
Subaru has set the standard for the segment, it's up to the others now to catch up.

What's Good:
AWD capability
Internal space
Ride, Handling and Safety
 What's Not So Good:
No diesel or turbo engine options
Lack of aditional lumbar support
No Headsup Display
Model: Subaru Forester 2.5i-S
Model Price:                      $41,490 MLP*
Engine:                               2.5i Horizontaly opposed Boxer 4 Cylinder naturally aspirated.
Drivetrain:                         seven speed manual mode Lineartronic™ CVT
Power:                               136 kW/5,800 rpm
Torque:                              239 Nm/4,400 rpm
Safety:                                TBA
CO2 Emissions:                  168 g/km
Economy:                          7.4 L/100km (ADR comb)
Tow Capacity: Max              1500 kg
Tow Ball Rating:                  150 kg
Servicing: Capped Price      12 Months/12,500KM
Warranty:                            3yr/ unlimited km with full roadside assist
*Prices are Subaru (Aust) Pty Limited's Manufacturer's List Prices only and include GST on the list price but exclude dealer delivery charges and all other government and statutory charges. For the drive away price of Subaru vehicles consumers should be advised to contact their local authorized Subaru dealer.
Overall Rating     82/100
Behind the Wheel     8
Comfort                      8
Equipment                 9
Performance              8
Ride & Handling         9
Practicality                           9
Fit for Purpose                   9
Towing Ability                    6
Off Road Ability                  7
Value for Money                 9