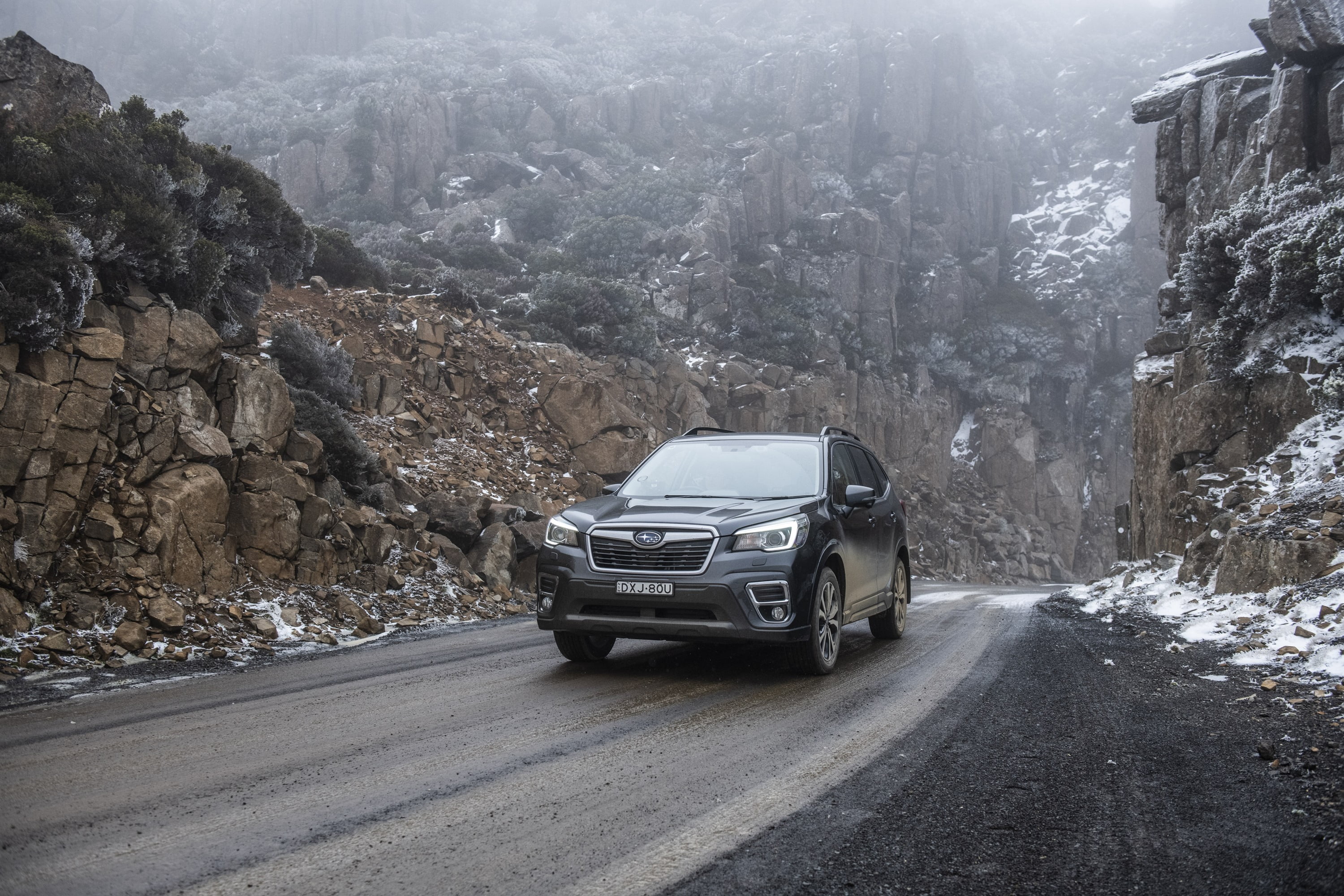 It's not common knowledge, but not all All Wheel Drives systems are the same. Many systems are predominantly 2WD systems with on demand AWD, others like the new Audi Q5 Quattro will pre-empt the need for AWD and some like the Subaru Symmetrical All Wheel Drive system provides a constant delivery of power to all four wheels all the time.
There are many advantages of both permanent and part time AWD systems, however for this article I want to focus on the benefits of the full time AWD system such as the Subaru Symmetrical AWD system.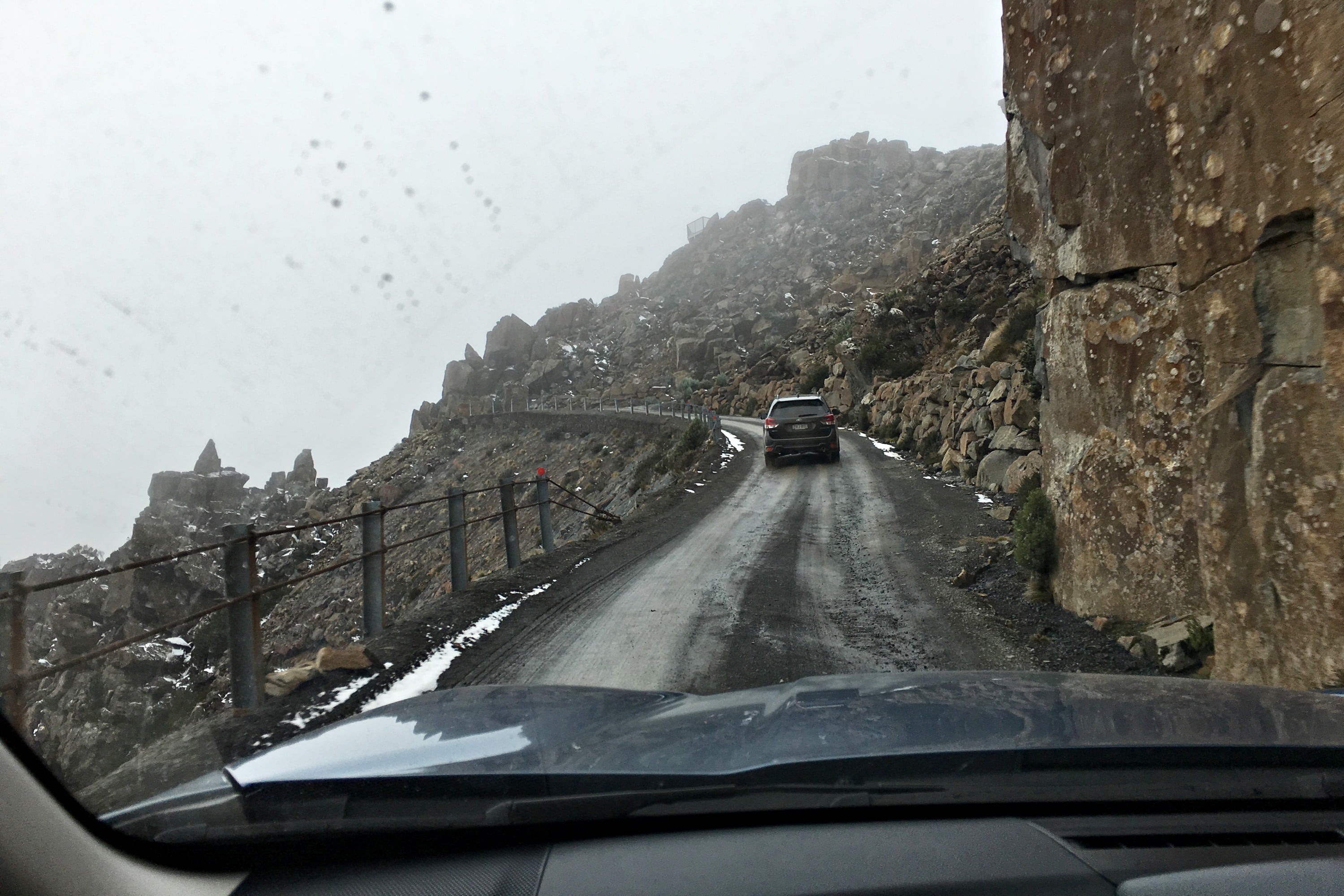 The reason is that on a recent drive through Tasmania I drove on a number of back roads, dirt roads and in icy conditions. In addition I drove a Forester up and down a section of road at Ben Lomond National Park, called Jacobs Ladder.  It is one access to the Alpine village beyond and a favourite for cyclists apparently. Masochists is probably a more apt description.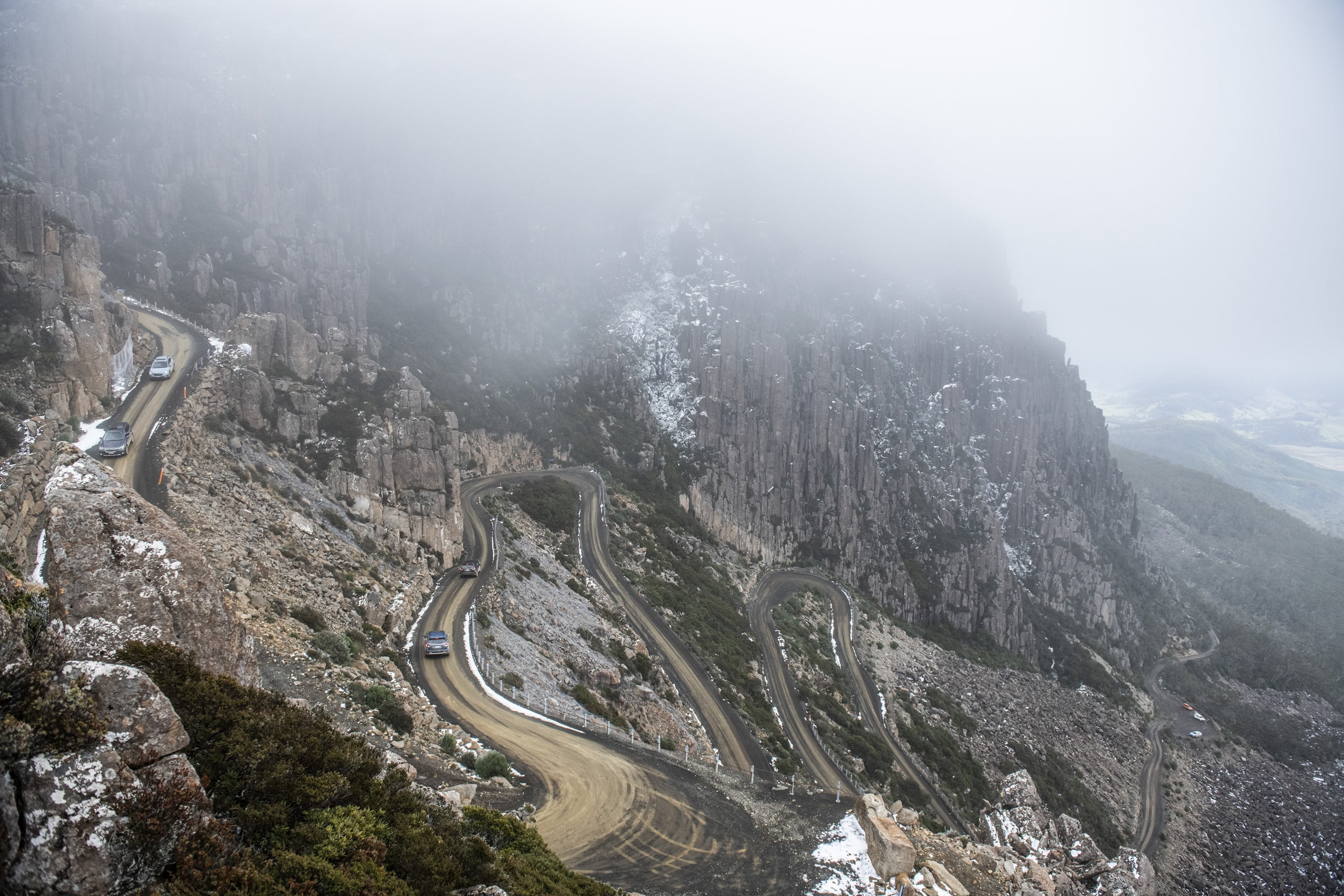 This is a narrow gravel twisty piece of road with hairpin bends, steep drop offs to oblivion and a 30km/h limit which in some circumstances is simply way too fast. About 5km/h on the hairpins is better.
In normal dry daytime conditions, the road is a pleasant drive if you are a careful driver. However we approached the road in winter in slushy, slippery conditions while lightly snowing nearer the top of the mountain. We carried chains as required by law, but didn't need them.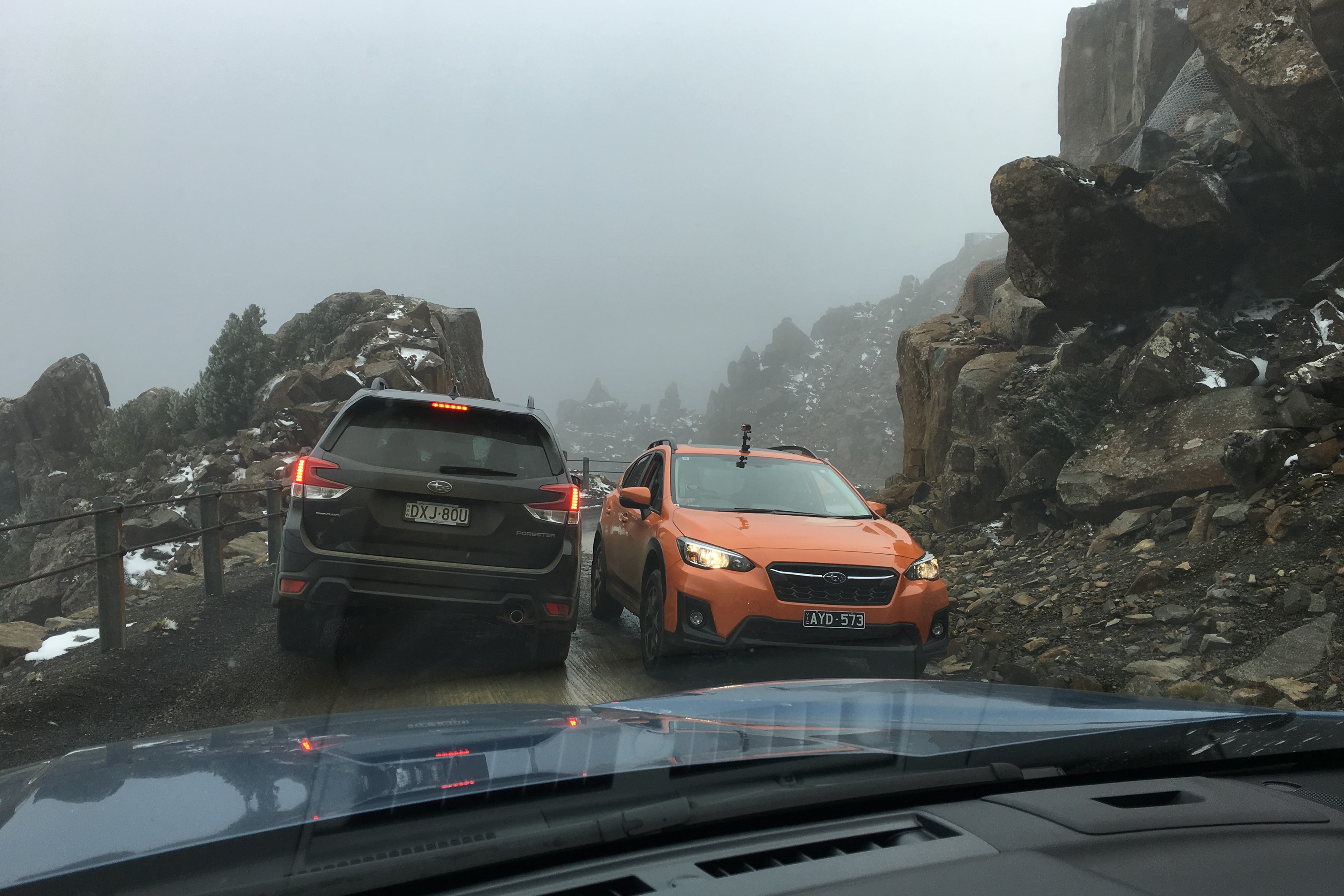 The road in places is wide enough for two cars, sometimes not. There are safety barriers, but they don't provide much confidence to those amongst us that don't naturally choose activities at heights as a recreation.
I wanted to set the scene as this drive completely reinforced the advantages of the Subaru Symmetrical constant AWD system.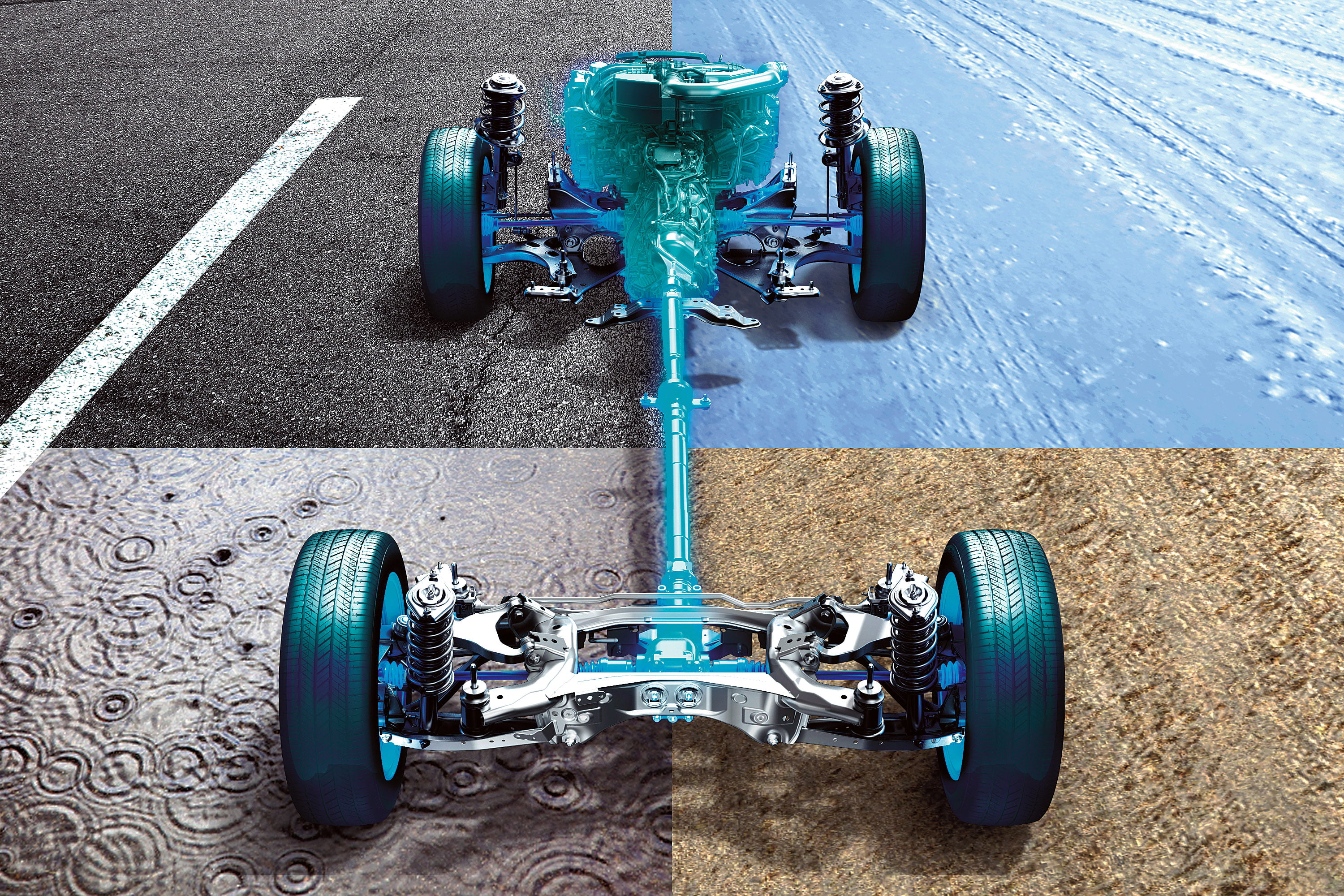 Symmetrical AWD System How it Works
The combination of the low set horizontally opposed Boxer engine mounted longitudinally and the new Subaru Global Platform, such as on the Forester and the Symmetrical AWD system provides a unique base for an SUV.
There are a number of highly sophisticated variations, depending on the vehicle and transmission. The Forester utilises the Active Torque Split AWD system that is specifically designed for the Lineartronic CVT. As CVT's have an almost infinite gearing, the Forester usually distributes the torque in a 60/40 front/rear ratio.
The benefit of Active Torque Split AWD is that sensors are constantly checking on what is happening with road conditions, tyre grip, driver inputs and speed. The electronically controlled MP-T (Multi Plate Transfer) adjusts torque distribution to the front and rear tyres in real-time to suit prevailing driving conditions.
The key here is that all four wheels are driving at all times, the split between front and rear is the only thing that changes.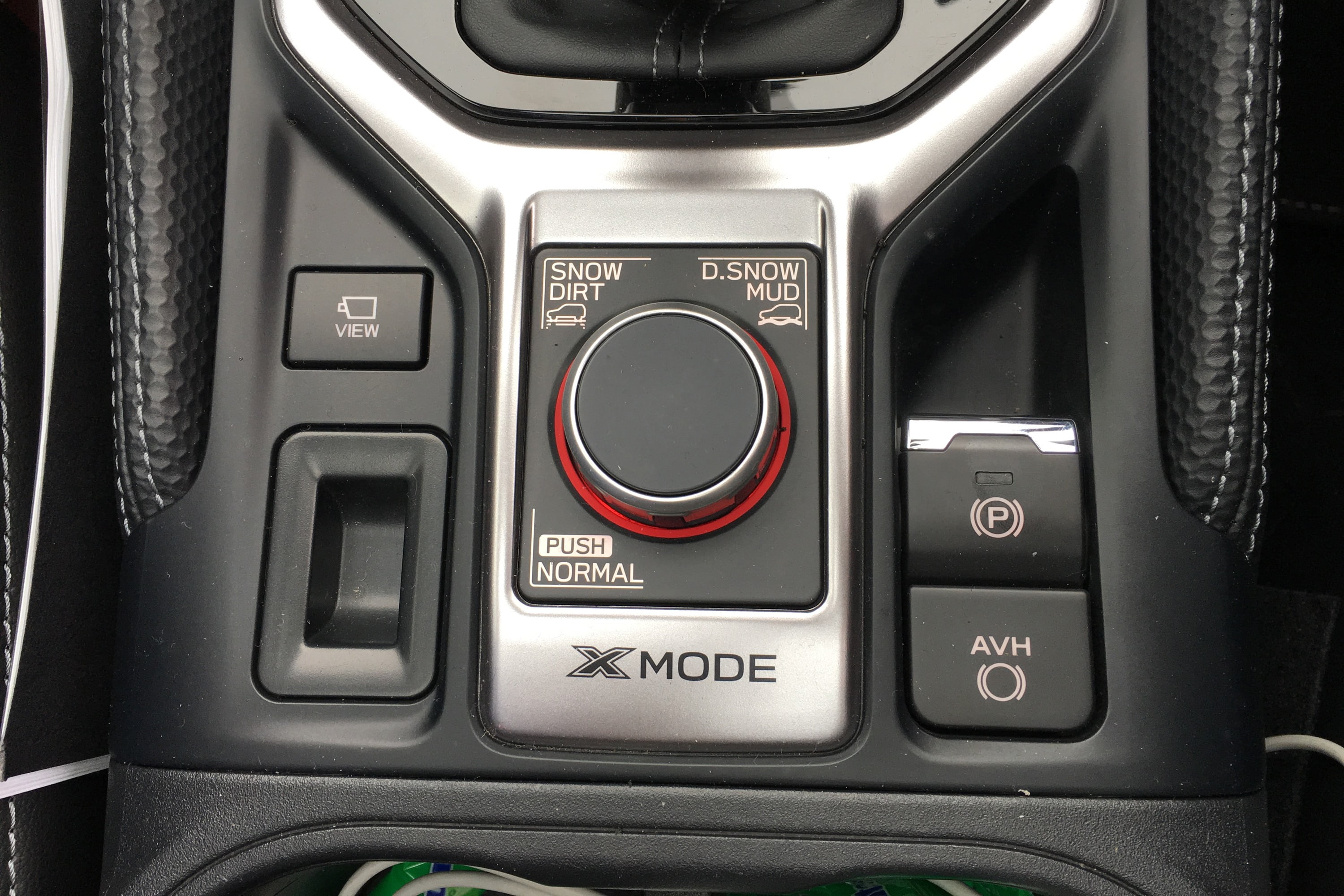 X Mode
In addition to the benefits described above, the latest X Mode is basically a one dial control that manipulates the relationship between various vehicle functions such as engine, transmission, AWD, brakes and more to enhance control of the vehicle.
It is particularly useful on slippery or steep ascents or descents, on dirt or slippery surfaces like gravel or mud.
The top spec Forester 2.5i-S has two switchable modes, controlled using an easy-to-check dial. When D.SNOW/MUD is selected, ECU torque control allows the engine to generate maximum torque more quickly, producing moderate wheel slip, making it easier to unstick the vehicle, in deep snow or mud.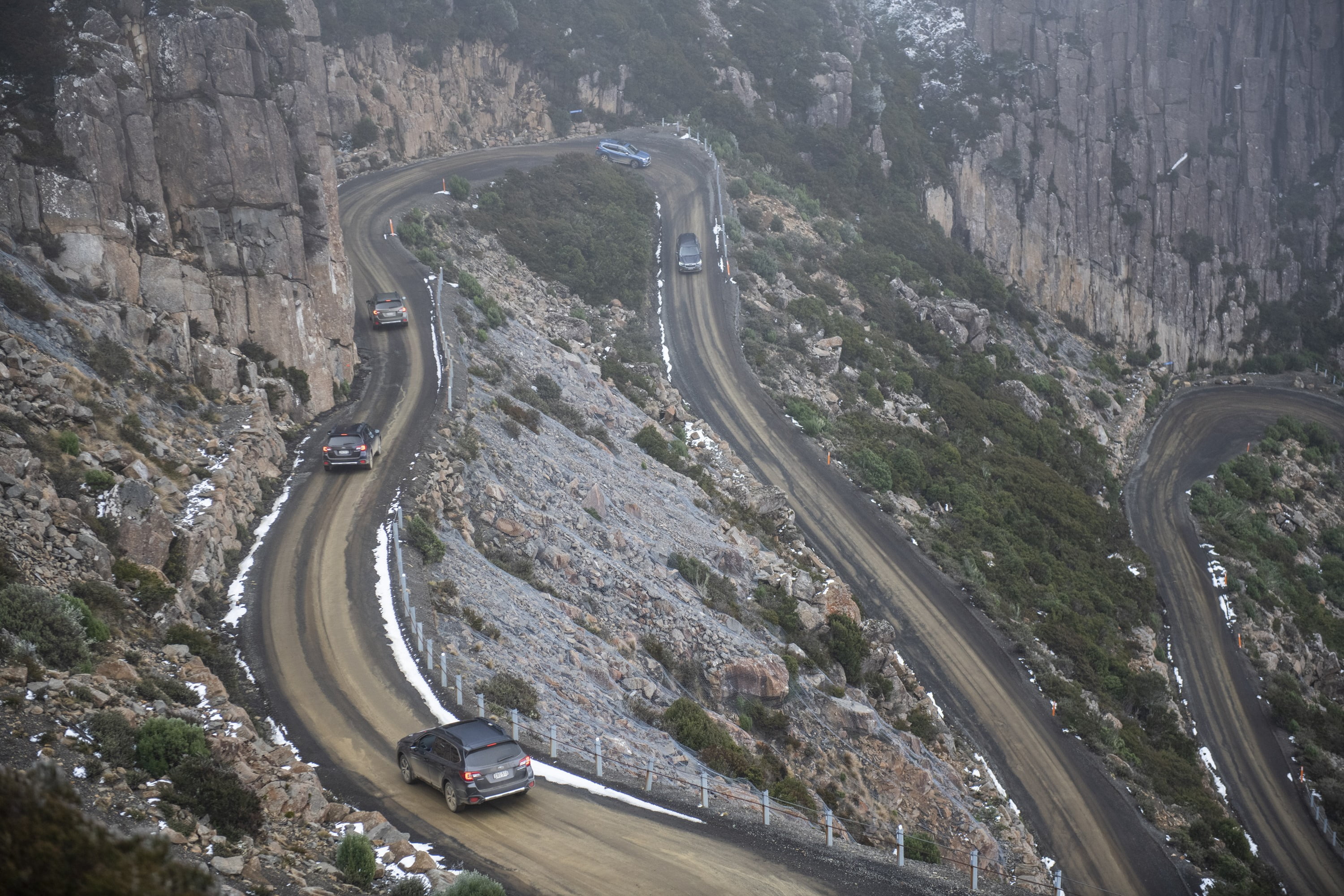 In Forester 2.5i-S with two-mode X-Mode, incline angles, plus left and right roll angle are displayed in detail on the Multi-Function Display (upper centre console), for easy understanding by drivers.
In Forester 2.5i, 2.5i-L and 2.5i Premium, when X-Mode is activated the Traction Control System (TCS) is switched off – simply by switching the dial to TCS OFF.
X Mode is really split into two components, below 40km/h and below 20km/h. When operating below 40km/h X Mode manipulates the relationship between the Engine Control Unit (ECU), Traction Control Unit (TCU) and the Vehicle Dynamics Control (VDC), all to co-ordinate the wheel rotations, slip and brake pressure.
Below 20km/h X Mode also activates Hill Descent Control (HDC) which operates on speed, not hill steepness. This allows the driver to focus on steering not braking.
The system works brilliantly and is as good as many true 4WD systems and better than most AWD SUV hill descent control systems.
The Forester has a ground clearance of 220mm. Let's put that into perspective. The Mitsubishi Triton 4WD Ute has a ground clearance of 205mm. The LandCruiser Sahara has a ground clearance of 230mm.
Back to the drive up and down Jacobs Ladder.
So here we were driving up and down this stretch of road, as mentioned in slushy, slippery, snowy conditions. The drive up was a piece of cake, if you ignore the steepness of the fall away to the side. I found out its better to be a driver than a passenger.
Heading up, the hairpin corners where usually the inside rear wheel would lose traction, proved no issue. The slippery road conditions again were mastered by the constant AWD and appropriate driving. Also remember we were on road tyres as well. Wheel slip on this road in these conditions would prove dangerous and could prove fatal.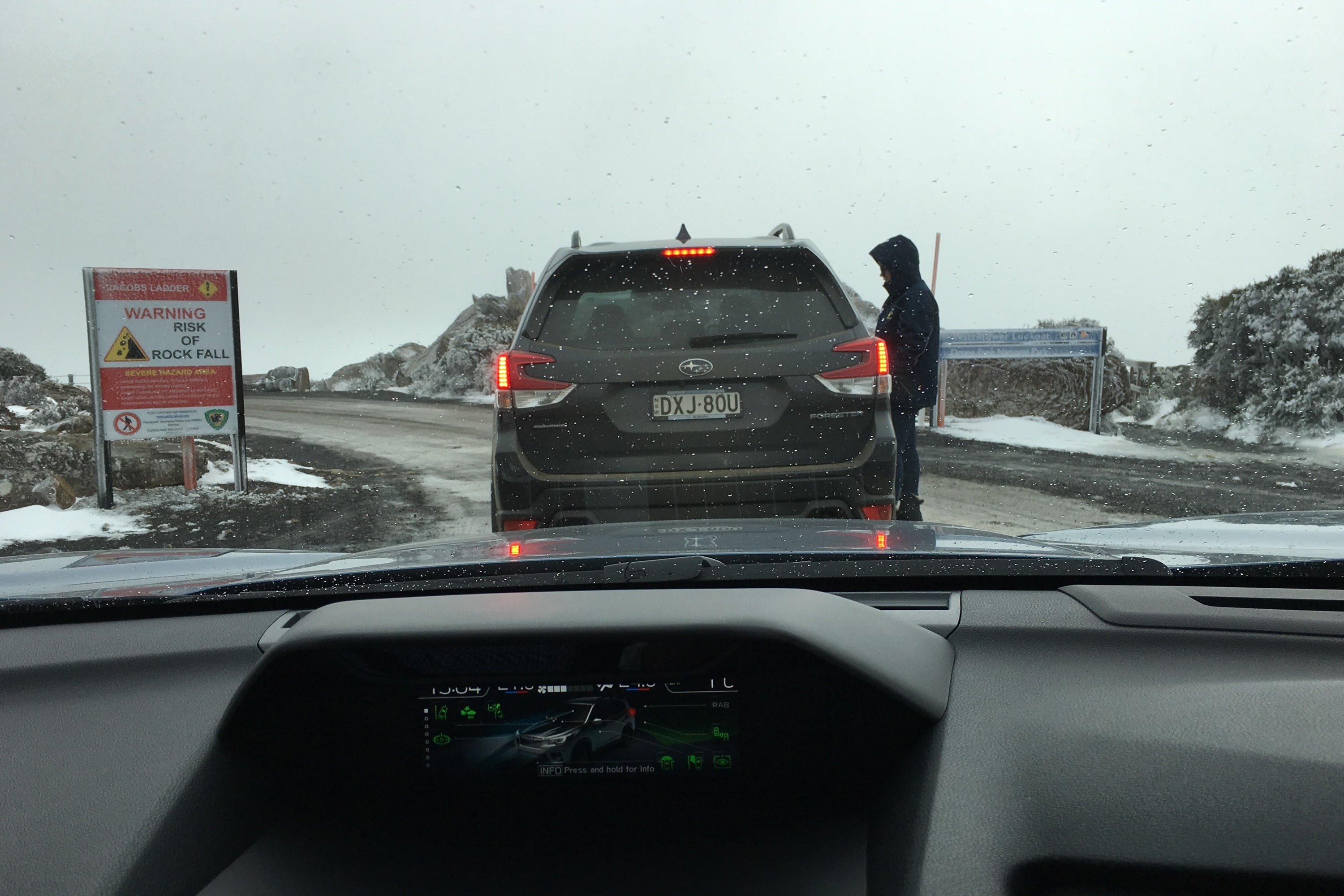 On top it was a touch cold and snowing. A quick dash outside for photos and a look around and we headed down again. This time we engaged X Mode. The advantage of X Mode is that it will maintain the speed set. If you want to go a little faster simply accelerate or if you want to go slower, brake a touch and the X Mode will change to the new speed in both instances.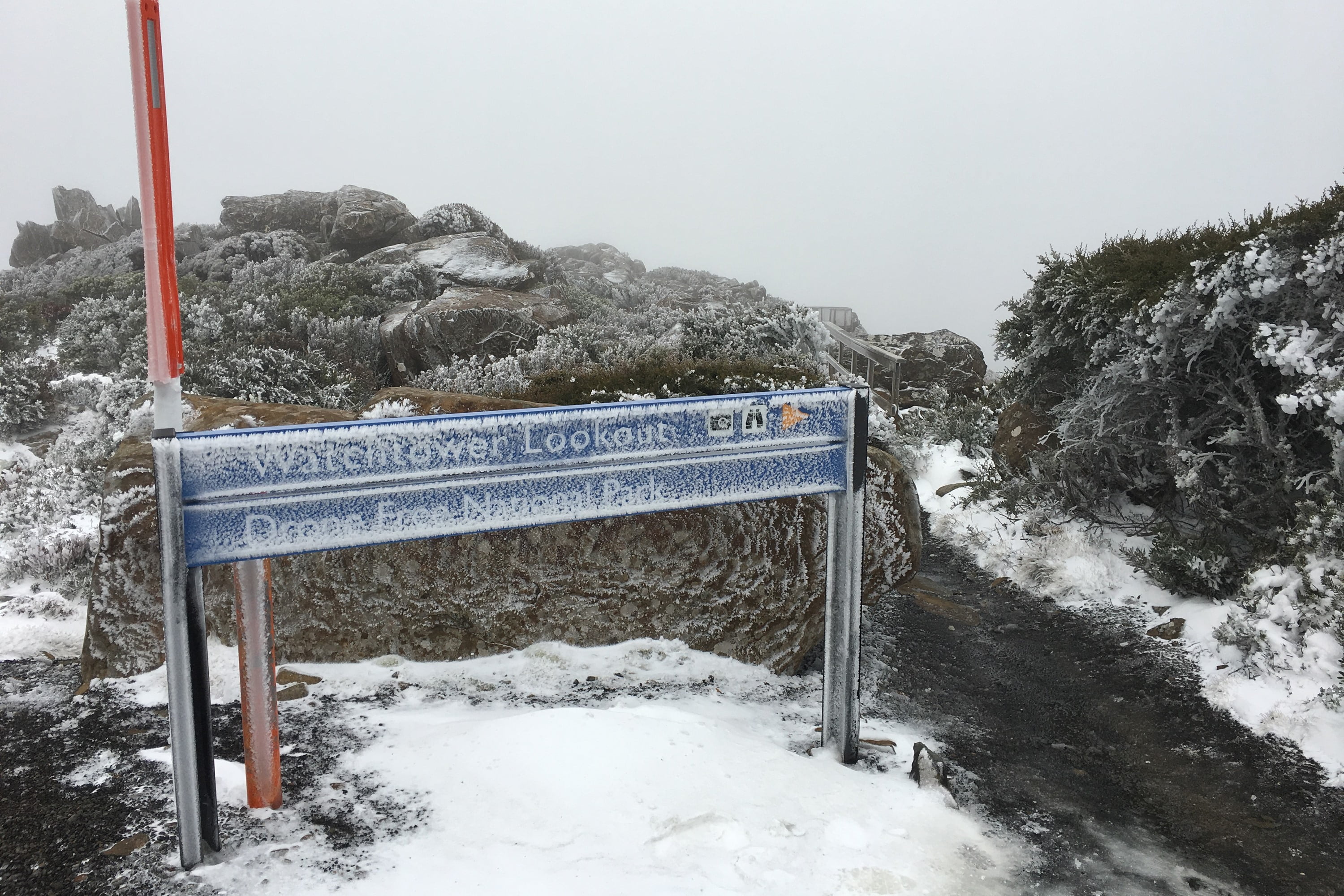 Going down, again the hairpin corners could prove difficult for many vehicles, but the Forester simply drove down at the selected speed without fuss. It seemed all too easy. On the trip we also has some Outback's and XV's that were equally capable with the X Mode system.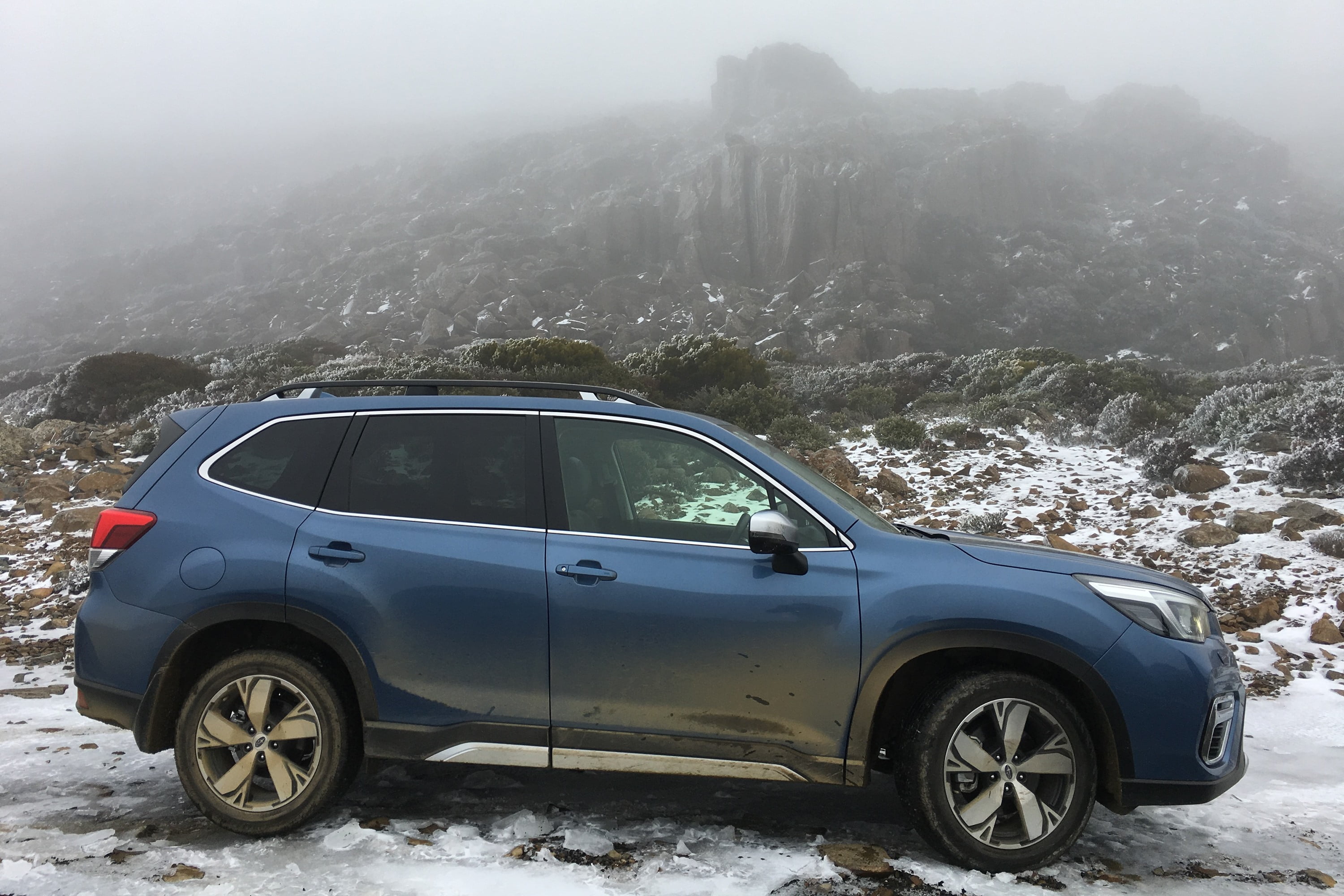 Why Subaru's Symmetrical AWD system is so good.
I have driven Subaru's for many years, as a personal vehicle and as a test vehicle. The drive up and down Jacobs Ladder in these conditions really showed me just how much I take the Subaru constant AWD for granted.
Because it works so well and is so easy to operate, many drivers will lose sight of just how good it is. There are many 'AWD SUVs'' that I would hesitate to repeat the drive in and a few that I would politely refuse.
This is what Subaru's are all about, the ability to be adventurous, go places others drive their SUVs around or avoid and do it with supreme confidence and safety. I have been to many places in Australia, but driving up Jacobs Ladder is another of those special moments that goes into the memory bank.