VW Tiguan continues to be a success story for VW. The handsome mid-size SUV is capable of light off-roading, and light towing work. The cabin is spacious and has a premium feel.
VW has really lifted its game in all respects. Tiguan has been around for about 10 years now and has grown in those years, like all of us. We drove the top Comfortline model complete with body coloured bumpers and mirror surrounds. It has 18 inch wheels, a moderate engine, and a look that is a little squarer and more aggressive than before. It is handsome, and masculine, and modern.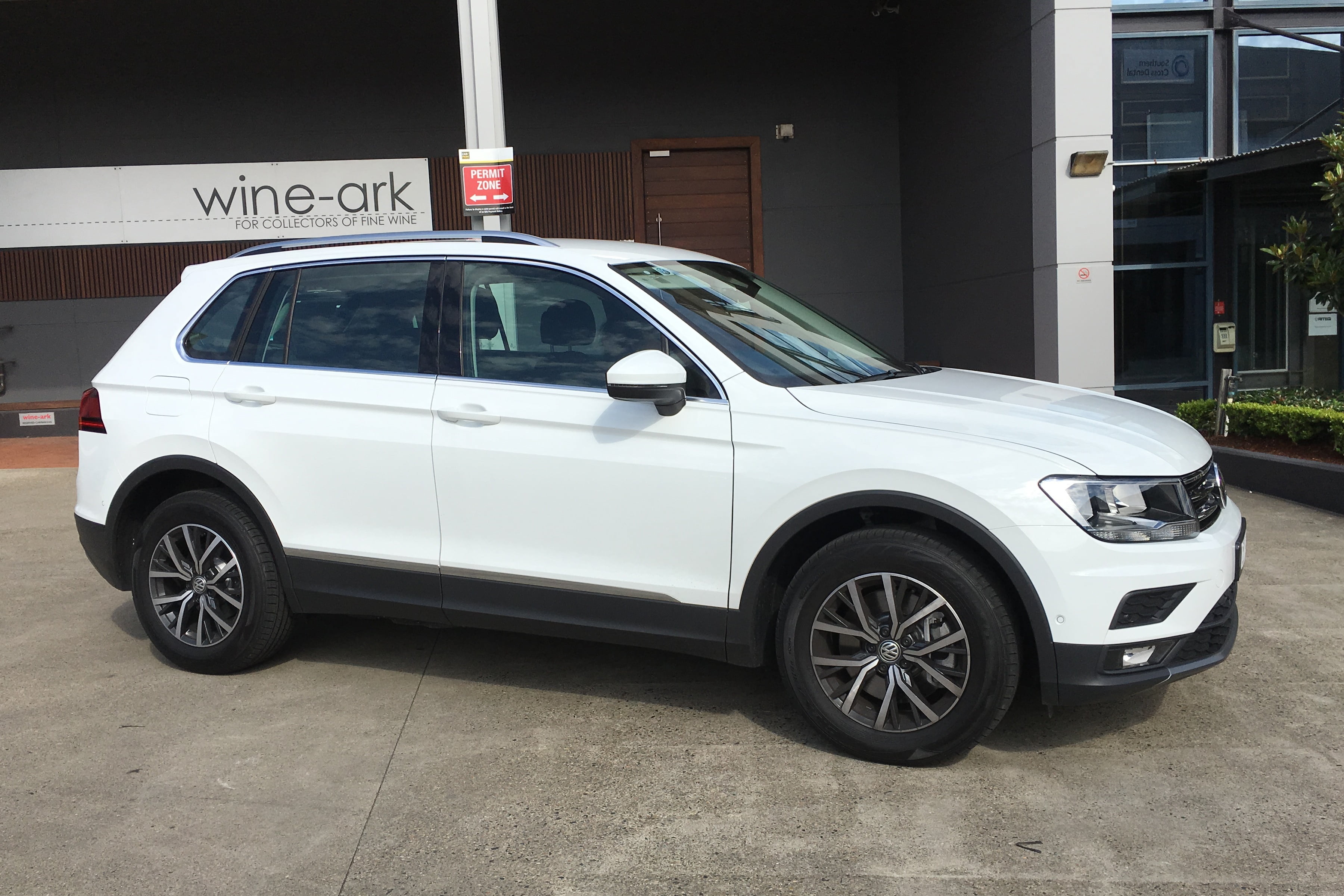 Tiguan 132TSI Comfortline External
It's Tonka-toy exterior is further accentuated by hi-tech LED headlights with dynamic cornering, that look like ice cubes in a G & T. Below are front fog lamps with static cornering. Around the back the LED story continues.
There are several groups of LEDs. The top line of LEDs remains steadily lit while the engine is on. The bottom two horizontal pairs turn vertical, and become more intense when the brake is applied. It is eye-catching. the first time you see it. Roof rails can take an optional travel pod should you fill the boot with your unbridled enthusiasm.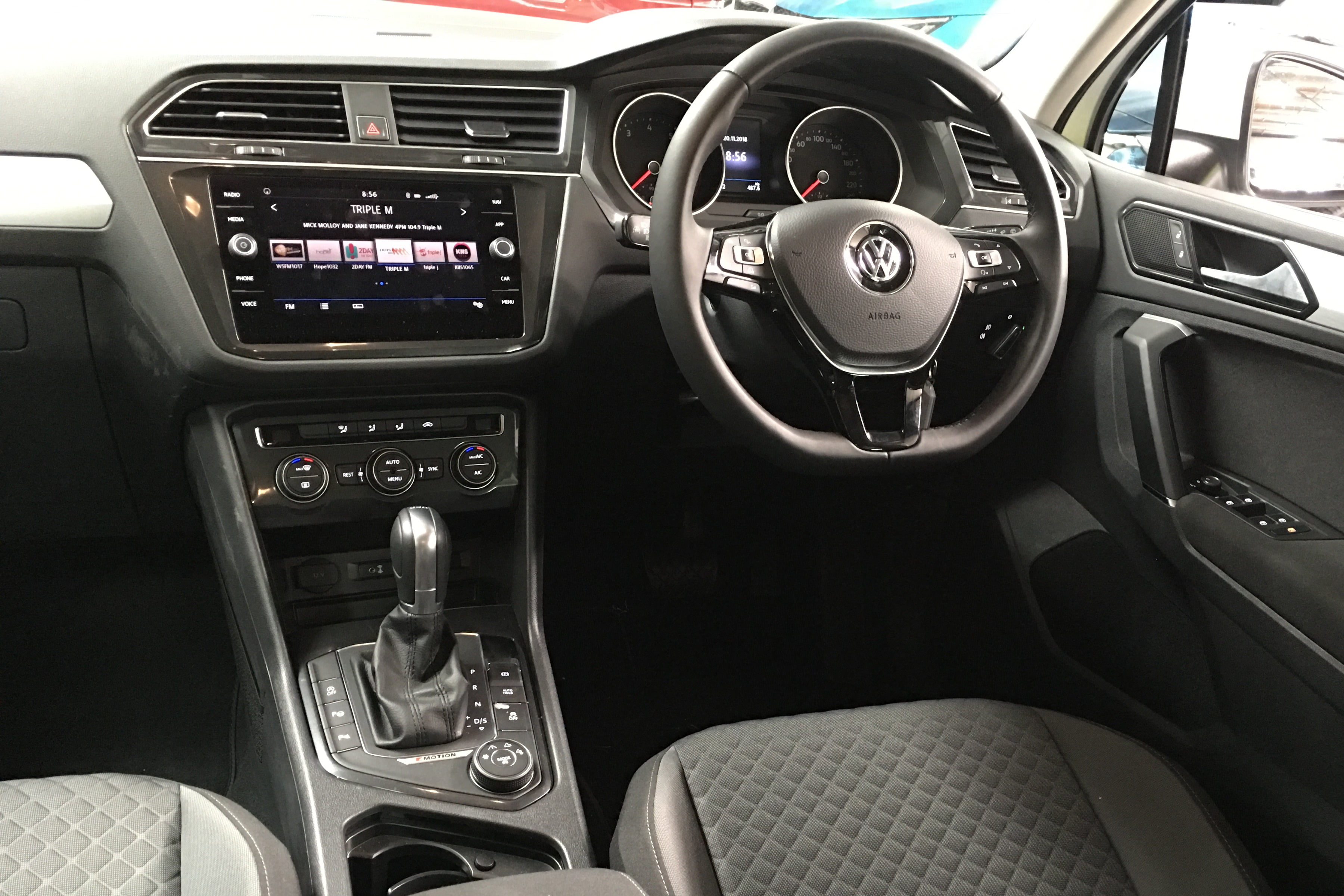 Tiguan 132TSI Comfortline Internal
The driving position is high-set, and you sit upright to. 4 adults fitted with room to spare.
The interior cabin is immaculate, clean and functional in the German way.  All materials feel soft and expensive, including the plastics. All Knobs, buttons, and levers, have a slight resistance to their smooth operation.
You usually only expect from cars that cost the GDP of a small African nation. The soft grip rim on the climate control dials give an impression that thought has gone into their design. Not only is attractive, but it feels good to touch. Tiguan has a twin dial dashboard with a MFD between. Steering wheel buttons allow you to scroll through the driver's LCD menu.
You can even display the SatNav there. The speedo and tacho shrink in size when the map is displayed. There is a digital speedo too. The electric rear door isn't exactly unusual today, but it makes things much easier none the less.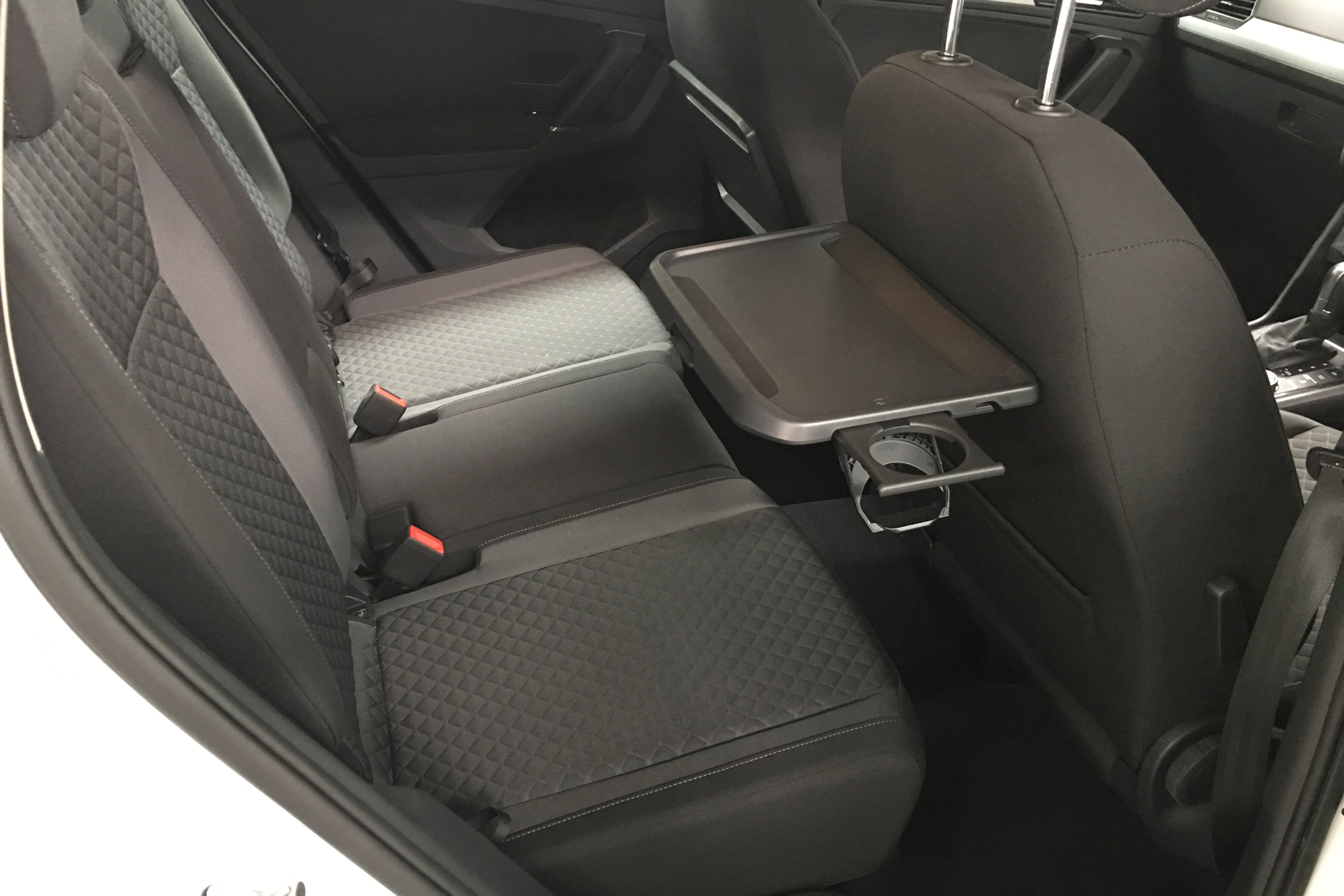 The fabric seats are ok, reasonably comfortable, but not a patch on the optional leather seats. Rear seats are a little tight but not much different to others in the class. They have a handy fold down tray for passengers. The cargo hold has 615L worth of space for your bags too. This expands greatly with rear seats that fold almost completely flat. The space then becomes very useful.
Tiguan 132TSI Comfortline Features
 The latest incarnation of the VW infotainment system has Apple CarPlay and Android Auto. All models get an 8 inch touch screen, with the top 2 models getting voice control for Satnav and audio operations. Many users don't know they can use "Hey Siri" to perform tasks hands free. For example, you don't need to press the voice button to play music, or make a call. More importantly, messaging is also completely handsfree. Pressing then releasing the voice button activates the car's voice controls, pressing and holding will activate Siri instead. I see Siri as a the greatest safety feature since the seat belt.
Many accidents have been caused by inattention. You can switch from CarPlay back to the car's system anytime. The infotainment menu auto-bar hides when not in use. It gives the user more real estate for viewing maps, radio stations, and other functions. This is carried over from previous units. The sound is rich and dark. It makes an already-elegant cabin even moodier and enchanting.
Other features include: rain sensing windscreen wipers, Rear View Camera (RVC Plus) with multi-angle views and dynamic guidance lines, electrically foldable exterior mirrors, electrically operated automatic opening and closing of the tailgate with Easy Open and Close functions, air Care 3 zone climate control air conditioning,
Tiguan 132TSI Comfortline Engine and Drivetrain
Powered by the 2.0 L turbo petrol engine the 132TSI produces, funnily enough, power of  132 kW @ 6000 rpm and torque of  320 Nm @ 1500-3940 rpm. There is a 7 speed DSG in the Comfortline and this delivers to the road through VW  4MOTION AWD system.  This will run from 0-100 km/h in 7,7 seconds, while sipping fuel at an ADR rate of 7.5 L/100K.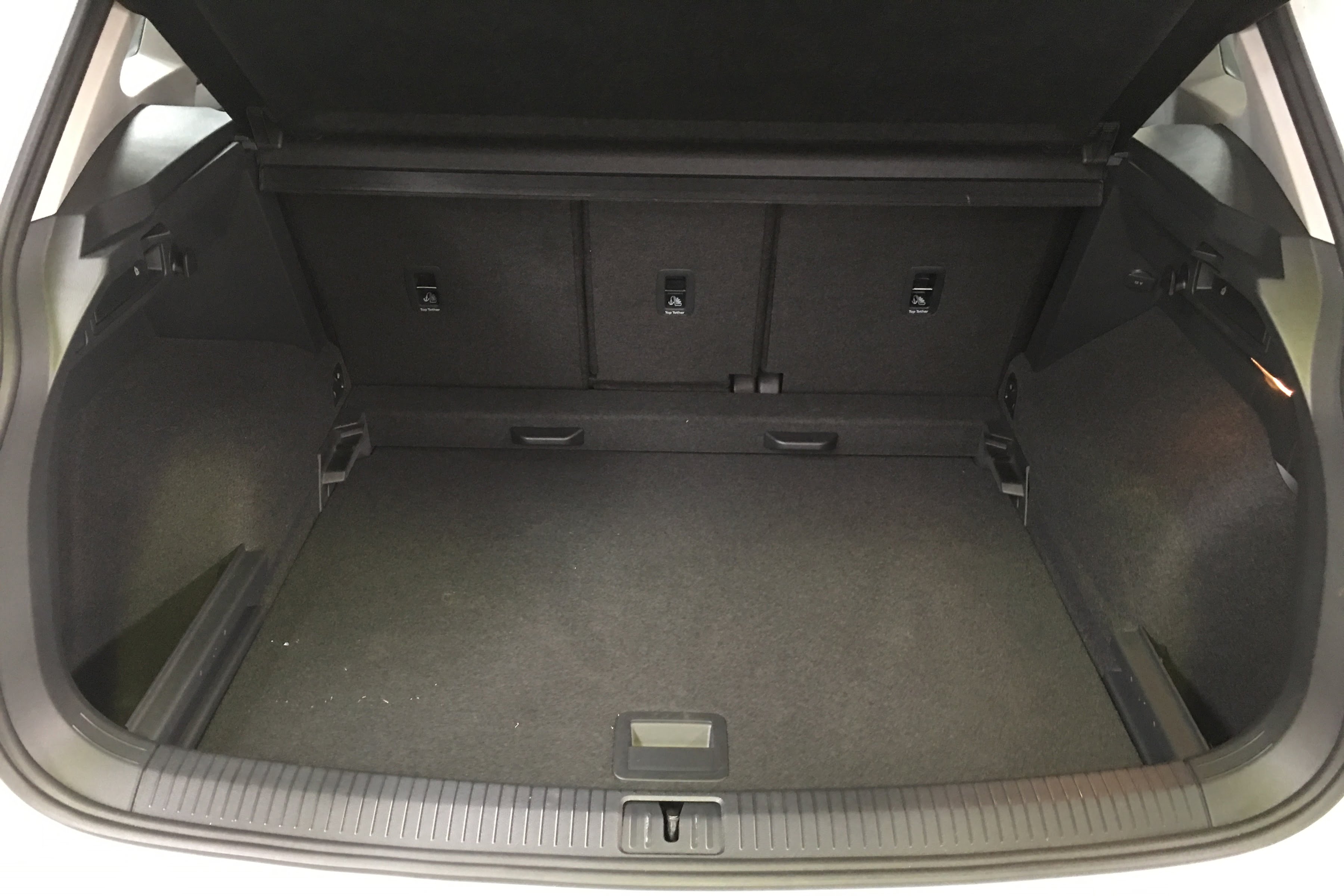 Tiguan 132TSI Comfortline Driving Experience
Steering is very light however the road manners are as impeccable as the immaculate cabin. The ride is superb. It gets firmer of course, the second you enter sports mode. The active cruise control (ACC) keeps an eye on the road ahead. It slows you down when the traffic slows down, all the way to stop. When the traffic moves off, you either hit the "Resume" button, or blip the accelerator to get going again.
However, even in the hardest setting, the suspension won't be uncomfortable as it tackles rough roads. The 4motion AWD shuffles power to give the best grip. while the chassis control adjusts the dampers up to 1,000 times a second. You can feel the weight of the Tiguan make a controlled shift as you enter corners.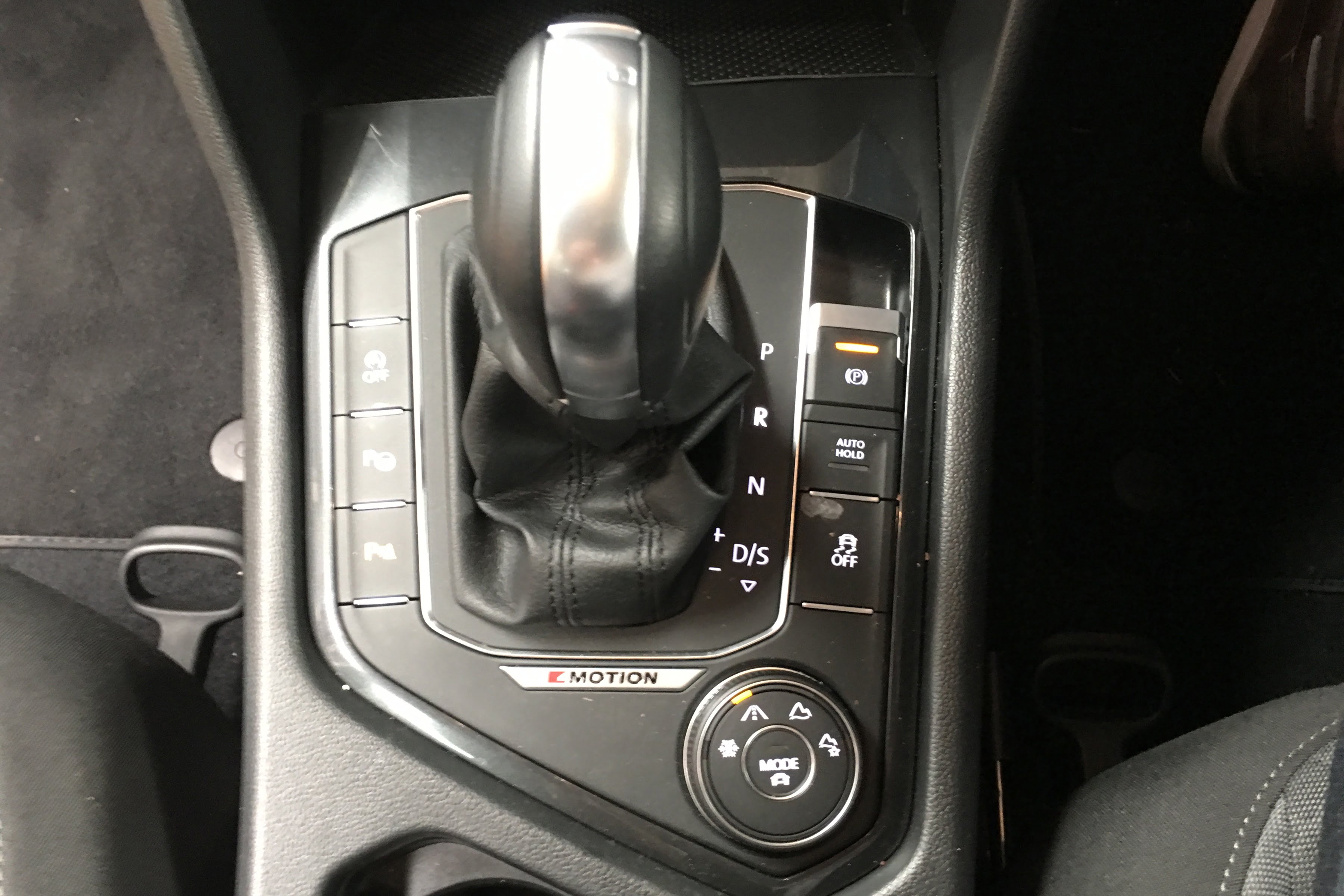 The off-roading capabilities are greatly enhanced by the addition of extra settings. They're controlled by a console-mounted control dial, which also houses the variable chassis controls. I have it on good authority that the off-road settings make a decent fist of light cross-country work. You probably won't want to tow much, but for those rare times when you do, hiring a bigger rig is an option.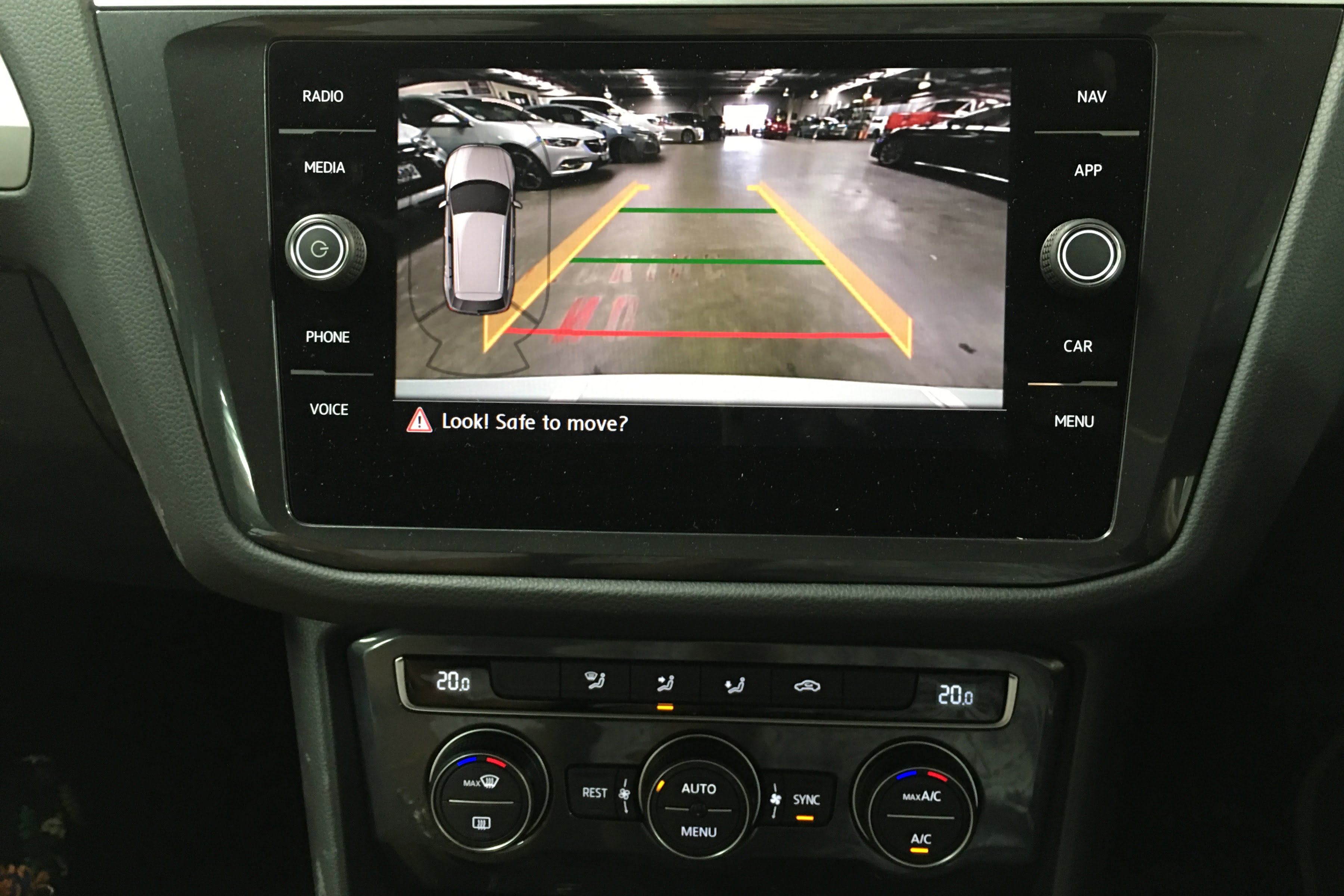 Tiguan 132TSI Comfortline Safety
There is all the usual safety gear, including AEB., driver and front passenger airbags and driver's knee airbag, driver and front passenger side airbags and curtain airbags, front and rear, Driver Fatigue Detection system, Front Assist with City Emergency Brake (City EB) function and Lane Assist, lane departure warning system.
Automated parking lets the system does it for you. Press the parking button, and the car searches for a spot. You indicate if you want to park on the driver's side, otherwise it parks on the passenger's side. Then, all you have to do is follow directions by shifting in to D or R. You control the speed, but the steering is done by the computer, and it is very good at it. The sensors know exactly where the obstacles are.
The reversing camera is high quality too. The lines show where you're going, and how close you can get to an obstacle and still be able to open the tailgate.
Tiguan 132TSI Comfortline Summary
 VW Tiguan is a pleasure to drive. The sharp lines make it pleasing to look at, and the cabin is a very nice place to be. Although it is pricey, VW have aimed high, and got there. In a very competitive space VW manages to add a little extra and different from the mainly Japanese and Korean offerings. It feels taught and classy from the moment you look at it to the moment you first drive off.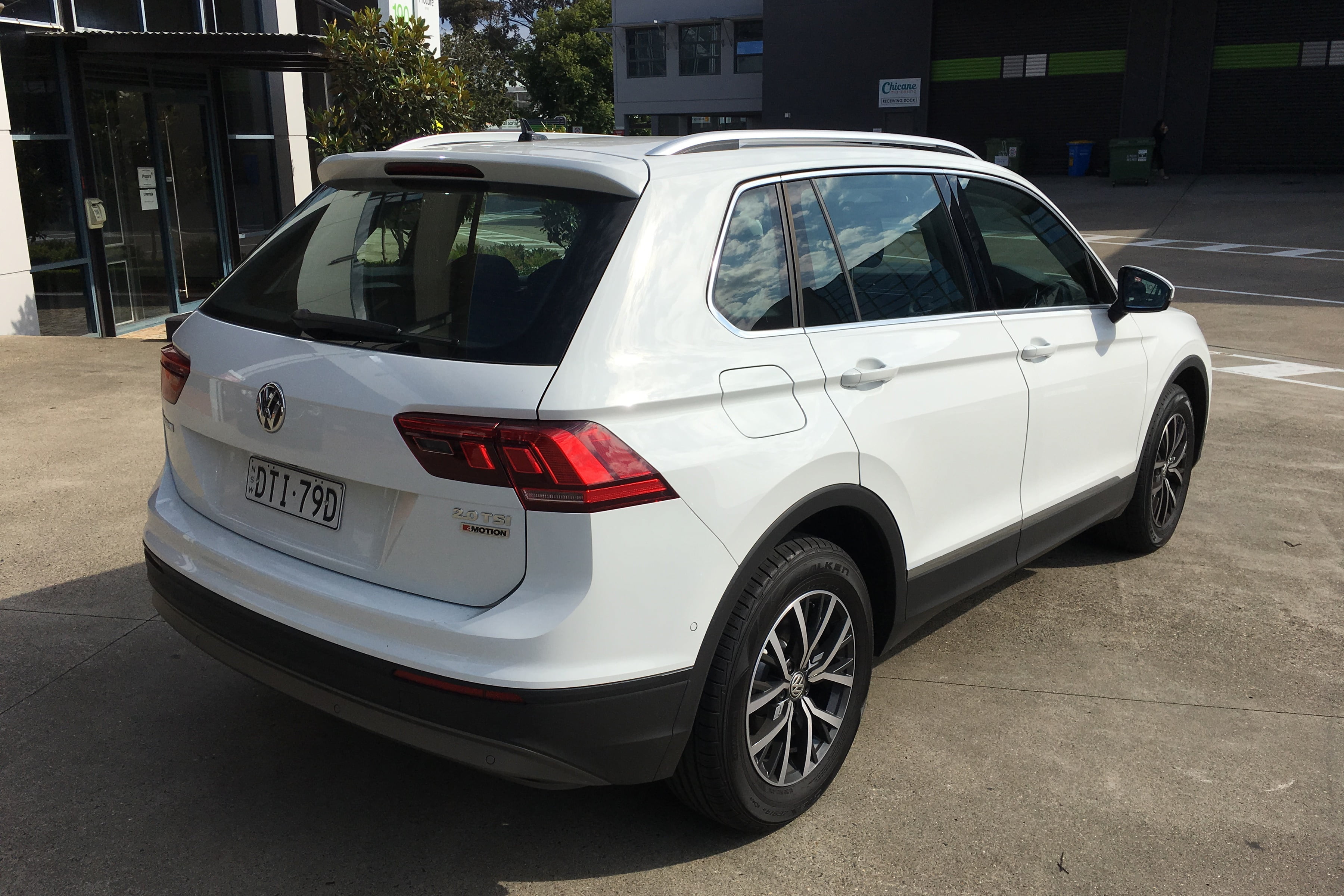 What's Good:
Style and design
Engine torque
Technology
What's Not:
Rear seat/leg room
Flat fabric seats
Light steering
Also Look at
Model VW Tiguan 132TSI Comfortline
Model Price $42,490 MLP*
Engine   2.0 L 4 Cyl TSI
Drivetrain     7 Sp DSG AWD
Power   132 kW @ 6000 rpm
Torque  320 Nm @ 1500 rpm
Safety    5 Star ANCAP
CO2       173 g/km
Economy ADR    7.5 L/100 km
Servicing      VW Service Plan
Tow Rating  2500 kg
Tow Ball Rating  200 kg
Warranty     5 Yrs / Unlimited km 1 Yr  Roadside Assist
*MLP – Manufacturers List Price includes GST and LCT but excluding statutory charges, dealer costs and dealer delivery. See your dealer for RDAP. Does not include price of any options.
Overall Rating 80/100
Behind the Wheel     8
Comfort               8
Equipment           8
Performance              9
Ride & Handling         9
Practicality          9
Fit for Purpose           9
Towing Ability            6
Off Road Ability         6
Value for Money       8
VW Tiguan 132TSI Comfortline
Summary
 VW Tiguan is a pleasure to drive. The sharp lines make it pleasing to look at, and the cabin is a very nice place to be. Although it is pricey, VW have aimed high, and got there. In a very competitive space VW manages to add a little extra and different from the mainly Japanese and Korean offerings. It feels taught and classy from the moment you look at it to the moment you first drive off.