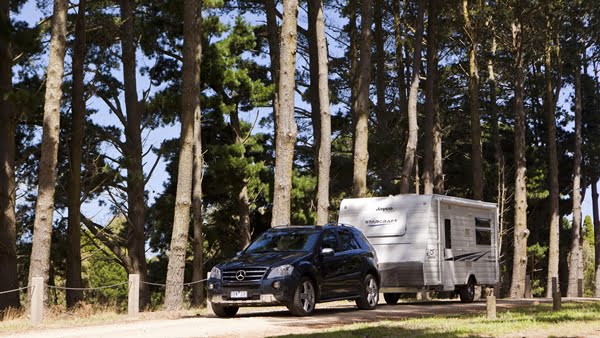 Jayco has updated their Jayco Starcraft Outback and Jayco Starcraft Touring caravans for 2011.
Since the introduction and huge success of Jayco's Starcraft caravan range, demand has grown for RVs that are well priced and lighter in weight.
Jayco has answered the call by releasing four new layouts, giving customers the choice of six versatile floor-plans to suit every holiday.
The Touring and Outback models have been updated for 2011, with each model showcasing its own coloured graphics. The exterior has been re-designed, and the interior finishes and decor have been refreshed.
The Starcraft Outback is specifically designed for rugged conditions, and features 15" alloy wheels, ALKO outback leaf springs, shock absorbers with guards and an underslung axle for improved ground clearance. This tougher version allows you to venture throughout Australia's vast network of unsealed roads, freeing you up to explore some of the country's most incredible hideaways.
Jayco's Marketing Director, Andrew Ryan, said that the success of the Starcraft range shows that Australians want value as well as functionality.
"The Starcraft's lightweight, cladded aluminium frame makes it easy to tow, and is priced in a range that suits any budget," Mr Ryan said.
The standard design comes packed with interior features including solid timber furniture doors, Aluminium framing, lift up beds to maximise space, splashbacks, a microwave, fridge and a four burner gas griller.
Extra features are available for added comfort and practicality, including updated external barbeques, bike racks and an external shower.
Mr Ryan said that the Starcraft range is the first port of call for many fun seekers.
"The Starcraft doesn't sacrifice quality for affordability – it really allows you to see the stars without the price tag!"
All Jayco RV's are built in Australia and come with a three year roadside assist program and 12 month warranty.