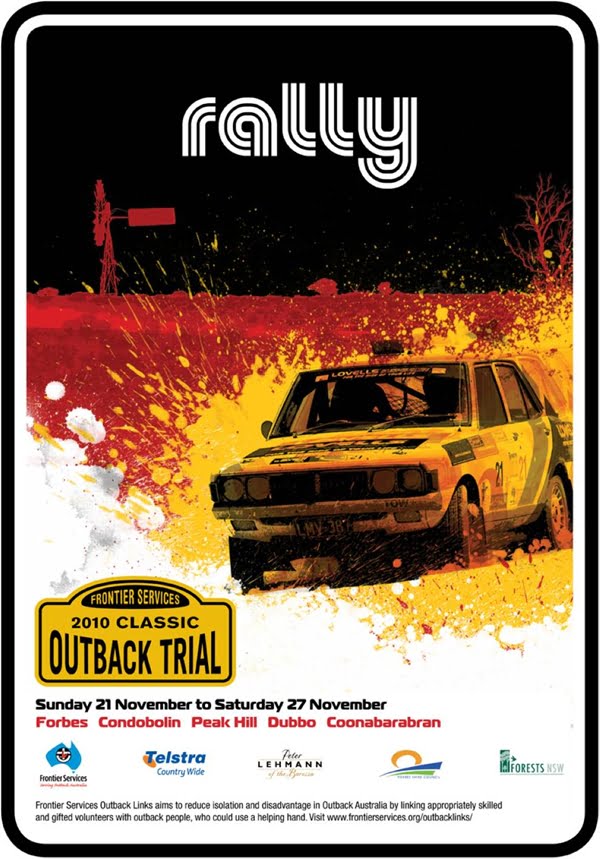 Frontier Services is again proud to announce its participation as charity partner of the '2010 Classic Outback Trial'.
The charity, which is the largest single provider of family and community services, health care and pastoral support to people living in remote Australia, is sponsoring the race for a second year in a row to help raise awareness of its national 'Outback Links' volunteer program.
The event, which runs across Western and Central New South Wales between 21-27 November is open to up to 50 entrants in 'Classic' rally vehicles built before 1996.It comprises 25 closed-road timed stages, starting in Forbes, taking in the regional centres of Coonabarabran and Dubbo, before then returning to Forbes for the finish.
Overall, up to 20 per cent of the total 2,500km covered by the event is expected to be competitive, with participants enjoying more than 150km of timed competition on one day alone.
The 2010 Trial will open and close with stages set up at Forbes' Showgrounds and the adjoining Travelling Stock Reserve which will be open free for the public to view.
According to organiser Philip Bernadou, "The 2010 Frontier Services Classic Outback Trial has been designed as more of a short event to capture the challenges, adventure and 'mateship' of a traditional Outback Trial, but within a more compact timeframe."
"The Trial will take competitors over a wide range of terrain from typical red dirt tracks on private properties in Western and Central NSW, to more sealed shire road sections. A key feature of this year's event is that the transport stages have been kept to a bare minimum. This has greatly reduced the need for service crews to travel large distances," he continued.
Entrants include Ross Dunkerton, arguably Australia's most successful international rally driver whose record includes winning almost 100 rallies in a distinguished career spanning three decades. This includes the Australian Rally Championship in 1975/76/77/79; the Southern Cross rally in 1980; the Asia Pacific Rally Championship in 1991 and 1992; and the 2005/2006 Targa West Rallies. He is also one of only three Australian drivers ever to achieve FIA A seeded status.
Frontier Services originally became involved with the Trial in 2009 with the aim of creating awareness for its national 'Outback Links' volunteer program. This matches skilled volunteers with families and individuals living in remote areas who are 'doing it tough' due to factors such as adverse climate conditions, illness and heavy seasonal workloads.
For information about Outback Links, please contact:
Davida Melksham, Outback Links Coordinator: 1300 731 349 (W) or 0428 958 529 (M)
Email: outbacklinks@bigpond.com