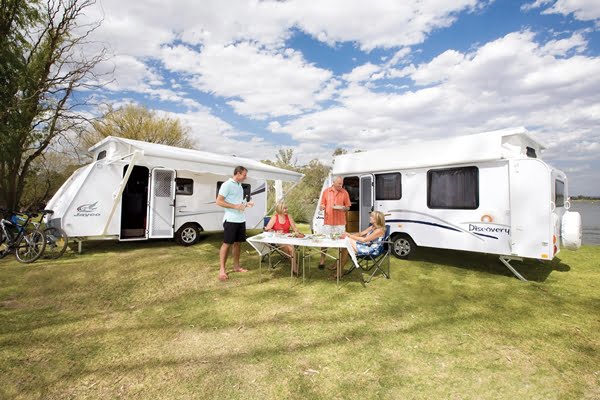 Holidaymakers and families can now expect more from their caravan with the much anticipated release of the 2011 Discovery Pop Top range.
The new upgrades are certain to impress those with an eye for detail as the 2011 Discovery Pop Top range includes stylish timber furniture, European door handles as well as venetian blinds on kitchen windows.
Jayco Marketing Director, Andrew Ryan, said that style and personalisation is becoming more and more prevalent in the minds of customers.
"We are noticing a growing trend towards customers wanting their caravan to reflect their own unique tastes. So with that in mind, we are pleased to offer a range of new decor options in the 2011 Discovery Pop Top range," Andrew said.
Discovery owners can customise their caravan by choosing between two new laminex bench tops and the option of tile or bamboo vinyl floor finishes.
Those looking for handy accessories will also appreciate the option of a mini-safe to protect their valuables, as well as entertainment add-ons such as the external BBQ and Sphere LCD TV.
Naturally, convenience is also at a premium as the 2011 Discovery fits neatly inside your garage thanks to its expandable roof, while its sturdy design gives you peace of mind.
Andrew Ryan said the 2011 Discovery range is ideal for families who are looking to get the most out of their caravanning experience.
"Apart from it being great value for money, we think the Discovery Pop-Top model is the best looking value for money Pop – Top in Australia," said Mr. Ryan.