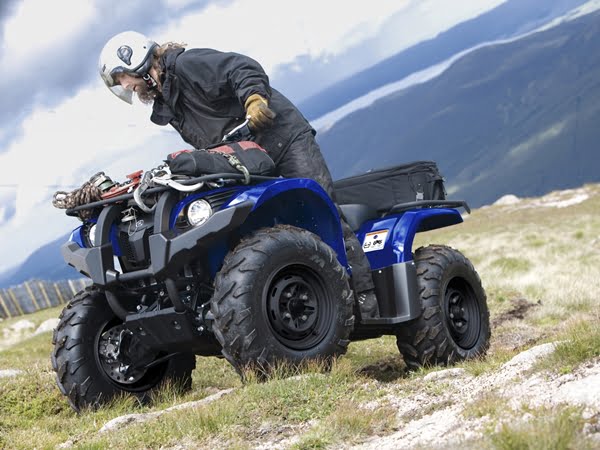 Yamaha has upgraded the 2011 YFM450 Grizzly Auto 4×4 with some major changes including the fitment of electronic power steering.
Engineered, tested and built tough, the key enhancements include a lighter one-piece frame, redesigned wet brake system, higher AC generator output and a more durable rear gear assembly.
These changes result in an overall weight reduction and improved ergonomics for a more comfortable and agile riding experience.
The Grizzly 450 has been a popular choice of professional and recreational riders since its introduction in 2005. It combines the versatility, durability and pulling power of a utility ATV with the handling and comfort that trail riding demands.
This year's model retains the renowned features that set its predecessors apart from the competition. Like Yamaha's push-button On-Command® drive system, which ensures solid driveability over varied terrain by allowing riders to rapidly switch between 2WD, 4WD or 4WD with differential lock. And, fully independent double-wishbone suspension at front and rear that maximises wheel contact over ruts and bumps to allow more traction and a smoother ride.
Like its big brother Grizzly 700, the Grizzly 450 incorporates the Ultramatic® transmission system. Yamaha's Ultramatic® transmission uses both a centrifugal and a sprag (one-way) clutch. This configuration minimises belt slippage by keeping the belt tight at all times, which increases the life of the drive belt. It also provides superior engine braking, allowing riders to tackle steep downhill gradients with confidence.
Yamaha's engineers have made several enhancements to the chassis that give the Grizzly 450 a sportier feel without compromising durability. The new one-piece frame increases rigidity and strength while reducing weight by 2.7kg. The stabiliser bar has been shortened and its stiffness has been increased with 20% to match the new frame dynamics. The rear gear assembly has been completely redesigned, switching from a two-point mounting system to a three-point system. This to add extra structural strength to the rear chassis as well as improving force deployment while accelerating, riding over rough terrain or braking.
The Grizzly 450's SOHC, 2-valve engine is known for its workhorse reliability, providing plenty of low-end torque for tough jobs around the farm or steep climbs on the trail. The engine benefits from a new high-output AC generator assembly with new rotor, stator and regulator, resulting in 39% more output at 3000 rpm.
With a maximum output of over 320W, a full battery load is guaranteed and plenty of power is available for operating winches or other electrical equipment. Combined with today's battery technology it eliminates the requirement of a pull start device, effecting in a weight reduction and offering more space on the footboard.
The multi-disc sealed rear wet braking system has been completely redesigned. In its new configuration it moved from its lateral position and is now connected to the pinion gear, resulting in a firmer brake feel with better feedback. The new configuration supports an in-line brake adjuster for easier maintenance. Coupled with dual hydraulic discs up front, the rear wet brake provides consistent stopping power in all kind of conditions.
The 2011 Grizzly 450FAP Auto 4×4 brings a number of refinements that make handling more nimble and long journeys more comfortable. The steering column receives a new column bearing with a larger surface area to provide smoother handlebar movement. Constructed from newly developed TPU (Thermoplastic Poly-Urethane), the bearing is a two piece design with integrated seals that retain grease better and make servicing easier.
The new Maxxis tyres – the MU13 (AT25x8-12) at the front and the MU14 (AT25x8-12) at the rear – take 2 kg from the Grizzly 450's unsprung weight. The modified tread pattern improves overall handling.
The seat has a new ergonomic shape with a special PVC cover that is more puncture resistant and flexible in low temperature environments. And, like its bigger siblings the Grizzly 550 and Grizzly 700, sections of the Grizzly 450's rear fender have a textured finish that offers extra scratch protection from the unavoidable rider's boots.
Grizzly 450 EPS: A world first
Introduced to the ATV market by Yamaha in 2006, Yamaha's EPS system has now been brought to the mid-sized ATV segment for the first time in response to feedback from Yamaha customers. This speed-sensitive system greatly reduces the physical effort demanded of riders, lowering fatigue levels on long working days or expeditions.
In addition to easing the steering effort, the EPS system dampens any steering kickback. The Grizzly 450 EPS uses the same system as the Grizzly 700 EPS, but with a new mapping to suit the unique riding characteristics of the Grizzly 450. The new AC generator assembly delivers sufficient output to power the EPS system under any conditions.
The RRP retail price is $12,999 incl GST for the YFM450FAP Grizzly Auto 4×4 (Electronic Power Steering).
YMF450FAP Key Features:
•Grizzly 450 Automatic 4×4 EPS has many of the same great features as big brothers Grizzly 700 and 550, including electric power steering, four-wheel independent suspension, and powered by a fuel-efficient, liquid-cooled engine.
•Electric Power Steering system lightens steering for superior comfort and terrain ability.
•Just over 4.5kg lighter than previous Grizzly 450 models, even with the addition of Electric Power Steering, providing awesome power-to-weight ratio.
•Industry-exclusive, fully automatic Ultramatic® transmission is the most advanced drive system in ATV-ing. An automatic centrifugal clutch maintains constant belt tension for reduced belt wear and sprag clutch for all-wheel downhill engine braking in 4WD mode.
•Three-position On-Command® In/Out 4WD feature lets you switch between 2WD, limited-slip 4WD and a fully locked differential 4WD—all with the simple push of a button. Override button allows engine to make maximum rpm in full Diff Lock mode.
•Fully independent long-travel four-wheel suspension features double-wishbone suspension front and rear.
•Ground clearance of 275mm and a high-impact plastic skid plate provide terrain ability and undercarriage protection.
•Trick digital instrument panel boasts a multifunction LCD display with speedometer, odometer, dual tripmeter, hour meter, 4WD status, transmission position and clock.
•Rear wet brake is a multi-disc system running in hydraulic fluid inside a sealed unit. This keeps out the elements (such as mud and water) while providing powerful, consistent stopping power and greatly reduced maintenance
Engine:
•421cc liquid-cooled, SOHC four-stroke single is rugged and powerful.
•Electric Power Steering system lightens steering for superior comfort and less rider fatigue.
•Semi-oval slide 33mm BSR Mikuni® carburettor and high-output DC-CDI ignition deliver fantastic throttle response and engine performance at all rpm.
•Pushbutton electric starting.
•Stainless steel muffler and header design provides superior power characteristics, exhaust sound and durability.
•Left-side-mounted (Hi/Lo/N/R/P) shift lever is easily accessible.
•Large-capacity aluminium radiator provides maximum cooling efficiency and is positioned high in frame for optimal protection.
•Compact engine design features a 45-degree cylinder angle for maximum ground clearance and lower seat height for quick, responsive steering and agility.
•Gear-driven crankshaft balancer and rubber-damper engine mounts reduce vibration.
•Specially designed drive system air intake vent helps prevent overheating and keeps water and mud from entering drive case.
•Tool-free air filter box for easy access and quick maintenance.
Chassis/Suspension:
•Lightweight chassis features outstanding durability with superior rigidity for class-leading agility and handling.
•Light steering and a class-leading turning radius combine for increased comfort and incredible manoeuvrability—even in 4WD.
•Fully independent four-wheel suspension features a double-wishbone suspension front and rear delivering 160mm and 180mm of travel.
•Using a newly-designed multi-disc system running in gear oil, the sealed rear wet brake combines strong, consistent stopping power and greatly reduced maintenance requirements.
•Large-diameter ventilated hydraulic front disc brakes deliver tremendous stopping power in a variety of conditions.
•Direct front shaft drive eliminates U-joint for greater durability and more efficient power transfer when engaged in 4WD.
•Heavy-duty composite front carry bar and CV joint guards help prevent damage to boot covers and won't dent or rust.
Additional Features:
•Grizzly 700-inspired front-end styling boasts convenient water-resistant storage compartment on the front fender.
•The water-resistant DC outlet is located to the side of the multifunction instrument panel for convenient access; automotive style receptacle handles a wide range of accessories.
•Steel cargo racks with special, extra-durable wrinkle paint finish feature a combined cargo capacity of 120kg (40 front, 80 rear).
•Large-capacity, 15 litre fuel tank has a built-in gauge and easy to reach petcock valve.
•Water-resistant, large-capacity underseat storage box provides added convenience.
•Wide, fully integrated floorboards keep rider's feet dry and feature serrated footpegs for extra grip in wet conditions.
•Large front and rear fenders with inner guards offer excellent mud/splash protection.
•Easy-access, underseat marine-spec electrical components ensure maximum protection from the elements.
•Dual, bright multi-reflector 30-watt Krypton bulb headlights with high and low beams; rear brake light.
.