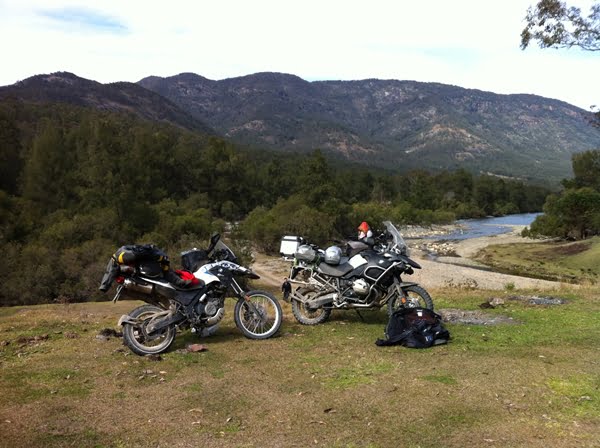 With the 2012 BMW GS Safari just a few weeks away the route has now been pre-run to check road conditions and finalise the route.
The start point is in Ballina with the route winding its way over the Great Dividing Range before finishing on the coast in Forster NSW.
Totalling over 1,400km this year's adventure will take riders via spectacular gorges, rivers, mountains and forests of northern NSW.
Road conditions were generally very good during the recce but obviously with adventure riding things can change rapidly. Pre-running the course allows the Safari crew to choose the best possible route and check for back up routes in case conditions change.
We have posted some images of the recce on facebook.com/bmwsafari to give you a taste of what Safari riders can expect.
The entire BMW GS range will be present on the GS Safari, everything from the G 650 GS Sertão to the revered R 1200 GS – and with up to 180 riders attending, it's going to be a great way to explore some of New South Wales hidden wonders.
The fact that everything is organised is what appeals to most Safari riders. They arrive at the start point and don't need to worry about anything except riding! The BMW Safari crew design the route, carry rider's luggage, provide meals, book accommodation and have a great support structure so riders can just enjoy their ride to the max.
Off-road rider training has also been organised for the Saturday and Sunday prior to the BMW Safari. Stay Upright are the training providers that will arm riders with the knowledge and skills required to tackle an off-road adventure such as this.
A number of dealers are attending the event along with BMW Motorrad staff. One key participant is Tony Sesto, General Manager BMW Motorrad. "This will be my third Safari. I attended the GS Safari for the first time last year and the TS Safari this year. I'm looking forward to spending some time on an R 1200 GS again. You meet some great people on Safari" said Tony.
Registrations are close to capacity, and with only 13 places still available before the 16 September start date, time is running out. Go to www.bmwsafari.com and register. While you're there, subscribe to receive the latest news updates.