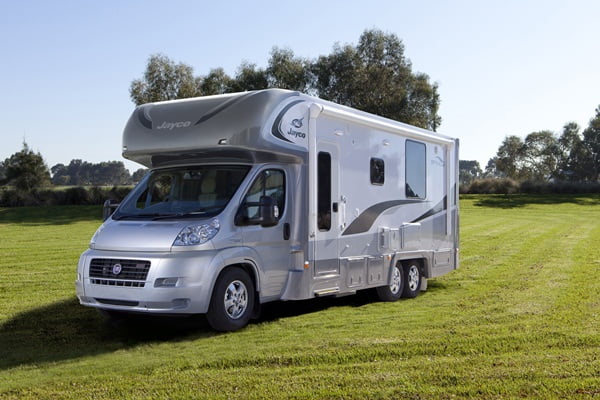 With 14 months of research and development behind it; Jayco's 2012 Optimum Motorhome is one of the best looking and most innovative motorhome ranges on the market.
New to the interior of the Jayco Optimum range is stylish two tone leather design furniture, Coast to Coast washing machine (optional in the Fiat 26-2 model) and high quality Dometic windows with built in blinds. Jayco has also upgraded the safety features on the new Optimum with a new rear-view mirror mounted reversing screen and two rear cameras making parking in tight campsites a breeze.
Travellers can also enjoy the space and convenience of the double electric slide outs. At the push of a button both the bed and the lounge can expand or contract, providing extra room to move when at your desired location.
The exterior has received a refresh thanks to a new fibreglass nose cone (not available for the Iveco.28-85 model), updated side skirts and tail light assembly and new trunk doors. These 2012 features are highlighted by new eye-catching graphics and exclusive automotive paint finish emblazoned on the Optimum's exterior.
Travellers are spoilt for choice with the new range that offers travellers a range of innovative layouts in high roof models. RV enthusiasts will also be able to choose from Iveco and Fiat variants in the new Optimum range, with the Iveco offering greater towing, carrying and seating capacties.
Jayco's Marketing Director, Andrew Ryan, said that the 2012 Optimum Motorhome range is ideal for travellers who demand premium quality and have an eye for style.
"We are extremely proud of the 2012 Jayco Optimum; we think it packs a real punch in terms of comfort, looks and safety.
"Jayco's renown attention to detail is evident everywhere you look… we have really raised the bar with this range," said Mr Ryan.
The new Optimum range also includes a variety of sought-after standard features like a BBQ, 120w Solar Panels, picnic table and entertainment system in its exterior as well as an extendable aluminium bed frame and satellite television system inside.
Customers have the added protection of Jayco's 12 month warranty and Roadside Assist Program which is provided free for three years, available 24 hours a day, 365 days a year.