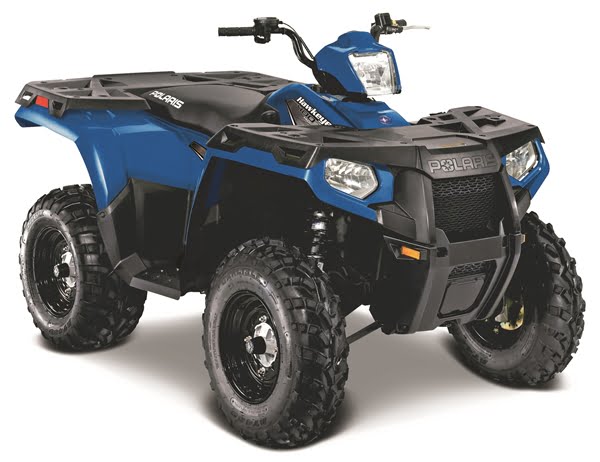 Recently, the world's number one manufacturer of off-road vehicles – Polaris – announced that the legendary Sportsman 500 H.O. (itself the world's biggest selling automatic 4×4 ATV ever) had been relaunched as the Sportsman 500 H.D. (Heavy Duty), with a range of modifications which had been designed specifically for Australian conditions.
Polaris has today launched the 2013 Hawkeye 400 2×4 H.D. – the latest Polaris model to be 'Australianised', joining the Sportsman 500 H.D. in the 'Heavy Duty' category through the provision of specific product improvements to improve durability and performance in our unique market place.
As a direct result of a visit by Polaris Industries USA management and engineers to Australia and New Zealand during the latter stages of 2012 – in which they spent countless hours with dealers and end users researching the usage of ATVs in the unique Australian conditions – a number of product improvements have been put in place on select models specifically to better suit our conditions and usage.
The Hawkeye 400 2×4 HD will now come complete with greasable/sealed ball joints, sealed driveshaft splines and sealed suspension bushings to not only provide increased durability in the harsh Australian conditions, but also provide easier ongoing maintenance.
"To launch a second Heavy Duty spec model with a number of product improvements specifically for the Australian market shows that Polaris as a manufacturer is listening closely to the needs of our customers and continually evolving products further and further to suit our unique conditions," said Polaris Australia & New Zealand Country Manager, Brad Wolstenholme.
"Polaris has always been known as the ultimate innovators dating way to their inception in 1954, and now that innovation is taking a local flavor with their engineers more than willing to invest the time and resources into delivering the most robust product possible for the Australian market."
The Hawkeye 400 2×4 HD boasts a liquid-cooled, 455cc high-output engine, Independent Rear Suspension for the legendary, smooth Polaris ride, a combined 122kg front and rear rack capacity, 557kg towing capacity and disc brakes all around.
Polaris is a recognized leader in the powersports industry with annual sales exceeding $3 billion. Polaris designs, engineers, manufactures and markets innovative, high quality off-road vehicles (ORVs), including all-terrain vehicles (ATVs) and the Polaris RANGER ® side-by-side vehicles, snowmobiles, motorcycles and on-road electric/hybrid powered vehicles.
Polaris is among the global sales leaders for both snowmobiles and off-road vehicles and has established a presence in the heavyweight cruiser and touring motorcycle market with the Victory and Indian motorcycle brands. Additionally, Polaris continues to invest in the global on-road small electric/hybrid vehicle industry with Global Electric Motorcars (GEM) and Goupil Industrie SA, and internally developed vehicles. Polaris enhances the riding experience with a complete line of Pure Polaris apparel, accessories and parts, available at Polaris dealerships.