Polaris has launched the RANGER 900 XP to further expand the brands industry-leading range of RANGER off-road utilities and side by sides to a staggering 16 unique models.
"Powered by a 4-stroke, twin-cylinder, liquid-cooled 900cc ProStar engine pushing out 60hp, the RANGER 900 XP boasts class-leading torque and smooth power through the RPM range thanks to its dual overhead cam design and counterbalancing, not to mention Electronic Fuel Injection, a whopping 26.9cm front and 25.4cm rear suspension travel, On-Demand True All Wheel Drive and 4-wheel hydraulic disc brakes with dual-bore front calipers," said Polaris Industries Australia & New Zealand Country Manager, Brad Wolstenholme.
You have never been able to do more, and do it more easily, than with the RANGER 900 XP, which has a rear box capacity of 454kg and a towing capacity of a staggering 907kg.
"The RANGER 900 XP also comes complete with premium rims and tyres, a sliding seat and tilt steering, deluxe seats and a custom paint package, not to mention 30.5cm ground clearance, seating for three and a stronger, higher torsional stiffness, chassis. This model also comes fully equipped with Electronic Power Steering," Wolstenholme said.
To complement the ProStar engine, the Ranger 900 XP features a new, durable drivetrain built to handle this model's higher horsepower. Storage is also important for work applications and the new RANGER 900 XP offers the most storage in its class. For easier accessibility, the new under-seat storage features flip-up access giving the operator increased and easier-accessible storage inside the cab. Outside the cab, the RANGER 900 XP offers a new harder working cargo box featuring more tie-down points, easily-inserted box dividers and a smoother gate release.
The RANGER XP 900 has a wide range of accessories available for a variety of work applications. To ensure the unit is hard-working, Polaris equipped it with a high capacity battery and new stator for 30 percent more electrical power to run more accessories at one time. The unit also features a new, easier to install winch mount for faster installation of one of the most popular accessories for a work vehicle.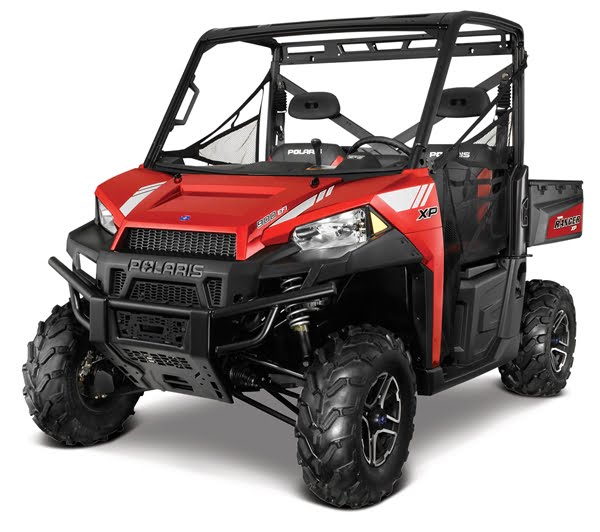 One of the most exciting, new accessory offerings available for RANGER 900 XP is the new Lock&Ride PRO-FIT cab accessories designed for total integration with the newest RANGER family member. The cab frame on the new RANGER 900 XP features profile tubing, providing a 360-degree sealing surface for every cab component. Windshields, roofs, doors and rear panels follow the shape of the vehicle, locking directly into the cab frame's precision contours. Many PRO-FIT cab components feature Polaris exclusive Lock&Ride technology for quick and easy on and off, and are 60 percent quieter at idle, and 40 percent quieter at 32.2 km/ph.
To complement the hardest working features of the RANGER XP 900, the restyled cockpit and chassis are the new class of smoothest riding. The completely redesigned cockpit fits three people more comfortably and offers class-leading ergonomics.
The RANGER 900 XP is available in sunset red.