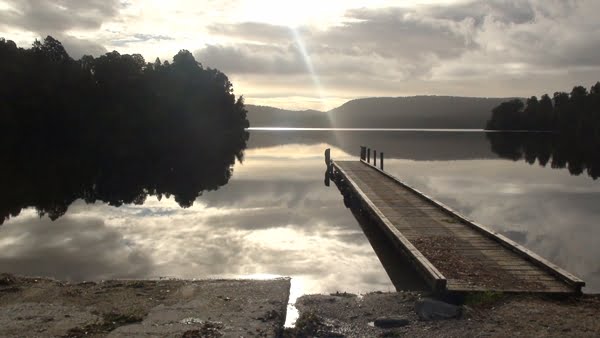 We have just finished our first day on our touring holiday around the south Island of New Zealand. We arrived late, around 12.45am late at Christchurch and went straight to the hotel. Luckily enough there were an abundance of taxis available and the trip in a Prius cost around $48.00. To be frank at that time in the morning we really didn't mind.
A short night's sleep, a hearty breakfast, pick up the Toyota Prado GX and away we went. First stop was a supermarket for travelling nibbles etc. One thing you notice is that on the roads we took there was a number of little towns but not many supermarkets.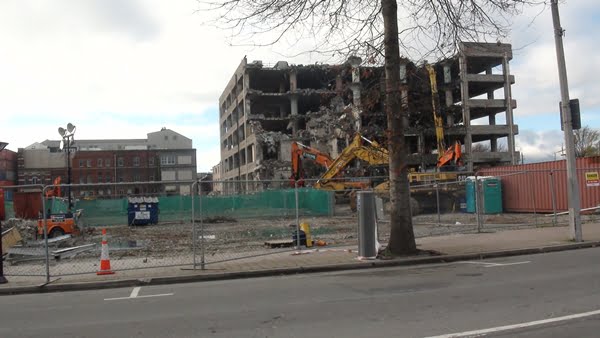 So we were finally heading out of Christchurch around 11.00am. It a shame that what once was a beautiful city is now one large construction zone with road restrictions and half demolished or half built buildings everywhere. However even with all that going on the peacefulness of Christchurch shines through.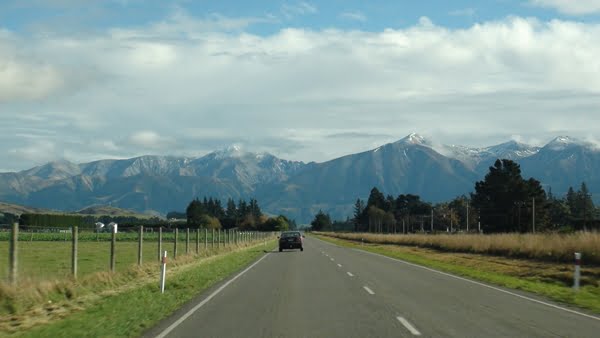 So heading west off towards Arthurs Pass we went. The road out of Christchurch quickly turned to countryside and it's very easy to see why the surrounding countryside is called the Canterbury Plains. Its dead flat, green and full of sheep and horses. All the while the mountains hover in the distance.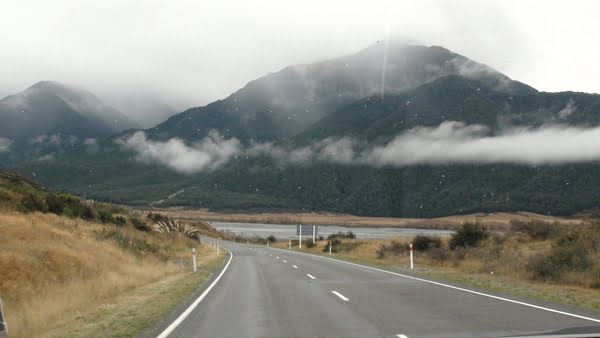 It looked as if we were going to climb to the sky for a while but as the name defines Arthurs Pass is exactly that, a pass through the mountains that meanders along following a myriad of rivers and streams.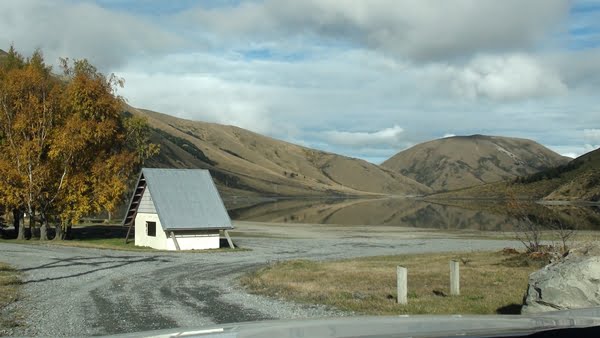 One thing you quickly notice is that they don't spend a lot on building bridges in NZ as they are pretty much all one lane with stop signs at one end. Luckily it was never an issue as there just wasn't any traffic. A couple of trucks and a few cars was about the sum total of it.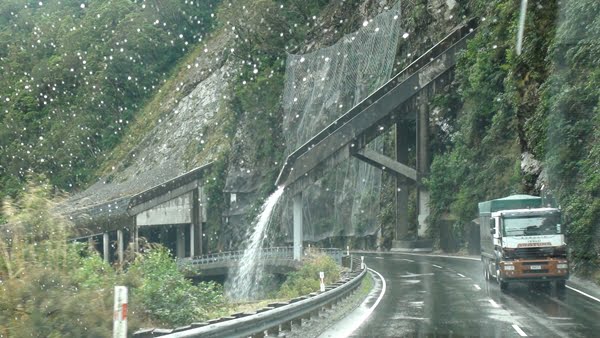 While it was raining heavily I can imagine that this drive in early winter or spring would be magnificent with snow covered mountain tops and rivers that were fully flowing. As it was, it was beautiful through the downpour.
Coming from such a dry country as Australia, the sheer number of rivers, and how green everything was took a little getting used to. It seemed that there was a river every 5-10 minutes, all with that ice teal coloured water. Now remember I am a bloke and describing exact colours isn't a strong point, but the water had a definite hue and it was the same everywhere.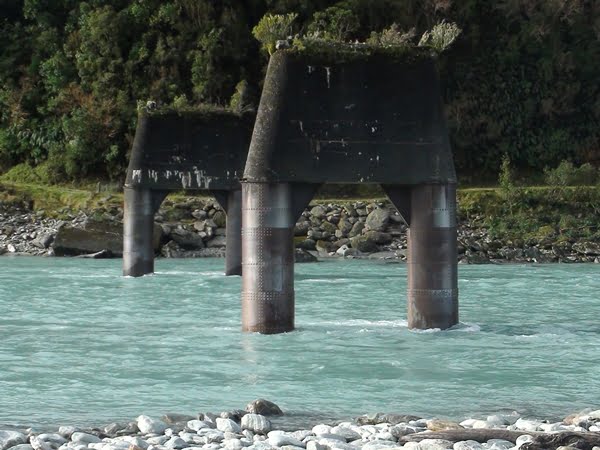 Heading through the pass we were glad to be in the Toyota Prado with its permanent AWD and safety features. It proved to be surefooted on the wet slippery surfaces and had plenty of room for our luggage and occupants. The diesel engine handled the constant climbing and decents with ease and the first days driving saw us with an economy of 8.1L/100K. That's actually very good considering.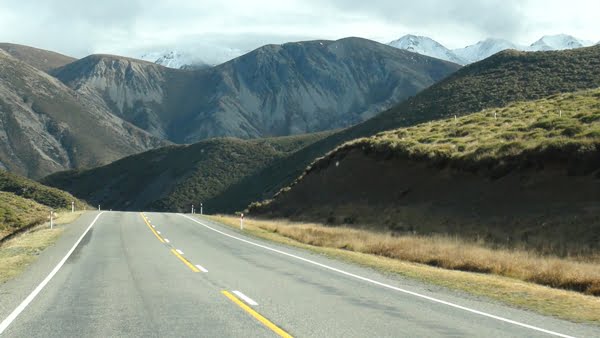 While the map said it would take us a lot longer we emerged out the other side of the mountains at Kumara about 2 1/2 hours after leaving Christchurch. We headed south amongst the forest and tree ferns and stopped for lunch at Hokitika. This is the biggest town in the region and has full facilities.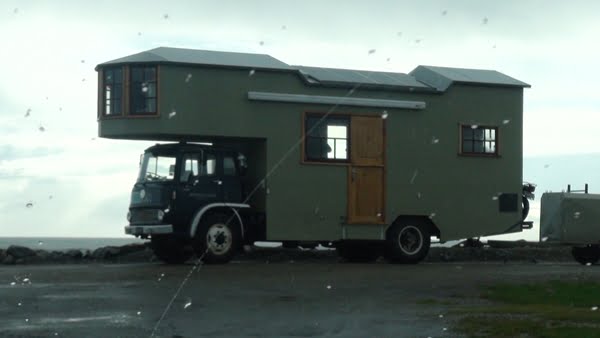 Lunch was on the beachfront where we saw the strangest motorhome I have ever seen. It looked like it was straight out of a comic book and … well it was just plain puzzling how it even got registered.
The beach at Hokitika isn't the prettiest with grey sand , probably from the wash off the mountains, and a lot of trees and debris washed up onto the shore. The water was wild and overall it had the appeal of a windswept beach that while not picture perfect was definitely interesting.
The drive south from Hokitika to Franz Josef however was picture perfect, winding alongside the beach front and alternating with the mountain side. The vista of flat countryside with mountains immediately behind was different to what was expected. There was no easing into the mountains, they just started and went vertical.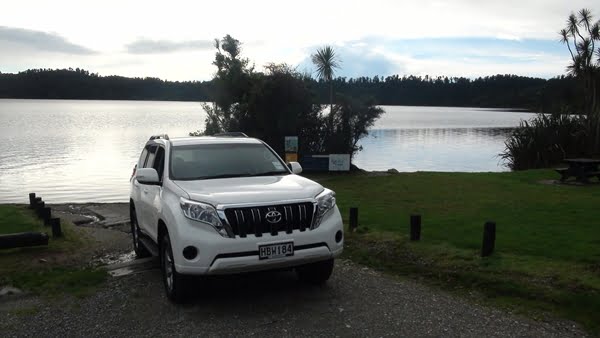 Along the way there were any number of diversions to lakes and riversides that provided beautiful scenery. Two of these lakes were Lake Ianthe, Lake Mapourika and Lake Paringa. All with glass like smooth water (the rain had stopped and the wind had died down by now) and were ideal places for a camping stopover. There was literally a river every five minutes with water from the mountains with that ice teal colour again. I can imagine the force of the rivers in the spring snow melting period. Again the one lane bridges were prevalent.
One thing I did notice was the lack of traffic everywhere. Maybe we are well and truly out of season, but the overwhelming feeling of a peaceful drive was with us all day. I truly have seen more vehicles on the Birdsville Track than on the west coast of NZ.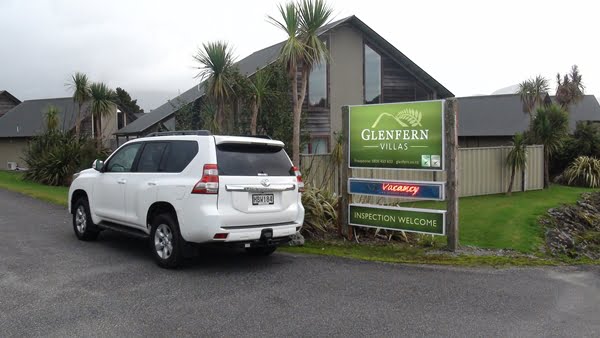 Before we left Sydney we had booked accommodation in Franz Josef, mainly to save us stuffing around when we arrived and it let us do our searching on the web at home. We chose the Glenfern Villas, about 5-6km north of Franz Josef. Their rates seemed comparative to others but they seemed to have a warm feel (as much as you can get from web pictures) and the rooms looked decent.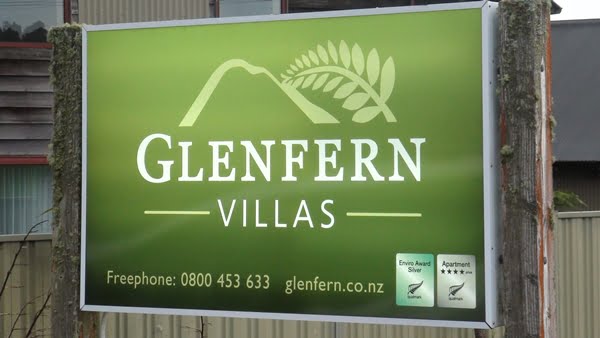 Upon arrival we were met by Cesar who proved to be a very friendly host. Our two room villa was ready, he hooked us up with internet access (Free when it seems that everywhere else charges) and brought us a couple of cartons of milk.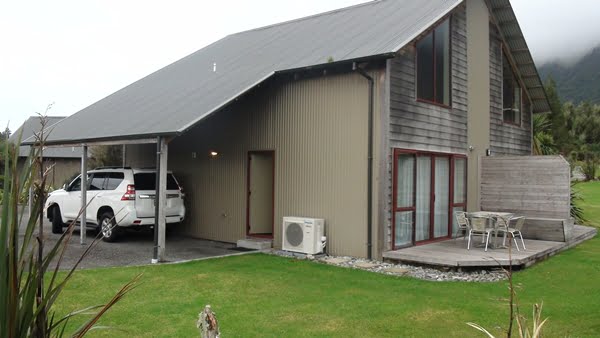 Immediately we felt good. The villa was spacious with separate comfortable king and queen beds , the king in the loft, large luxury bathroom with everything you need and a separate lounge and kitchen/ dining with a deck and glorious views of the mountains behind.
There are no dining facilities (they will do a continental breakfast) but the town is a short drive away with a number of dining choices so that isn't a problem. If you are inclined there is a kitchen in the villa but the town is calling us for dinner.
One thing you find while travelling as we do is that a friendly and relaxed host with comfortable rooms makes all the difference. Cesar at Glenview Villas provides just that. At around $270 a night it was great value. If you are heading this way I would definitely give Cesar a call and have a chat because his villas make you feel at home and relaxed. Their website is http://www.glenfern.co.nz/
I just took a couple of minutes to reflect on the peace and quiet as I am writing this article and appreciate the relaxed atmosphere of the villas. It was also good to feel refreshed after a full days driving in the Prado. As I mentioned town is beckoning to try one of the restaurants for dinner and a few quiet ales after a pleasant days driving. Tomorrow we are heading to the Franz Josef Glacier.