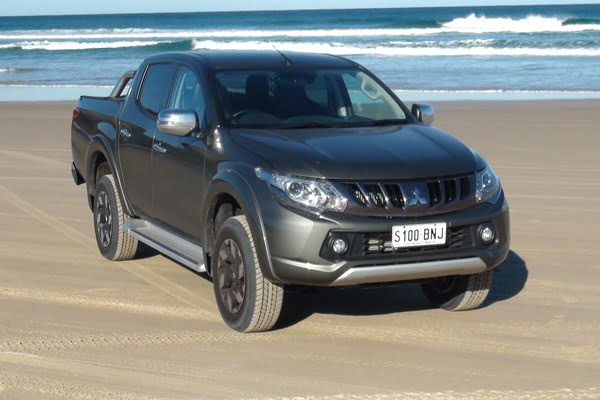 We have had the Mitsubishi Triton Exceed in 4X4 dual cab version for a few weeks now and are continually impressed with its versatility and comfort.
We needed to do some sand driving video footage for an upcoming instructional video so we took the long term test Triton to Samurai Beach in Port Stephens to shoot some footage.
When we got there we shot the footage including recovery gear etc., but the unfortunately the wind was so bad we couldn't use any of the footage as even with lapel microphones we couldn't hear any talking above the wind noise.
That is the second piece of bad luck we have had. We previously had shot some towing footage again for an instructional video, but the camera somehow self-destructed and erased about 20 GB of video.
The Triton has a dual range Super Select 4WD II system, which offers four driving modes including locked 4WD mode, driving through a smooth 5 speed automatic transmission.
Heading into Samurai we shifted to 4H on the fly with the super select system and casually made our way onto the beach. For those who know the entrance it is part dirt/sand track cut through the bush and part chopped up soft sand with many corrugations and tyre bumps etc.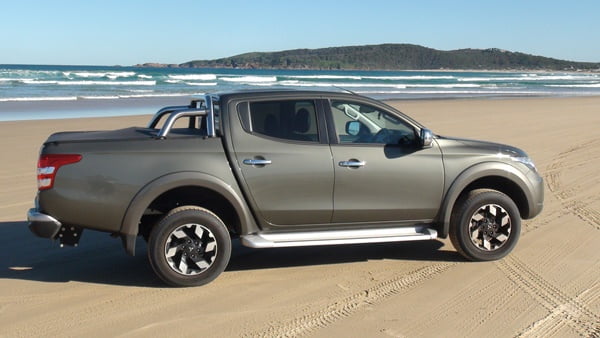 Two things are noticeable when driving in with the Triton.
The first is that the low torque delivery allows the Triton to casually cruise where others need to use way more acceleration. Secondly the compliant suspension minimises some of the ruts and corrugations at the entry.
The Mitsubishi Triton is powered by a 2.4L turbo diesel engine that produces 133kW @ 3,500rpm of power and 430Nm @ 2,500rpm of torque. Importantly though is that the majority of that torque comes in at around 1500 rpm and another hit at 1750rpm and the delivery makes for relaxed and economical driving.
On the beach the Triton cruised effortlessly and comfortably. In addition to shooting the sand driving and recovery gear footage (which proved fruitless) we just had some fun driving up and down the beach.
Some of that footage we put together in a simple driving video, just for fun.

Triton Exceed standard features include:
reversing camera,
new-generation Super Select 4WD II system,
7-inch alloy wheels, HID headlights,
LED Daylight Running Lamps,
front fog lamps,
side steps,
sports bar,
leather trim steering wheel and gear shift,
dual zone air conditioning,
automatic transmission with racing-style steering wheel mounted paddle shifters (truly a waste ) ,
electronic diff lock,
One Touch start with smart key,
dusk sensing headlights,
rain-sensing automatic intermittent wipers,
4-way adjustable electronic driver's seat,
premium audio system with 7-inch colour touch screen,
CD player, SD card and satellite navigation,
Bluetooth hands-free with voice control and audio streaming.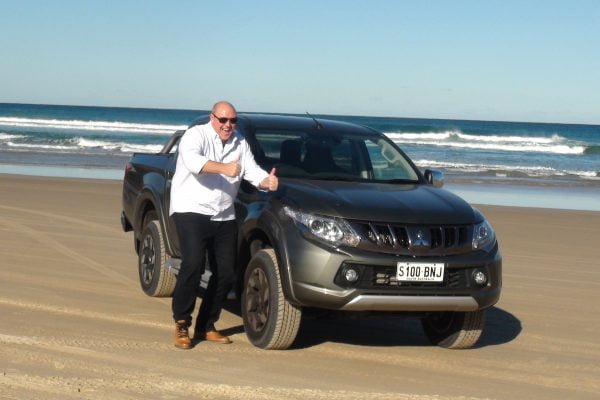 Add to this a 5 star ANCAP safety rating, excellent pricing and Mitsubishi's five-year/100,000km New Car Warranty, with 60,000km capped price servicing and the Triton has a lot going for it.