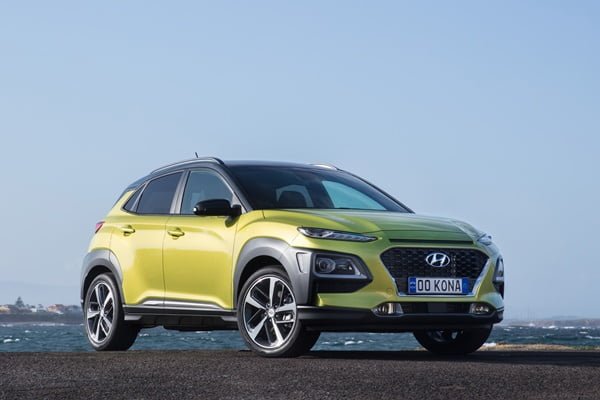 There is so much in the Hyundai Kona that it is hard to know where to start.  Hyundai was slow getting a small SUV onto the market but they have now come with a bang.
The Kona shows that small SUVs are not just about a one-dimensional image that inevitably has compromises.   It is now rich in its offerings and deep in its character as it embraces the latest in comfort, performance and safety features.
It is available in three feature options: Active, Elite and Highlander, with an optional safety pack for Active.
The two engines and two transmissions are available in every trim level. We are testing the top of the range Kona Highlander 1.6T DCT AWD here.
At the front the LED daylight running lights are placed at the top just below the bonnet line. The larger traditional headlights are halfway down.  Kevin Teng the creative manager for Hyundai Design in North America spoke of the look as being "eager" with a touch of the "sinister".
He went on to say that the long bonnet suggests the car has power like a speedboat or an animal leaping forward.  The black composite wheel arch extensions give the impression of the muscles of a predatory animal flexed in preparation to jump.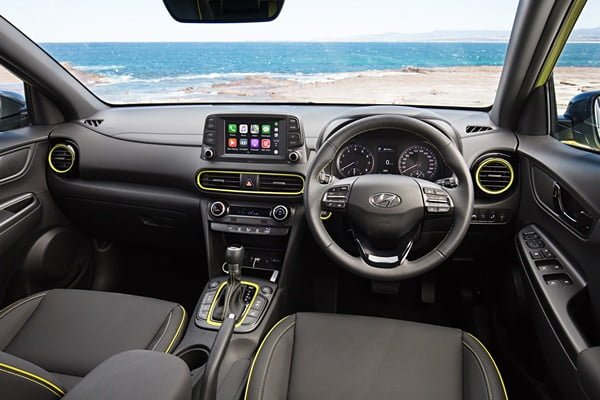 The shark fin C pillar is angled forward and works here in a hatchback style vehicle where it doesn't on a larger station wagon SUV.
The high mounted LED brake lights make for a strong but not over the top design for the back of the vehicle.
It doesn't have an automatic tailgate. Our Highlander had 18-inch wheels with a fancy "20 spoke design".
The boldness of the Kona design is emphasised with colours such as Blue Lagoon, Ceramic Blue, and Dark Knight. The top of the line Highlander has two additional colours, Acid Yellow and Tangerine Comet.
Two dark coloured roof options add to the character of the vehicle.
TO READ THIS REVIEW AND 298 PAGES COVERING 66 OTHER COTY REVIEWS