You're an adventurous soul, a traveller. You probably like to 'get away from it all'. I hear you. I love getting away from my everyday to a secluded beach or a pristine forest too.
One warm and balmy evening recently, I had the most lovely time slap bang in the middle of it all – in Brisbane's South Bank; a feast for all the senses.
There's a path extending the length of South Bank, sandwiched between the river and Little Stanley Street (the laneway behind the main strip of Grey Street). It's covered by an artsy arbor, made of angular steel and covered in crimson bougainvillea vines.
Wandering along the path is pure pleasure. To one side are the Little Stanley Street restaurants & cafes, whose tables and chairs spill out onto the footpath, along with their enticing aromas. Indian, Vietnamese, Thai, Italian, Spanish, French and more – all jostling for your attention. In one Turkish restaurant I saw a belly dancer seductively attempting to lure people in; traveller's paradise!
On the other side of the path, along the river it's abuzz with people. There's an art & craft market which runs from Friday evening to Sunday afternoon, a water-play area popular with families, ice-creameries, more restaurants and plenty of green grass to sit and watch the vibrant world go by. There are even classic deckchairs strewn about, in which you can park your bottom and laze away the day (or evening).
South Bank is also Brisbane's cultural centre. There you will find the Queensland Performing Arts Complex, the Queensland Art Gallery, the Queensland Museum, the State Library of Queensland and The Brisbane Convention and Exhibition Centre.
Here is my South Bank top 5:
• Little Stanley Street Restaurants – Cuisines from most corners of the world for your enjoyment. My recommendation is The Sardine Tin. A little Spanish Tapas joint where you can meet friends, people-watch, eat tasty tapas and drink delicious wines.
• Streets Beach – Surely only in Brisbane would you find a beach in the midde of a city! Streets Beach is a public swimming area complete with sandy beaches, blue lagoons, rock-pools and palm trees. And all with a view of Brisbane River and the shmick CBD on the north bank.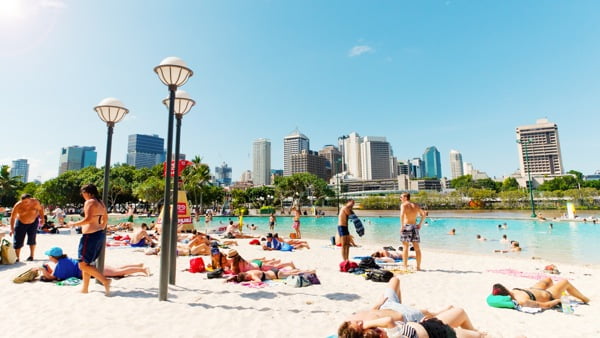 • Parklands & Pathways – It's always a treat to find lush parkland in the middle of a metropolis. South Bank has 17 hectares of beautiful gardens and lush lawns. Admire it all as you wander along the main bouganvillea-covered pathway; or stop for a picnic and take advantage of the free barbeques.
• Gallery of Modern Art (GoMA) – houses a stunning collection of local and international art. The building alone is worth a look. Beautiful modern lines and open spaces.
• Queensland Performing Arts Centre (QPAC) – Theatre anyone? QPAC has a great array of live performances ranging from comedy and musical theatre to ballet.
Further Details
South Bank Visitor Information Centre is on Stanley Street Plaza, South Bank. It's open from 9am – 6pm everyday. On Fridays it's open till 8pm.
T: 07 3867 2051
www.visitsouthbank.com.au
*
Leonie Orton is a passionate traveller and freelance writer. If you would like some words for your business, contact her at leonieorton.com.
Facebook: leonieortonwriter
Twitter: @leonieorton
Credit: Rix Ryan, Publicis Mojo, Fletcher Photography & Tjunction Media