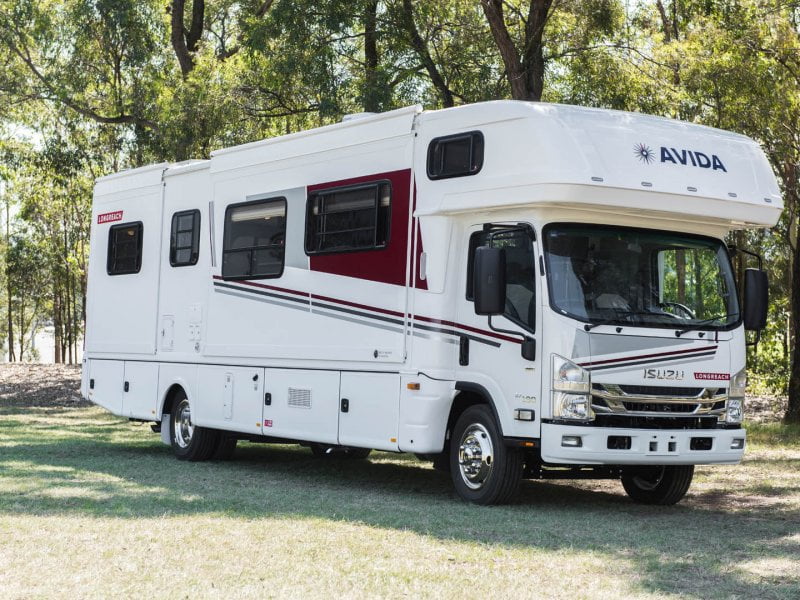 With all the luxury and comforts of an Avida Longreach it will inspire your confidence to see life as an extraordinary adventure.
The Avida Longreach takes the title of Avida's largest motorhome and is mounted on the mighty Isuzu cab-chassis. No compromises have been made when it comes to materials, quality standards and, of course, the driving experience itself.
It is fuel efficient with its six-speed automated manual gearbox that is paired well to the 5.2-litre turbocharged engine. With 513Nm of torque along with its 140 kW, these combinations will offer better power distribution, appreciable manoeuvrability and will make cruising long distances more enjoyable.

The Longreach, offers 9.5 metres of interior luxury and will debunk any myths that you can't live out on the road full-time. With a host of living comforts and space enough to provide sleeping options for both owners and their guests. With good function being the guiding force behind its design, every decision is made to fulfil its intended purpose.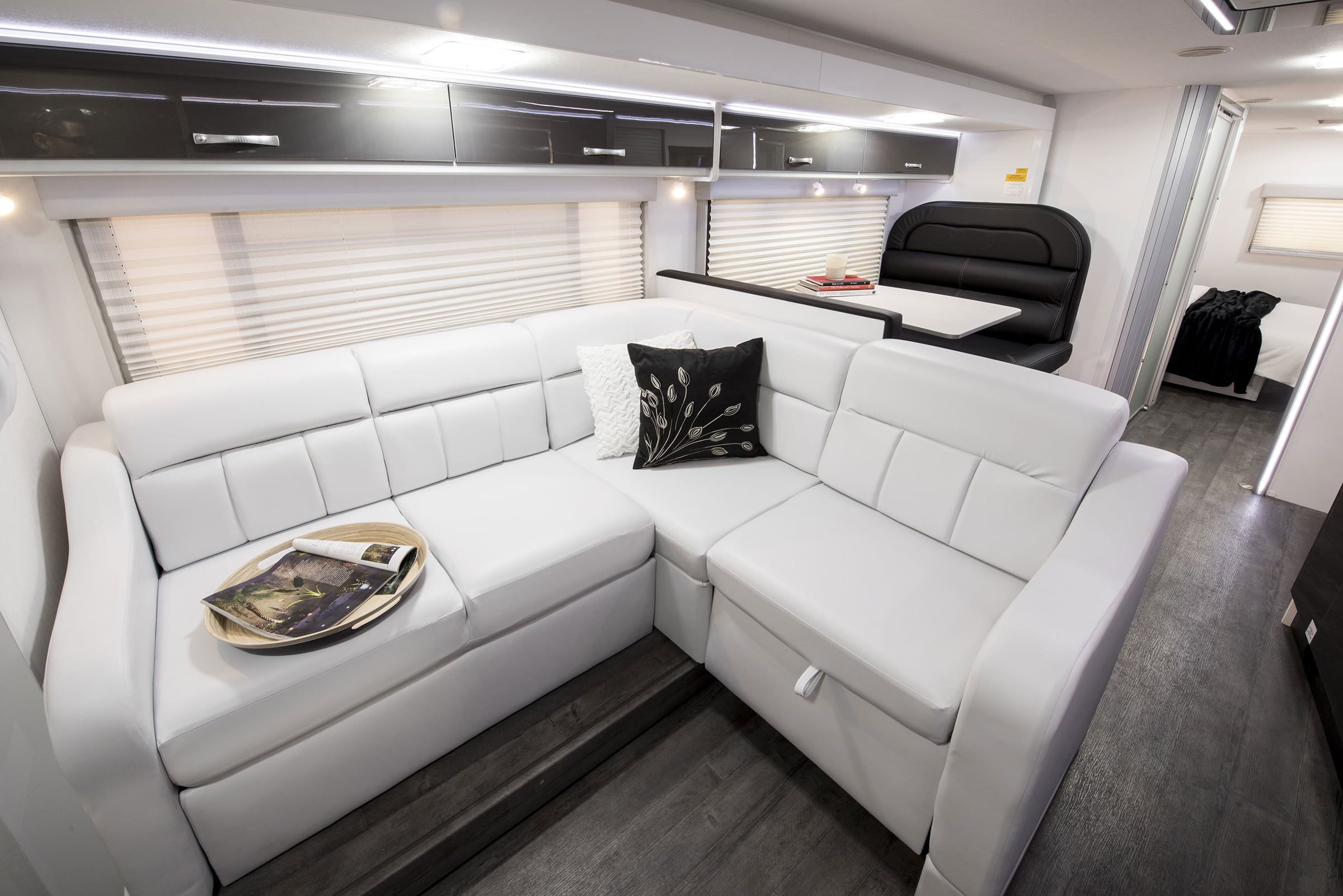 You walk in to the expansive open plan lounge room that visually complements the entire room and features plenty of natural light. It takes on notions of modern and contemporary design, to employ a sense of simplicity in all its elements with a hint of warmth to create a nostalgic home-like feel that is deeply rooted in Australian sensibilities.
When opened, the twin electric slide-outs make the walls appear to dissolve, facilitating an extra-large living space at the touch of a button.
Incorporated in the design are materials, such as high gloss surfaces, stainless steel and tinted glass, united with furnishings that are simple and streamlined, creating a calming and relaxed space reserved for only the elite few.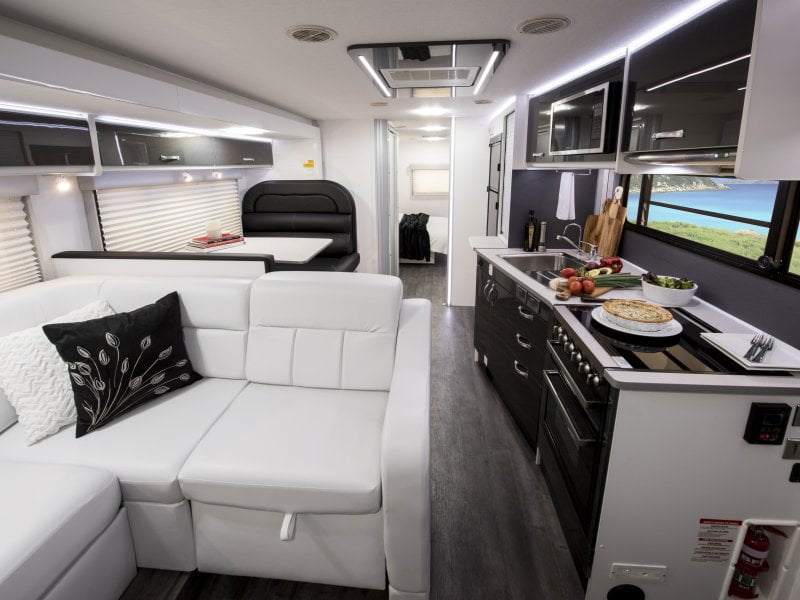 Even while travelling on the road, the kitchen is still the heart of this motorhome and should be treated as such. The Longreach kitchen is visually inviting with all the appliances and cabinetry running along one wall, which gives adequate room for food prep and moving around.
Everything is practical, with drawers deep enough for large pots and platters, with multiple slide out pantries to increase accessibility for all your favourite items. Complete with a four-burner stove with griller and gas oven, a stainless-steel microwave, a huge AES 2 door refrigerator and a large slide out appliance area, notably suitable for the likes of a coffee machine.  All these elements allow you the opportunity to create a culinary feast!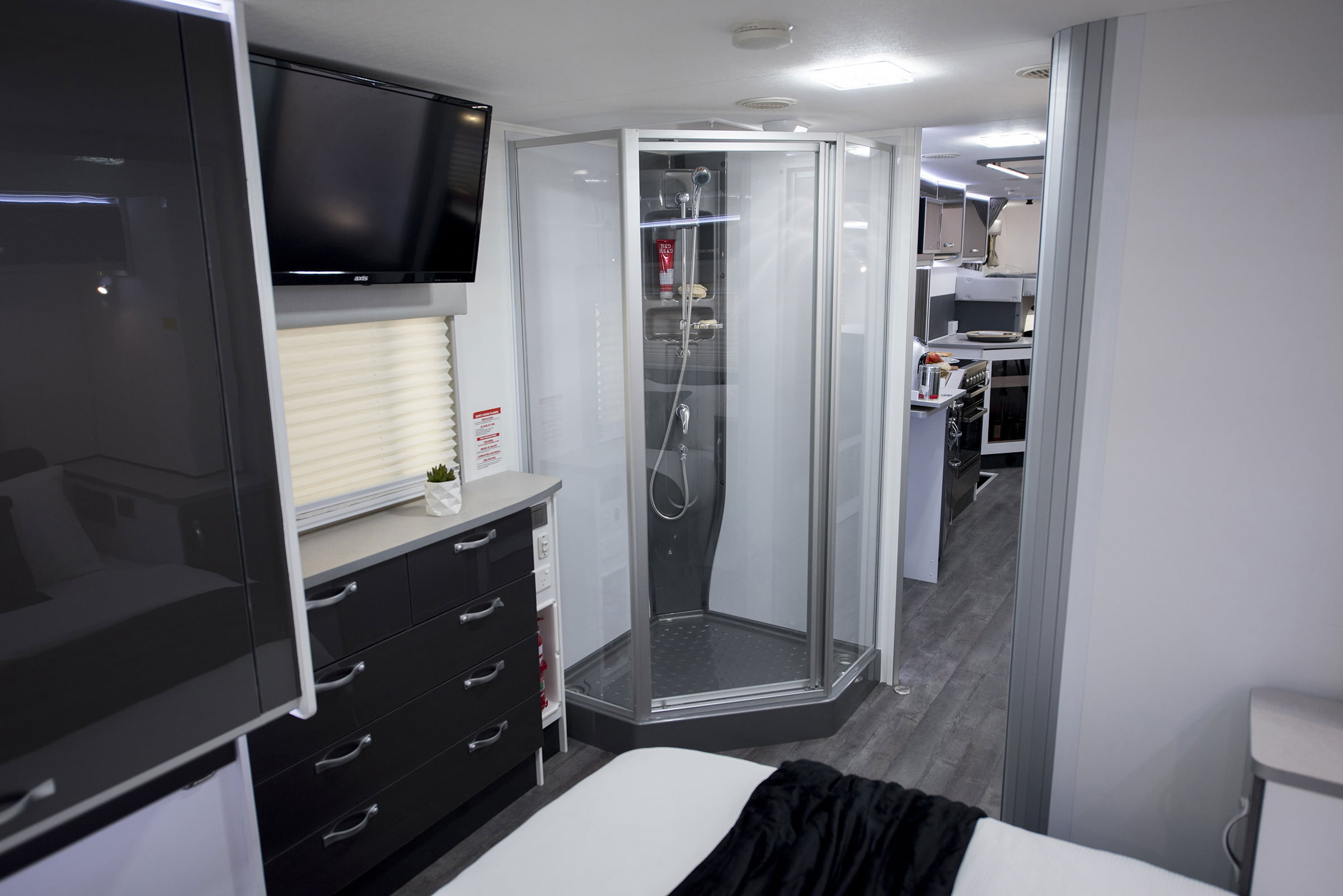 The bathroom is discretely separated from the living room and splits over 2 sides of the master bedroom that can be shut-off via a solid door to offer full privacy.
Boasting a full height shower, porcelain sink, ceramic inlay swivel toilet, 250 litres of water and an instant hot water system providing an endless steaming hot shower, no matter where you have decided to stay for the day. Also, with strip LED lighting over cabinetry and a large double mirror, it is sensibly designed for supreme comfort and space efficiency.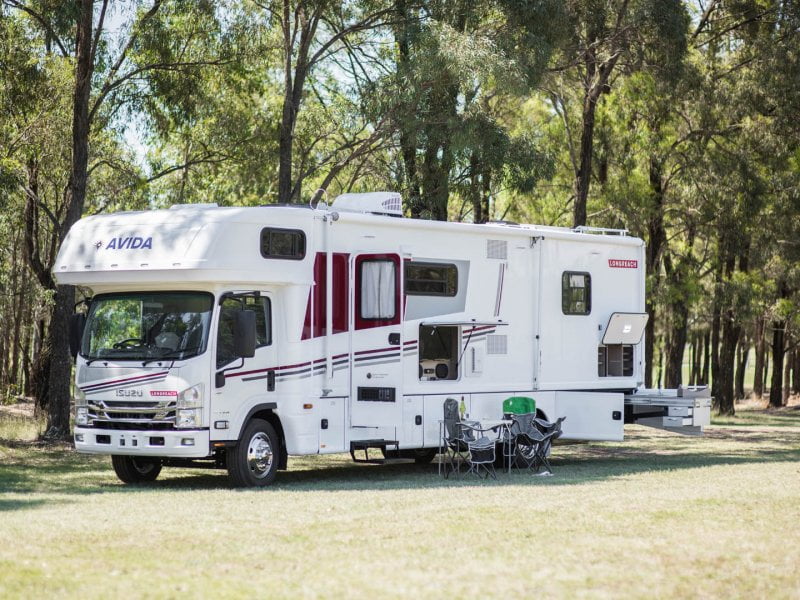 Avida's Sales and Marketing Manager Billy Falconer said "You will be impressed with the Avida Longreach interior as soon as you step inside with separate rooms, an extendable L-Shape lounge covered in ultra-leather, matched with a choice of colours for the gloss cabinetry, flooring, splashbacks and benchtops to personalise the Longreach to suit your needs"
Undoubtedly one of the feature items in the Longreach is the lounge space. There's plenty of it, thanks to the more formal cafe-style dinette in ultra-leather with a table that can be used to convert into an extra bed if so desired.
The main bedroom features an east-west bed with a supportive memory foam mattress. There is more than ample wardrobe and drawer space to accommodate your personal belongings, with an extra bed above the driver's cabin to accommodate family and guests.
The living and bedrooms are all naturally lit by louvre windows that allow the motorhome to breathe naturally year-round to offer optimal heating and cooling effects.
The Longreach's list of luxury features, includes 3 large televisions, ducted air conditioner, electric entry step, solar panels, a built-in generator with internal start and a state of the art 2000w inverter.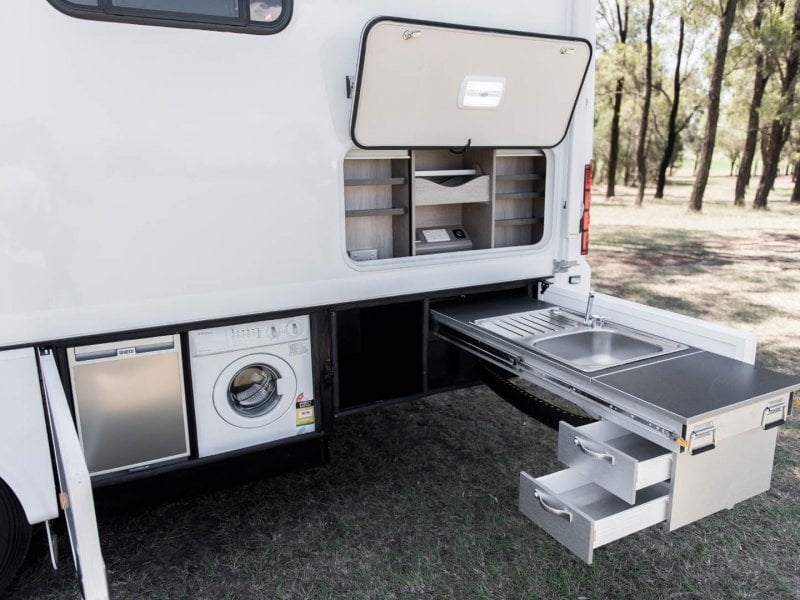 For a seamless transition from interior to exterior, this unique design enjoys an exterior entertainment centre with stereo, DVD and speakers and its very own outdoor television to enhance your entertainment experience in the great outdoors.
If that's not enough, it also offers a convenient slide out external kitchen unit,  incorporating a large bench top, drawers, a small refrigerator, a sink connected to the main hot water system, a space for a gas bottle and a BBQ fitting.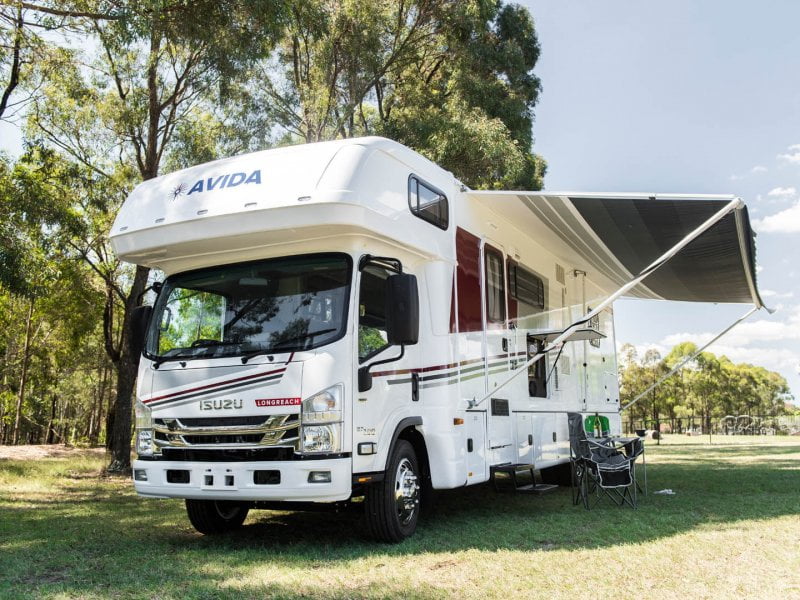 With an extended rollout awning providing shade and protection from the weather, the external hot and cold shower to soap up under the stars and the external laundry washing machine for access convenience, you'll be looking a little fancy at your next location.
The aerodynamically moulded front and rear wall along with Avida's unique sandwich panel construction floor, walls and roof provide, sheathed with metal underfloor protection makes for an incredibly robust structure that provides outstanding strength and will allow you to discover your dreams in style.