Imagine cruising up Pittwater, or cruising through Sydney Harbour, under the Harbour Bridge then around to Darling Harbour in your luxury Sports Cruiser, pulling up at the wharf so you can go to one of the many waterside restaurants. Up until now this has been the exclusive preserve of the wealthy. But there are alternatives and as we found out heaps of them.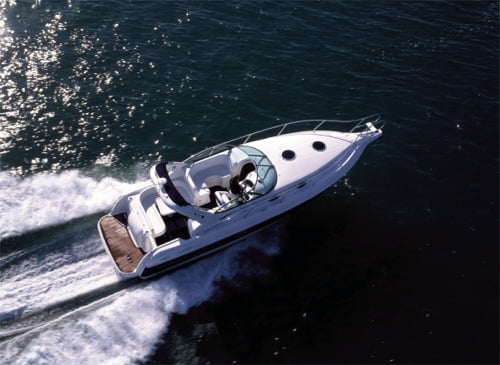 For those of you who have not heard of the concept of shared ownership of luxury boats you are in for a treat. There are a number of ways to share the cost of owning or using a luxury cruiser. Some involve buying shares, some involve joint ownership and some involve membership to a club. All have their advantages and disadvantages.
The central theme to all of the alternatives is why spend more to own a boat, when you only use it part of the time. By sharing the cost of ownership individuals, families and corporates can now enjoy luxury boating all year round. Usually all the maintenance and repairs are handled for you and you simply walk on and walk off and enjoy your worry free boating. Sounds hedonistic and it is, but as with everything there is a cost.
The cost comes in either an upfront annual fee, a fairly heavy dollar share purchase and shared costs, or you sign up for a fixed term membership. Note however that all these are way cheaper than buying your own luxury cruiser. Some of the things that you should look for when researching options are:
• They offer comprehensive training
•They offer flexibility in ownership options
• They have a walk on walk off use policy
• Other than fuel what other costs for use are there
• Easy to book the cruiser when you want and there is flexibility in wet weather etc
• The boats are fully insured and given recent changes, registered properly
• They are capable of maintaining the boats properly
•The boat is where you want to use it or they have reciprocal arrangements with other locations.
• Do they offer fully staffed options with a skipper for the day
•Does the contract have conflict resolution built into it
•Do you have any further liability in unfortunate circumstances
Somewhat surprisingly (to me at least) many of the participants are families that are looking for something different and value for money. Corporate and business are also well represented, using the time for entertaining etc. There are even a growing number of current boat owners that just don't use their prized possessions enough and have decided that this is the way to go.
The current tougher economic times or a busy lifestyle might mean that your boating dreams remain just that. However for a select few that are saying "what recession" or those that value family social activities with a difference the alternatives to outright ownership may be the ideal solution to living those dreams with the promise of 100% pure enjoyment.
Isnt that what life is all about!