BRP introduces the new Can-Am Spyder RT roadster in response to specific consumer demand for a touring platform. The 2010 Can-Am Spyder Roadster line-up now includes the Spyder RS (Roadster Sport) and RT (Roadster Touring) models.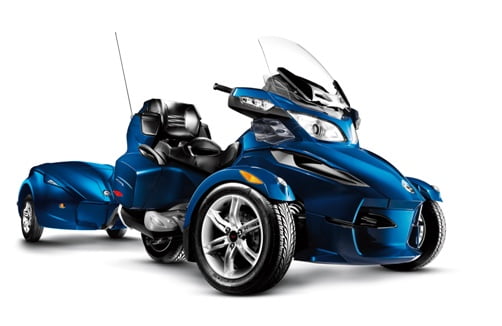 The introduction of a touring model coincides with a substantial gain in market presence on the heels of strong consumer demand since the roadster's launch 2 years ago. Driven by a passionate owner community, the innovative three-wheel concept has become a global phenomenon in more than 50 countries to-date.
"The Can-Am Spyder RS is already a resounding market success, although, clearly, its full growth potential is only beginning to materialise," said Australian and New Zealand Can-Am Spyder Product Manager Rohan Slater. "We are delivering the expansion of our Can-Am Spyder roadster line-up as promised at its launch in 2007 and believe the announcement of the Spyder RT will further accelerate the momentum experienced thus far."
The Can-Am Spyder RT roadster powered by a Rotax 991 engine with Electronic Throttle Control optimized for touring stays true to the brand's promise to deliver a perfect balance of performance and peace of mind. The roadster features the same acclaimed BOSCH-engineered Vehicle Stability System (VSS) as found in the Spyder RS roadster, which includes Anti-lock Brakes, Traction Control and Stability Control systems. The VSS, coupled with the inherent stability of the roadster's 'Y-architecture' and overall ease of use reinvents riding for enthusiasts of all skill levels.
BRP is also introducing an industry-first optional RT622 trailer package*, designed specifically for the Spyder RT roadster, which is compatible with the vehicle's stability system and provides an additional 622 litres (22 cu. ft) of storage.
"The introduction of the Can-Am Spyder RT now provides options for sport and touring enthusiasts alike," said Chris Dawson, Vice-President and General Manager, BRP International Division. "BRP's superior design and innovation continues to deliver paradigm-shifting vehicles that push the envelope and the RT model is no exception. The new platform goes brilliantly with what touring riders demand and there is no doubt in my mind the Can-Am Spyder RT is going to forever change the touring motorcycle category."
The Spyder RT roadster will be available for trial at authorized BRP dealerships in Australia and New Zealand from early 2010. Consumers have the option to pre-order from the limited quantity arriving early 2010.