Innovative class leading inverters have been released by Projecta with their new Intelli-Wave range, making them the first choice for professionals.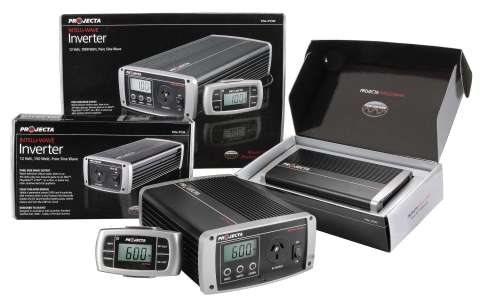 Engineered and designed in Australia, the new Intelli-Wave inverters produce ultra clean power with exceptional peak performance of 200% capacity for 3 seconds and 140% for 3 minutes, allowing them to effortlessly run demanding appliances such as fridges and power tools.
Designed in accordance with the Australian Standard AS4763 (Int): 2006 – Safety of Portable Inverters, the new Projecta inverters are fully isolated for safety and peace of mind. With safety absolutely paramount in the Projecta engineers' minds, the new inverters fully electrically isolate the DC and therefore battery posts, vehicle chassis etc., from the 240V AC circuit.
The new Intelli-Wave inverters by Projecta produce pure sine waves closely replicating the output mains power. Such a power source is ideal for use with sensitive electronic appliances and medical equipment where a perfect source of power is essential. This advanced technology has a distinct advantage over modified sine wave inverters where an even power source is not possible.
Now you can watch television without static, listen to AM radio, play your favourite game on Xbox, Playstation or Wii and run a fluorescent, all of which may not operate using a modified sine wave inverter.
Voltage, temperature and overload protected, the Intelli-Wave inverters are constructed from extruded aluminium with internal circuit boards conformal coated to protect against moisture and the elements. They are dust proof and shock resistant making then suitable for mounting in a range of locations. The extruded aluminium housing provides a robust flange for secure mounting.
A clear reading illuminated multi-function LCD screen on the end of each unit provides detailed information including battery voltage (volts); power usage (watts) and load capacity, allowing easy monitoring of the inverter's performance and power supply levels when running important equipment away from mains power.
Included in the pack is also a remote control display which allows for monitoring in situations where the inverter is mounted out of the way and out of sight. This remote, with its LCD screen, displays Watts; Volts; Load at the push of a button plus and On/Off button to switch the inverter to standby mode when not being used, reducing the idle current draw to just 2mA.
The new Projecta Intelli-Wave 12V inverters are available in150, 300, 600 and 1000 Watt and are available from leading automotive, 4WD and camping outlets at prices commencing from approximately $269.00.