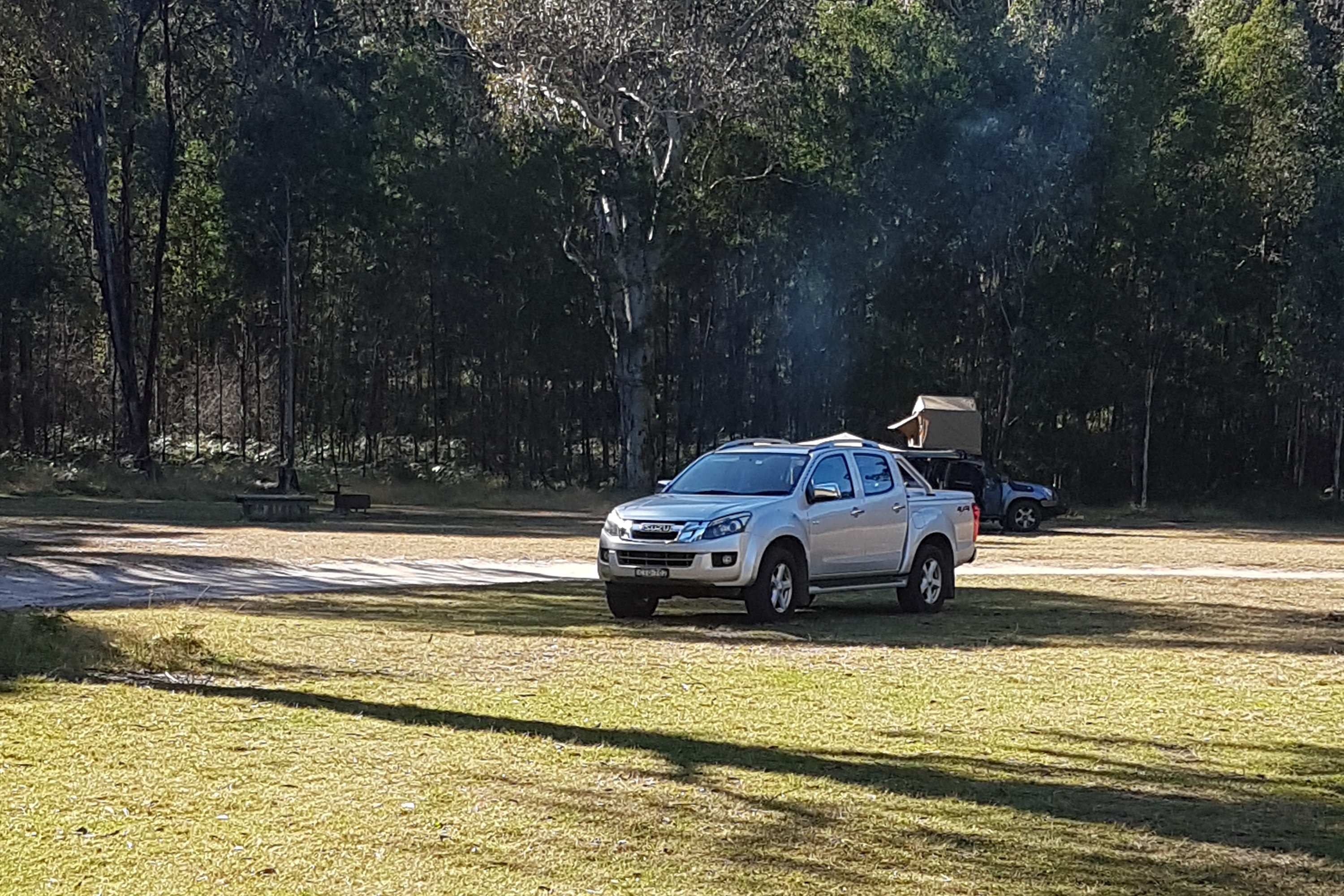 Bulcamatta Falls – A beautiful winter day, this was the setting for a short 4-wheel drive adventure for a couple of old blokes looking for something to do after retirement. 
For this one we took my vehicle, an Isuzu D-Max, stock and fitted with All Terrain Tyres.  We were, of course, hopeful to see Blue Mountains Panther, but alas…..
I had a copy of a fantastic book, 4WD TREKS CLOSE to SYDNEY by Craig Lewis and Cathy Savage and over a coffee picked Trek 2, as it fitted our time frame and was close to Western Sydney and also included a camping ground for lunch and a hike to the Bulcamatta Falls.  This fantastic book has several other great treks which we will try and I highly recommend it.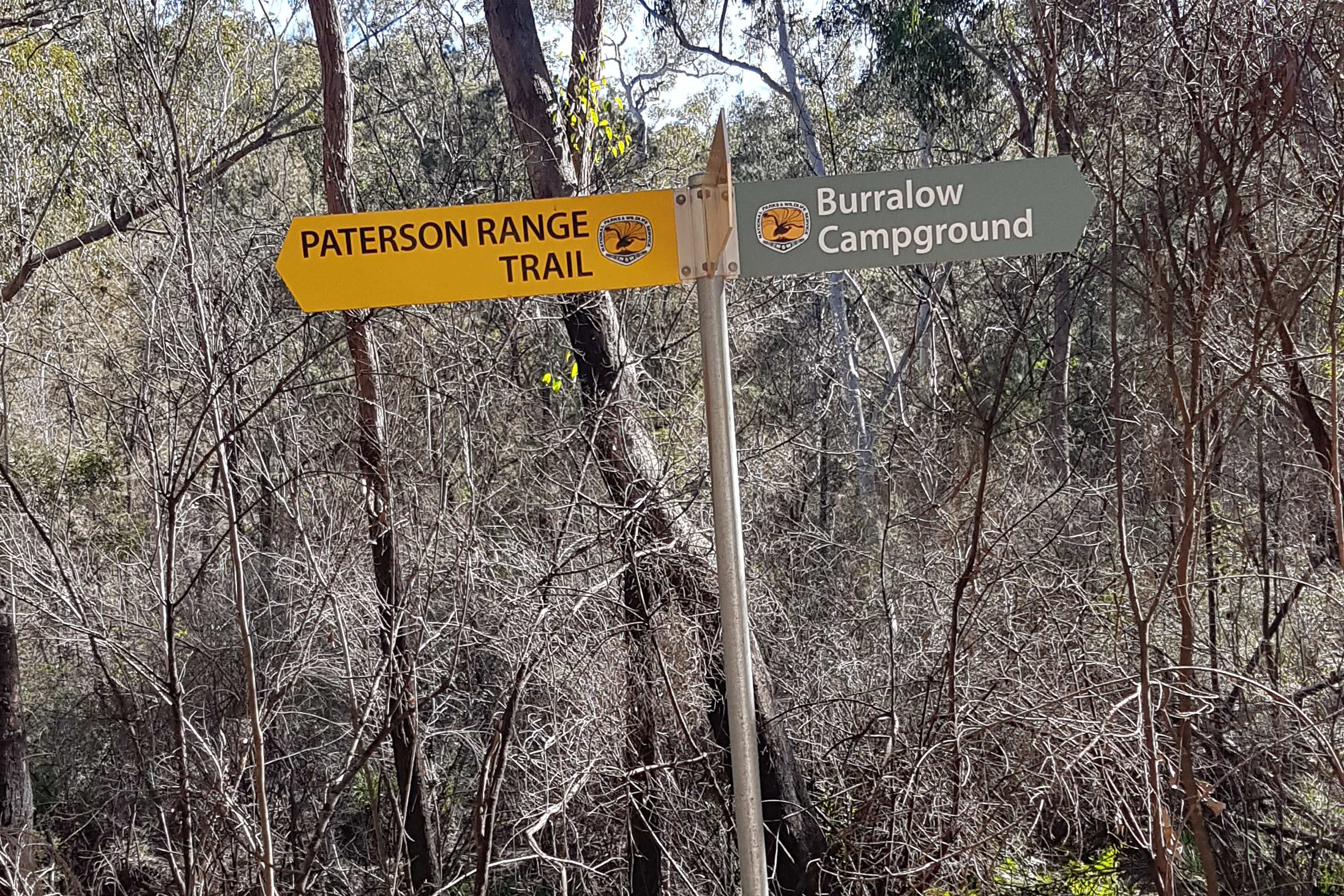 Bells Line of Road
The track starts from Bells Line of Road west of Sydney at Kurrajong Heights.  Bells Line of Road itself is named after Archibald Bell who found the way to Bathurst after being shown the traditional path taken by the local Indigenous People in 1823.
Do yourself a favour and make sure that you stop at the lookout itself on the right hand side of the road as you travel west.  I remember one night, maybe 35 years ago, I was at the lookout during a very heavy fog and the lookout was just above the fog line.  It looked like you could just walk out forever.   There are great views of the Northwest area of Sydney.
Keep travelling west and you come to turn off at Warks Road and then left into Burralow Road.  That becomes the Tarbaga Fire Trail that you will follow. There is no specific point that is signposted about this change. At this point any vehicle would be fine, BUT, that soon changes to a fire trail that is really 4WD specific and there are warning signs at the start of the track.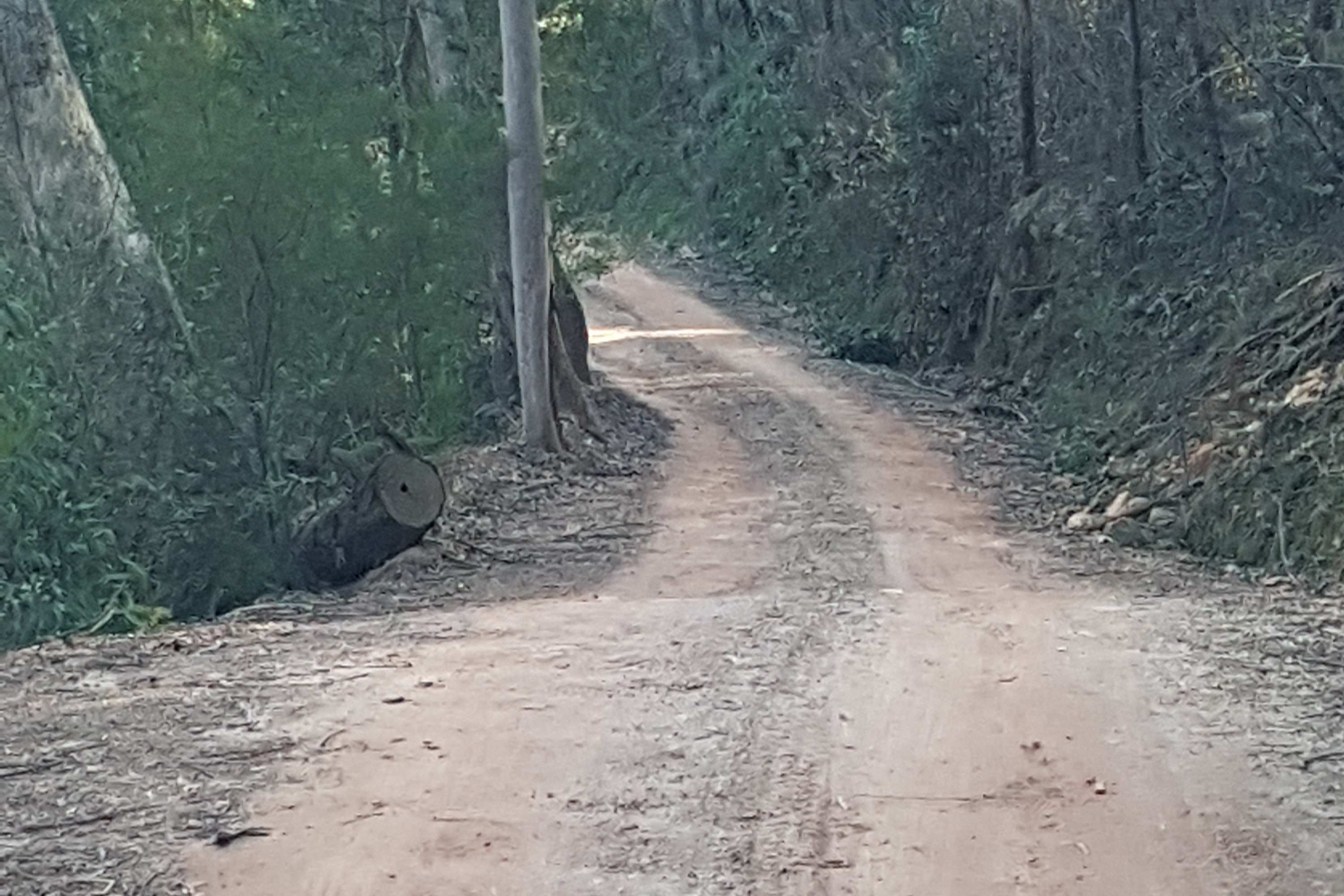 The real first intersection is when you actually come to the junction of the Burralow Fire Trail, turn right.  To the left there is a gate, which when we were there was locked.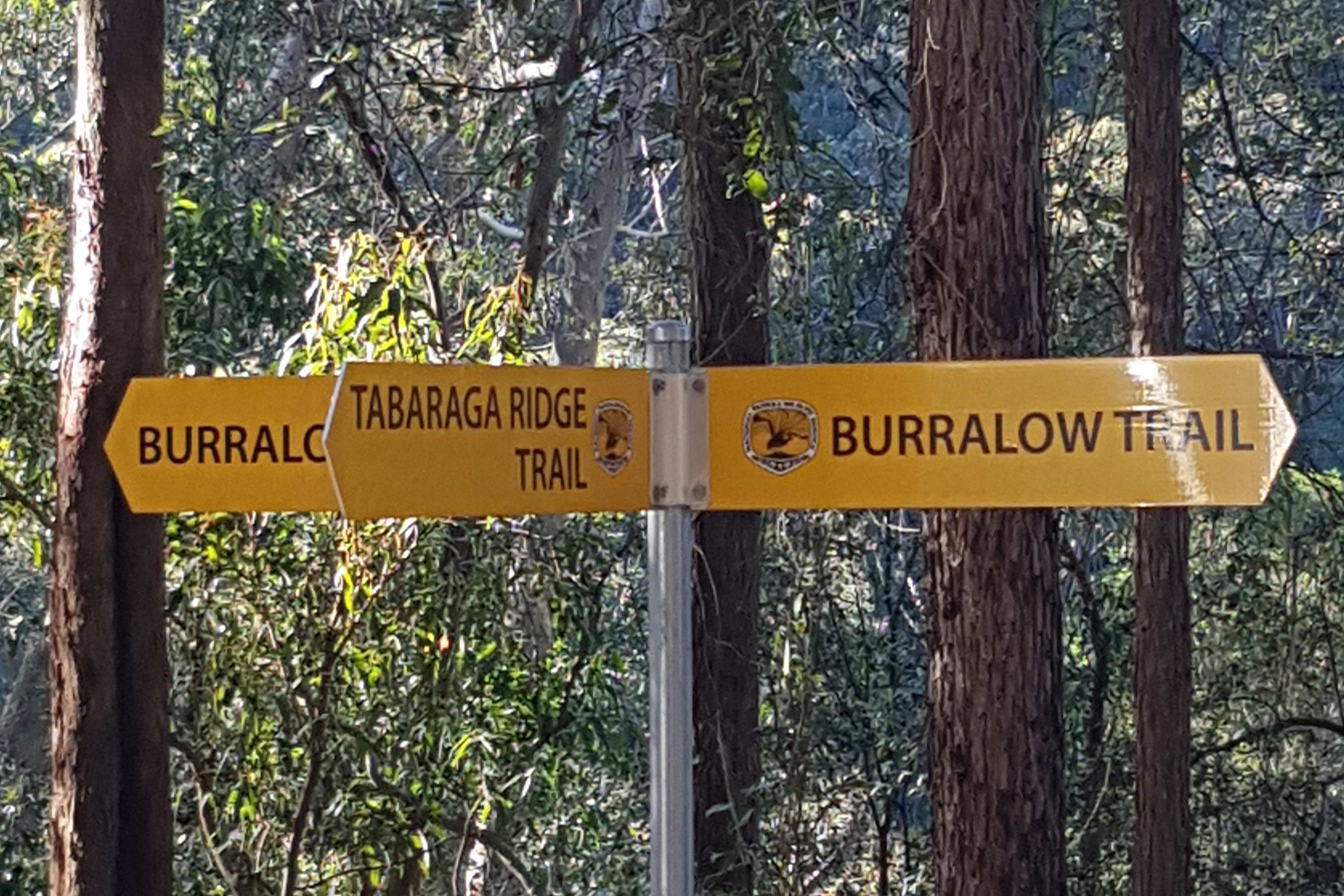 The drive is really nice
The drive is really nice.  You have to keep looking as the driver as there are some big ruts and drain washouts on the track.  Nothing that will destroy the vehicle but the "thunk" will definitely make you jump.
Shortly you come to the junction where you turn left to follow the Patterson Range Trail or right to head to the camp ground.  We turned right and it is a short drive to the actual camp ground.  Camping is free but has to be booked.  During long weekends it is crowded.  Pit Toilets are on site as are fireplaces.  You have to bring your own wood for a fire as the camping ground is in a national park.
The grounds are well maintained, but there are no signs to the actual Bulcamatta Falls Trail.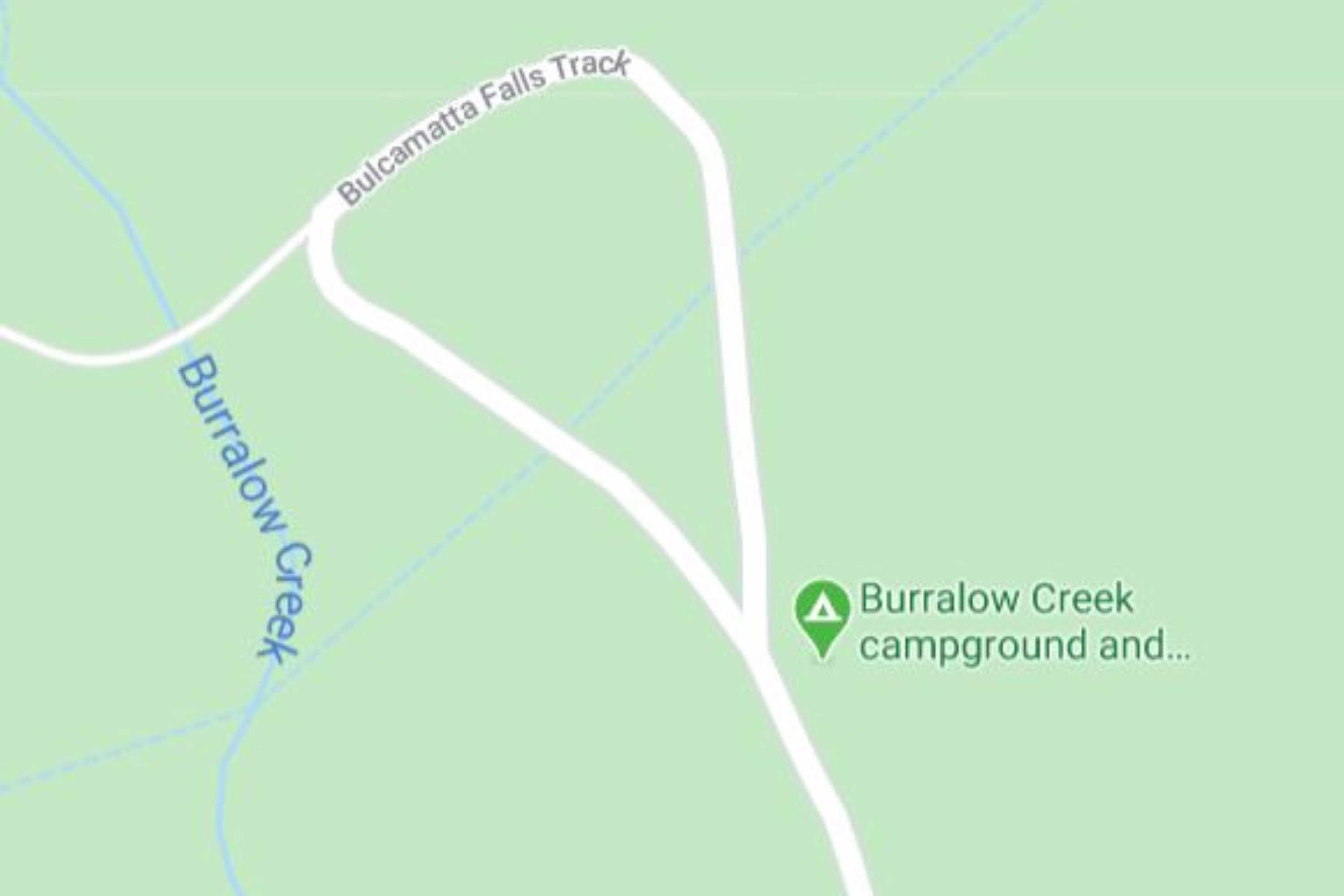 Once we found the hiking trail start, there is a sign, but well hidden.  Trail itself is well marked and flat EXCEPT for the first bit where you have to cross the creek on a bridge made from 2 logs.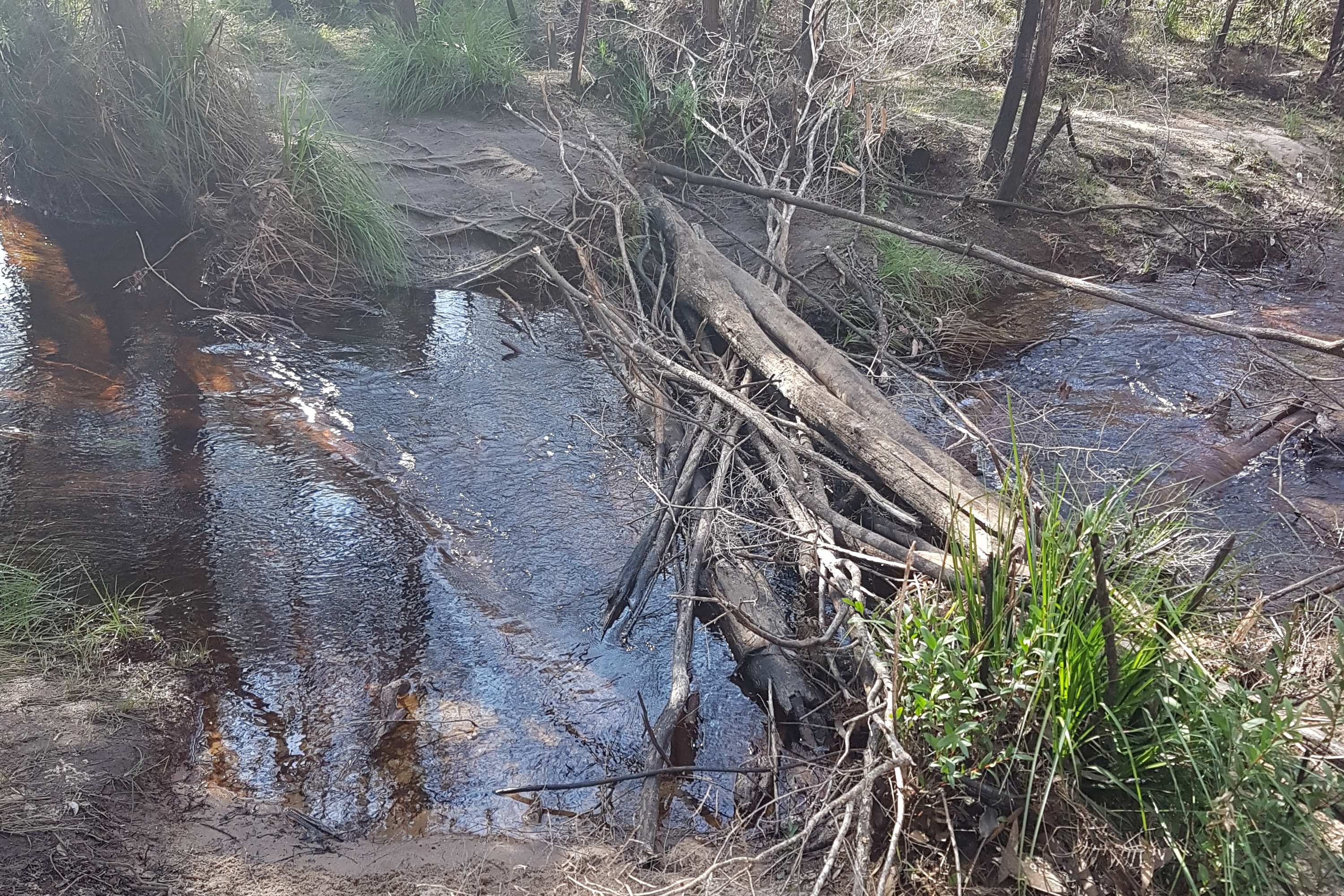 Going for a Hike
I suggest that you carry a hiking staff, as I do.  I have had a hip replacement and while the track itself was easy, this and another creek crossing further up required a bit of balance.
The first interesting point along the track is an old convict built pit.  This area was trialed for rice growing and maybe it was something to do with that.  Anyway, you cannot miss it and remember this was built so long ago.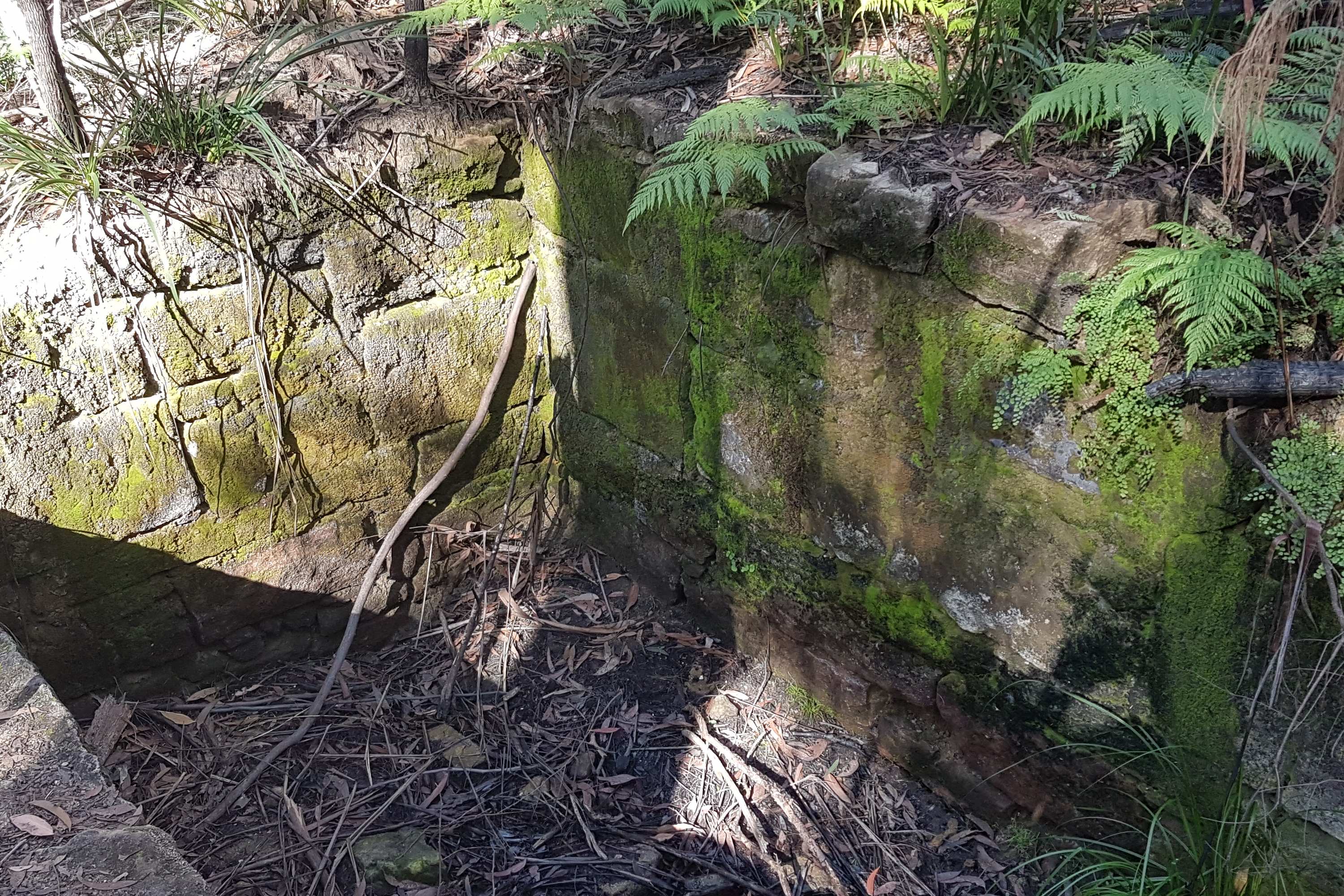 Shortly after there is a large termite mound.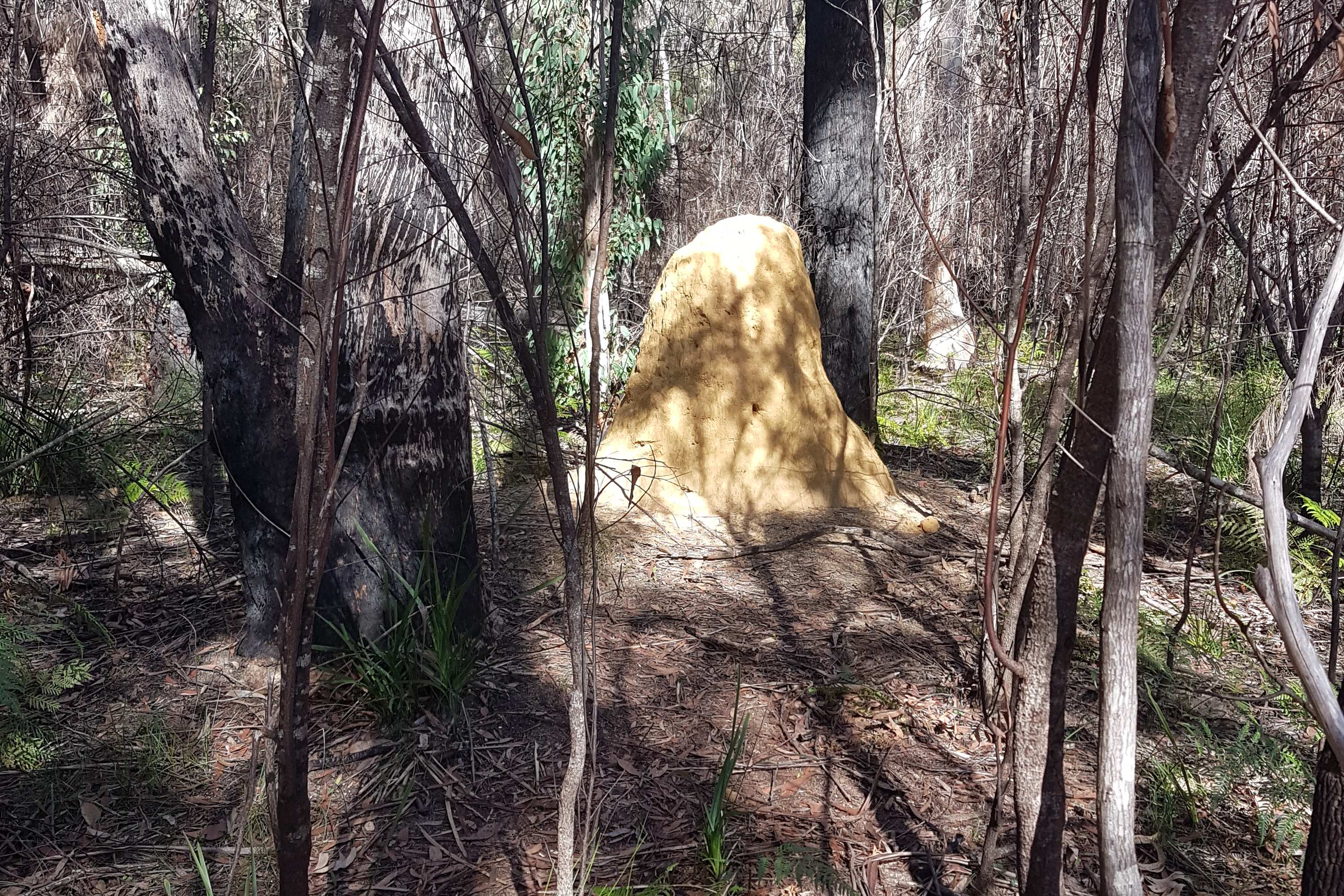 After this the landscape changes and you slowly find yourself is a gorge cut out of the sandstone by erosion.  Off to the left is a little eroded grotto with a stone arch.  It would be fantastic to see this area after a full and heavy storm, but maybe a little scary too.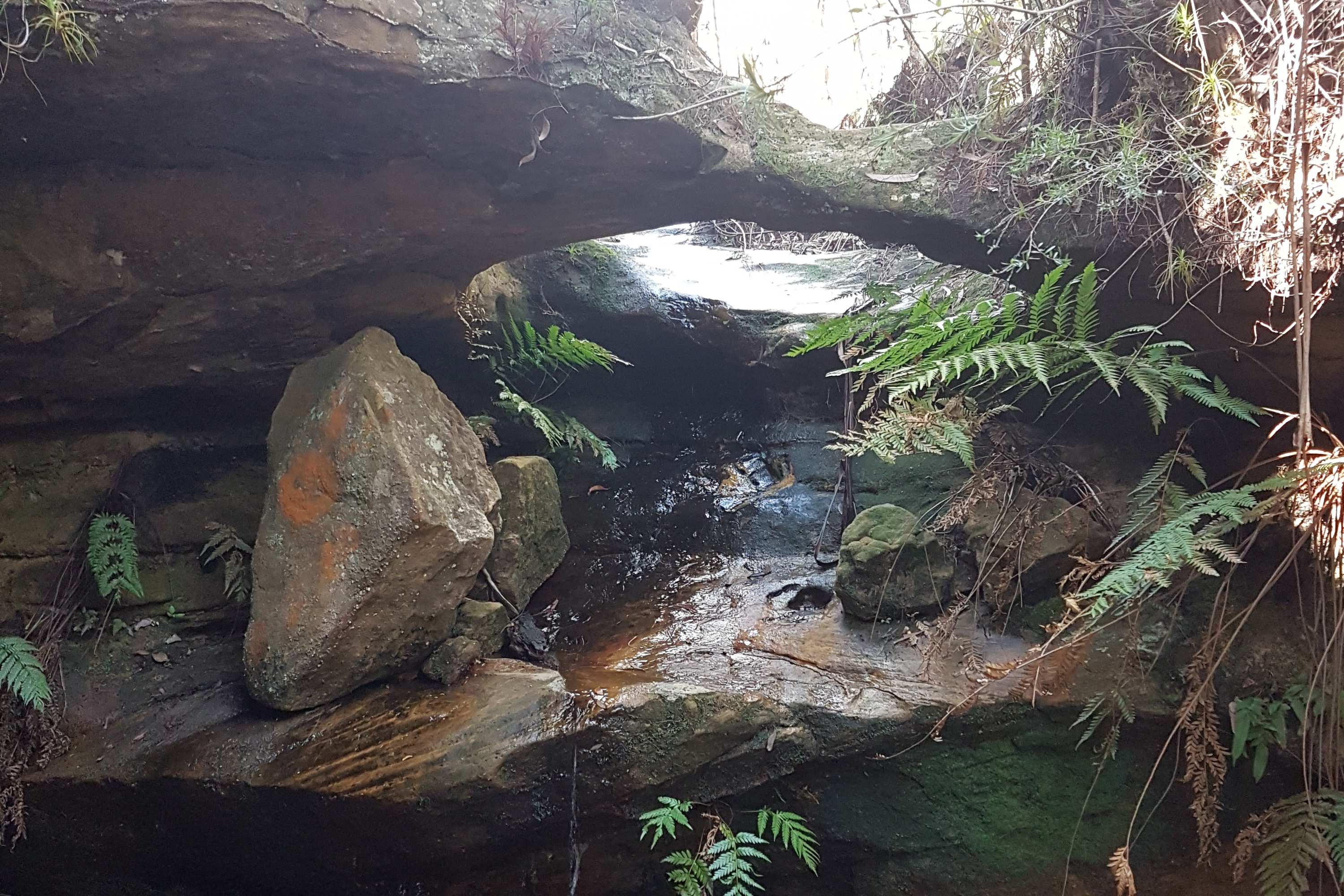 Keep following the track and past the maiden hair field there is another small creek to cross (thanks Mr Hiking Staff).  By now the sound of the falls is getting strong and you soon find yourself in the smaller gorge and the falls appear at the end.  The area is magical and you can feel the old world all about you.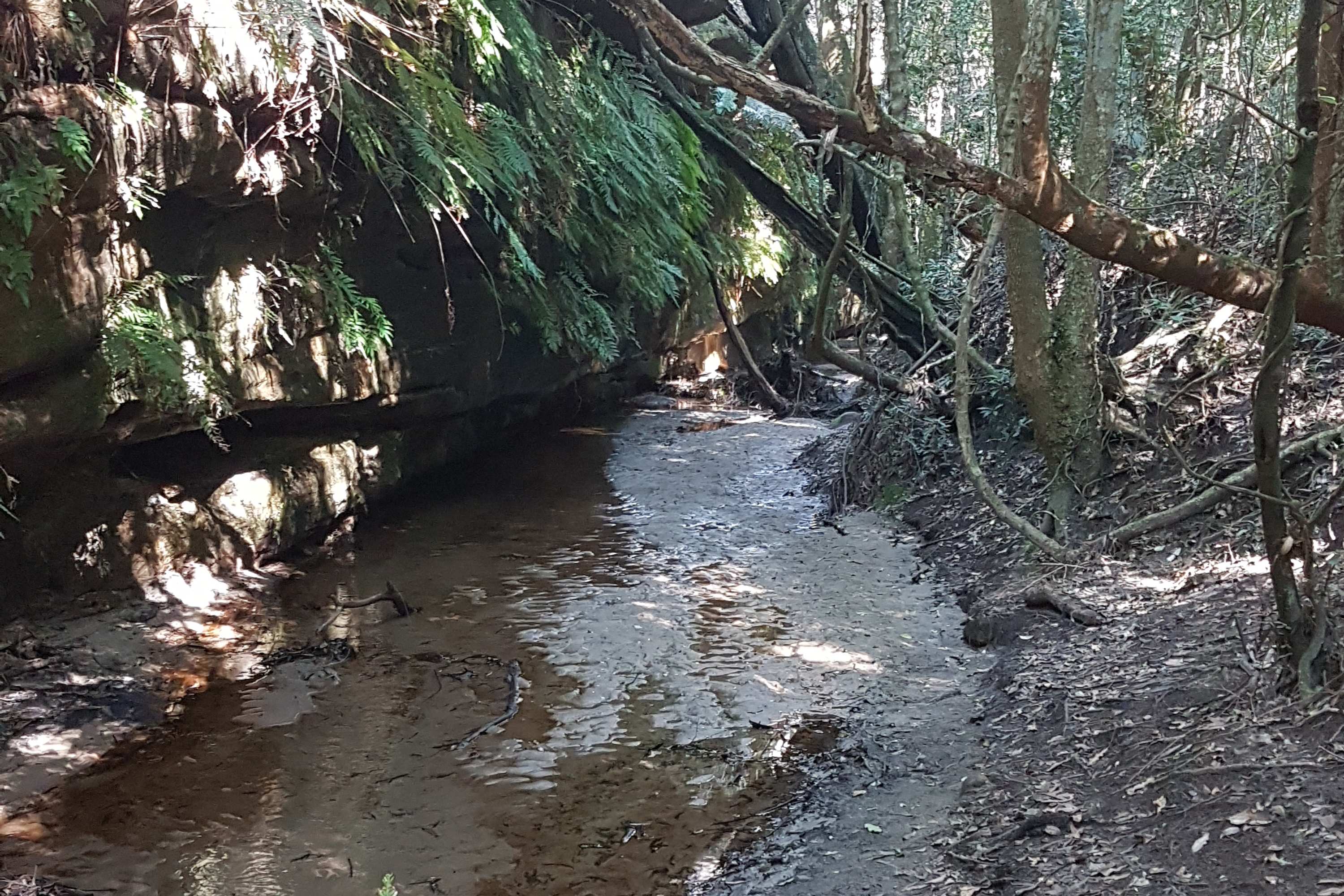 We spent a bit of time here, the quietness and solitude envelops you.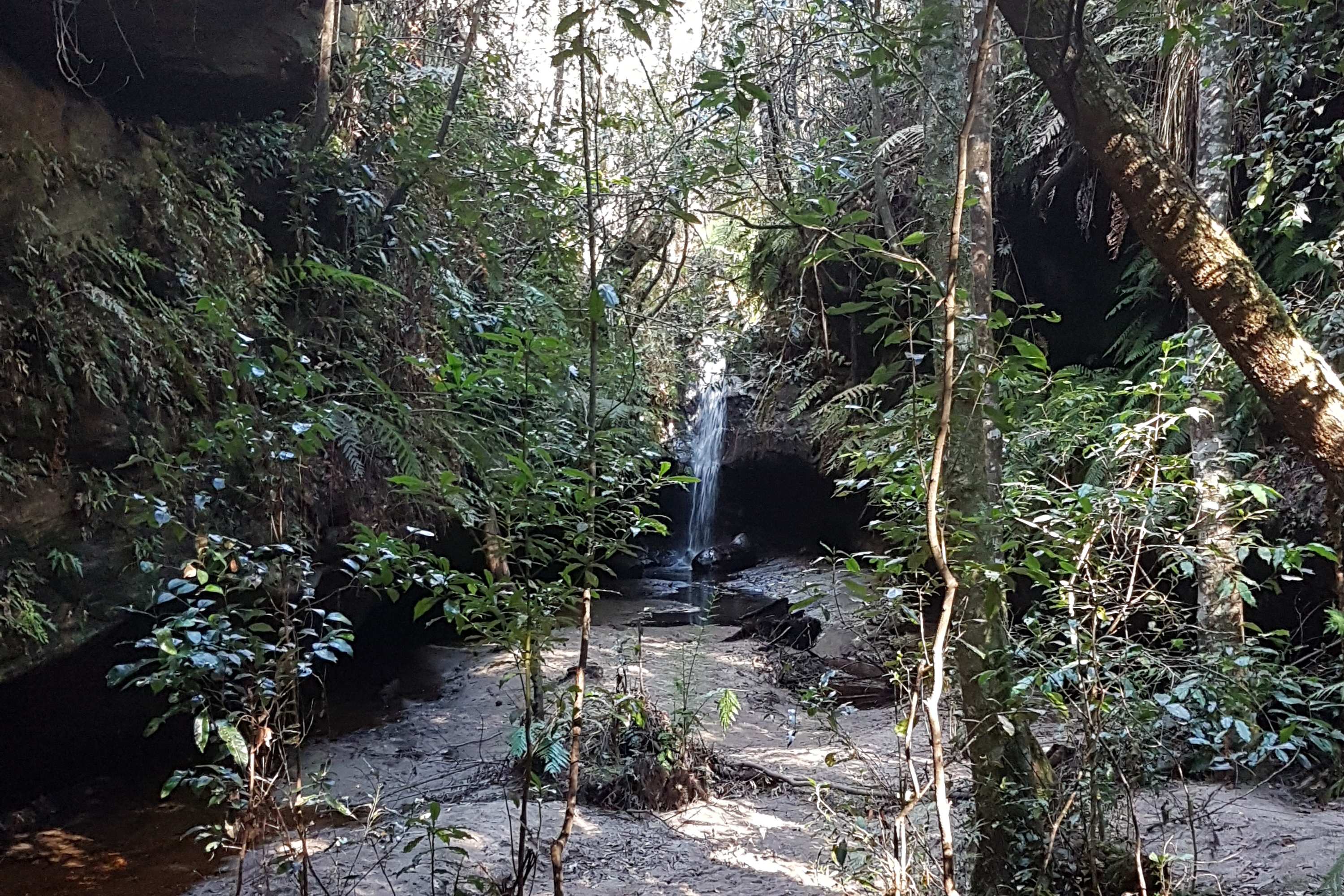 Heading Home
The walk back is over the same trail.
It is about 50 minutes each was as a very leisurely pace.
Back at the camp grounds we broke out the BBQ and started a small fire for lunch, cleaned up and back to meet up with Pattersons Trail. Remember to take a garbage bag, there are no bins so remove your rubbish.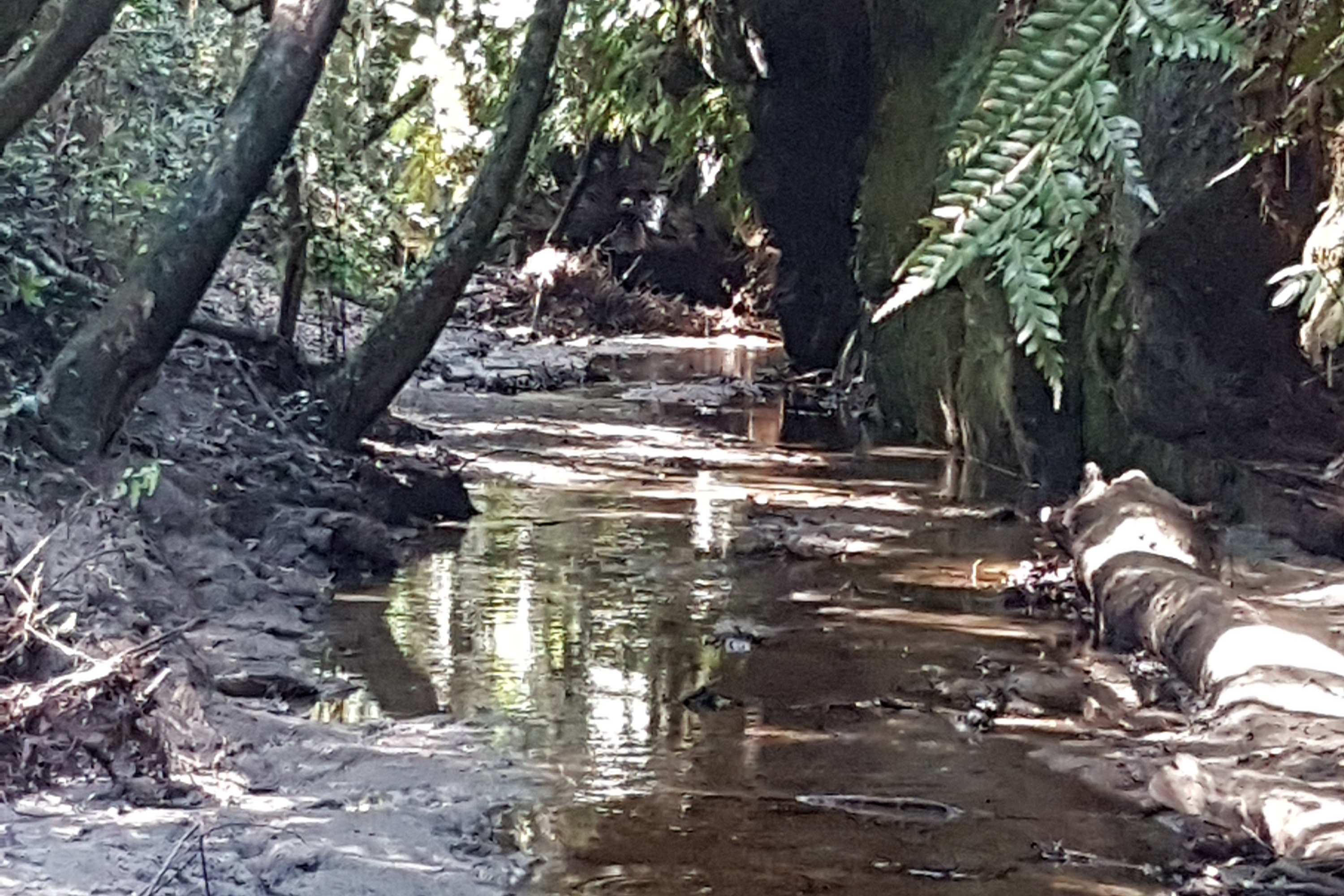 We got back to the junction and followed the track along, over a bridge and then the climb back up the hill.  This was a lot rougher than the trip down and I was in 4 High, just to edge over some of the larger ruts.  As you get higher it is worth stopping to take in the view over the valley.
Towards the top we turned off onto one of the High Voltage Maintenance tracks and finished up at a cliff face.  Again, a 4 high to get over this rougher area.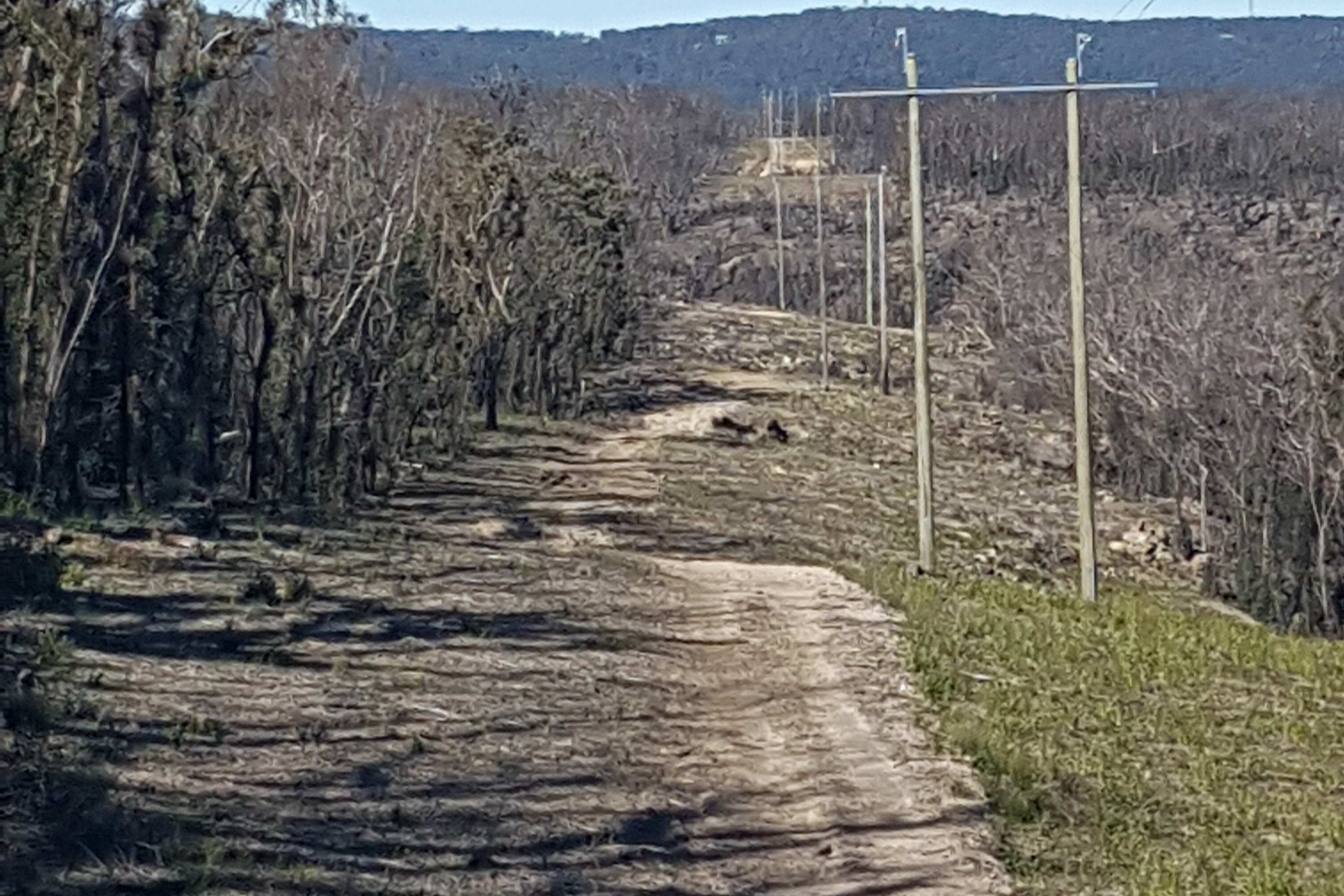 Back on the Patterson Trail, it is only a short drive to the Bells Line of Road, where a left turn and 4 Km takes you to the Coffee shop and Fruit shop.  This area was devastated by the 2020 fires and this is a nice way to assist the community, stop and buy.  Best apples anywhere.