Leading German luxury auto-maker Mercedes-Benz has added the popular M-Class SUV to its extensive 2010 value-enhancement programme.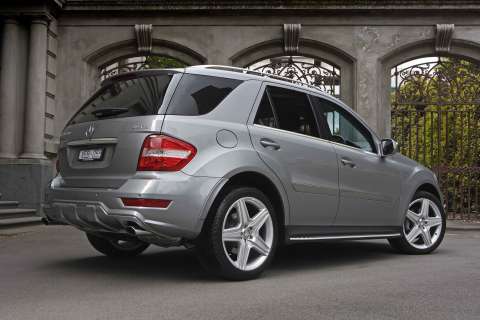 Following recent product-enrichment announcements for some of its other 2010 passenger car models, Mercedes-Benz has elected to offer customers of its popular M-Class SUV additional standard equipment for this year.
Horst von Sanden, managing director of Mercedes-Benz cars in Australia: "As I have previously said, my team and I are using the combined effect of customer research and the 2010 import duty reduction to produce these carefully tailored value packages for many of the models in our range.
"Even though the M-Class is import duty-exempt we have still included it in our ongoing value strategy for our customers.
"Our customers have told us what they want and this is what we have delivered," he said.
These value-rich enhancements are applicable to all relevant M-Class models built from December 2009 onwards. They are detailed below:
Mercedes-Benz ML 300 CDI BlueEFFICIENCY, ML 350 and ML 350 CDI BlueEFFICIENCY
Customers who purchase a base-model ML 300 CDI BlueEFFICIENCY, ML 350 or ML 350 CDI BlueEFFICIENCY can now add the stylish factory-fitted Exterior Sports package for only $2,900. This package comprises:
•20-inch 5-twin-spoke alloy wheels
•Blue tinted window glass all round
•Chrome highlights on radiator grille, side rub strips, rectangular exhaust outlets, shoulder line strip and rear load sill guard
•Simulated front and rear under-guards in stainless steel
•Radiator grille in sterling silver colour
•Aluminium look roof rails
These same three M-Class SUV models, when fitted with the optionally available Luxury Package, will now have the above features included free of charge.
AMG performance and style for only $6,900
Now a permanent fixture in the M-Class product catalogue is the dynamic AMG Sports package. Previously available as a limited customer offer, it is now a regular option due to its overwhelming popularity. This exciting package is characterised by both aggressive styling and dynamic handling. It is optionally available on the three V6-powered M-Class models (ML 300 CDI BlueEFFICIENCY, ML 350 and ML 350 CDI BlueEFFICIENCY) and includes the following equipment:
•AMG 21-inch alloy wheels
•AIRMATIC semi-active air suspension with Active Damping System
•Exterior Sports package
•AMG body styling (front apron, side skirts, rear apron)
•AMG high-gloss black radiator grille with chrome highlights
•Dark tinted privacy glass rear of the B-pillar
•Side steps in brushed aluminium with rubber studs
Packaged together for $6,900, this stylish collection of performance-enhancing AMG features is normally valued at approximately $10,000.
At home both on and off the road
The dynamic M-Class is the marque's best-selling SUV model, with almost 9,000 of the current model sold since its local release.
Its dynamic on-road drive is complemented by its established off-road ability, a model hallmark which can be further advanced with the addition of the optional Off-road Pro Engineering package. This dedicated combination of off-road-specific features makes it highly capable over rough terrain. It is composed of:
•AIRMATIC DC (Dual Control) adjustable air suspension
•Two-stage low-range transfer case with additional ratio of 2.93:1 (which can be engaged whilst moving)
•Front differential lock
•Multiple-disc centre differential lock with up 100 percent lock (manual and auto engagement)
•Multiple-disc rear differential lock with 100 percent lock (manual engagement)
•Protective under-shield
Summary of Mercedes-Benz M-Class value enhancements
Model
Engine
2010 Price Change
Equipment Level
Price (MLP)**
ML 300 CDI BE
3.0l V6, turbo-diesel
NIL
$2,900*
$83,500
ML 350
3.5l V6, petrol
NIL
$2,900*
$87,000
ML 350 CDI BE
3.0l V6, turbo-diesel
NIL
$2,900*
$90,000
ML 500 Luxury
5.5l V8, petrol
NIL
Same
$130,500
ML 63 AMG
6.3l AMG V8, petrol
NIL
Same
$171,500
* ML 300 CDI BlueEFFICIENCY, ML 350 or ML 350 CDI BlueEFFICIENCY when fitted with a Luxury Package
** Manufacturer's List Price
The prices detailed in this document are current Manufacturer's List Price (MLP) for the Mercedes-Benz ML 300 CDI BlueEFFICIENCY, ML 350, M 350 CDI BlueEFFICIENCY, ML 500 and ML 63 AMG.
As you may be aware, the MLP includes GST and any LCT applicable to the base / standard specification model but EXCLUDES DEALER DELIVERY AND ALL ON ROAD COSTS such as, for example, registration fees, stamp duty, CTP and the like.