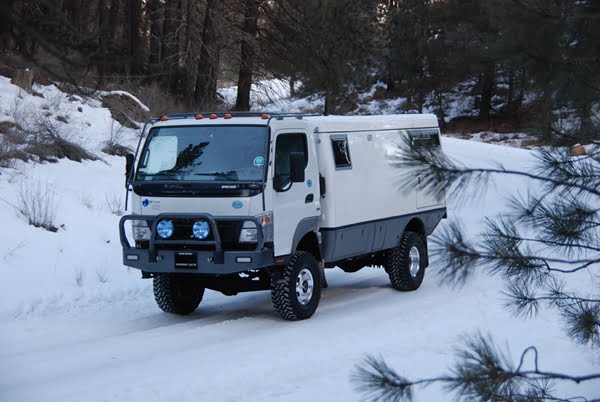 The highly capable, all-terrain EarthCruiser is now available in the United States, with the first unit already delivered by the company's new US based office in Bend, Oregon.
Managing Director of EarthCruiser Overland Vehicles, Australian born Mr. Lance Gillies, said that response to the vehicle, which has true go-anywhere ability off road and in difficult terrain, has more than justified the company's entry into the American market.
With its specially designed soft ride/hard road suspension kit and super-single 36 inch Michelin XZL tyres, the Earthcruiser is capable of negotiating long distance desert crossings, snow covered mountain trails and endless kilometres of corrugated and rough outback roads in comfort. And when the travelling is over for the day, EarthCruiser provides a hot shower, a cold drink from the fridge, and a comfortable bed for the night.
"We are already exporting EarthCruiser units to the Europe, Spain, Egypt and the UK as well as Australia and customers are travelling to remote locations all over the globe," said Lance Gillies.
"Current EarthCruiser owners include: wildlife photographers, hunters, surfers, rock climbers, adventure seekers, and corporations needing 4×4 capable RVs. The vehicle is also in demand by Eco and Volunteer travelers who are delivering medical supplies to remote locations, teaching children, repairing endangered reefs, and a wide variety of outreach programs.
Engineering behind the Earthcruiser was developed from the world traveling experiences of the company's founders. With its powerful diesel engine, the EarthCruiser can be driven directly into a standard freight container and shipped anywhere around the globe. It is capable of negotiating everything from long-distance desert crossings, snow covered terrain, or miles of challenging rock covered off-road trails.
The "goat-like" capabilities result from its impressive ability to handle extreme front and rear departure angles when off road. The vehicle is built on a commercially proven, Mitsubishi Fuso 4×4 truck chassis, providing excellent power-to-weight ratio and economical fuel consumption. The Fuso cab offers plenty of space and easy to read instruments, while the position of the cab's large windshield provides panoramic views and excellent visibility of approaching terrain.
Using design techniques from the yachting industry, the interior of this mobile adventure home is well appointed and extremely functional. It is strategically designed using light colored, all-fibreglass cabinetry and large windows that make the bright living area feel spacious. Quality appliances, hot and cold shower, toilet, ergonomic kitchen, plentiful storage, and a full size double bed keep the explorers comfortable. The walls and roof are constructed from a temperature-insulating and super-durable fiberglass composite.
For those who really want to get away, its solar panel system can sustain power for up to ten days and the vehicle is fitted with the only water purification unit in the world that has been independently certified to meet world EPA health standards.