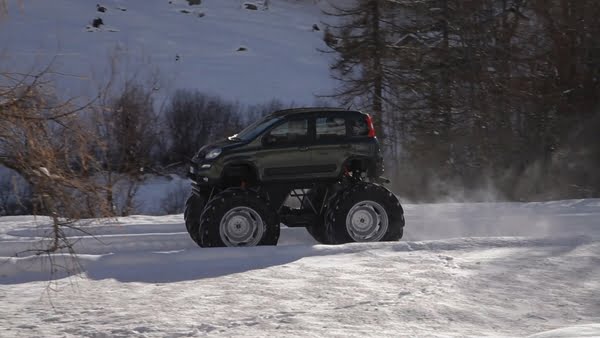 Fiat's 'Bigfoot' Panda monster truck is the most over-the-top Panda of them all. The new Fiat Panda has been an extraordinary success in the European market, finding favour with customers and media alike, winning accolades for its space and flexibility.
Thanks to the latest digital technology employed by animated films, the new Fiat Panda has 'transformed' into a nippy scooter and then a spacious light cargo aircraft in the first European commercials. Now, to demonstrate the off-road performance of the Panda 4×4, Fiat has chosen to adopt set-design techniques from the cinema together with automotive tuning. And that's how the Panda Monster Truck was created, a prototype built by Fiat in collaboration with Mercurio Cinematografica, set designer Andrea Faini and the Fabio Gementi Workshop.
The Monster Truck version combines a Panda 4×4 with a Jeep CJ7 4200 floor panel and features road tractor wheels with "High Speed" tyres, 150 centimetres in diameter and 50 cm wide, fitted with specially turned solid steel flanges. The final result is a 'bigfoot' Panda, towering at 390 centimetres ('wither height'), 380 cm long and 250 cm wide. It took just over two weeks of work to build it, paying the utmost care when connecting the steering system, clutch, accelerator and brakes between the two cars.
Fully operational, the Fiat Panda Monster Truck will star in an upcoming European TV commercial at the start of 2013. Created by the Leo Burnett agency, it tells the story of four friends who set off for a weekend in the mountains. The Panda 4×4, transforming into a Monster Truck, climbs nimbly up to the hostel, stunning everyone with its performance. And when the driver, thinking he is on a normal Panda 4×4, gets down from the car, he ends up falling two metres onto a cushion of snow, to the laughter of his friends.
Video Link: http://video.fiatpress.com/p/it/it/fiat/post/30530