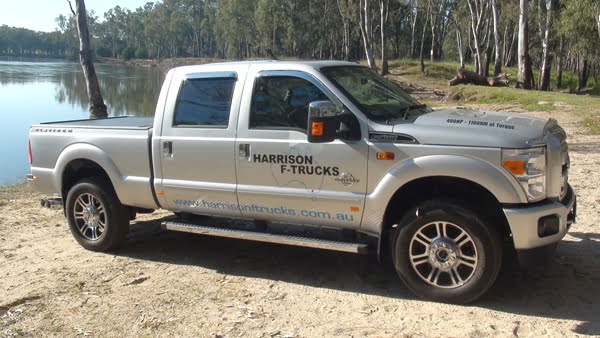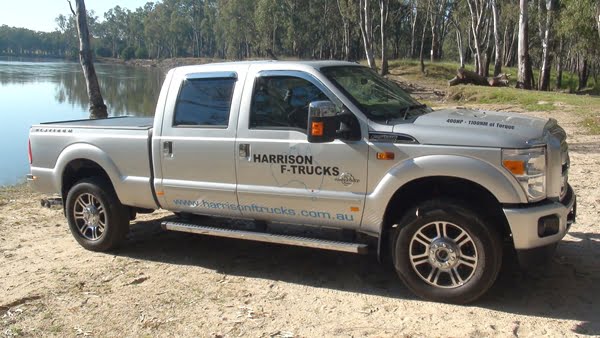 Having previously tested the F250 we were pretty keen to test the bigger brother the F350. W took the Ford F30 to the Deni Ute Muster, certain it would attract a lot of attention and we were right. Driving the big F350 through the camping area we were constantly stopped for people to have a look and ask a zillion questions. The Ford F350 4X4 Platinum 6.7L V8 Diesel SuperDuty Platinum Crew Cab Ute had the wow factor.
Other than the immense towing capacity of 8.3T and staggering payload of 3.3T, The F350 SuperDuty 'Platinum' 4×4 Crew Short Wheel Base is pretty much identical to the F250 we have previously reviewed save for MY15 updates.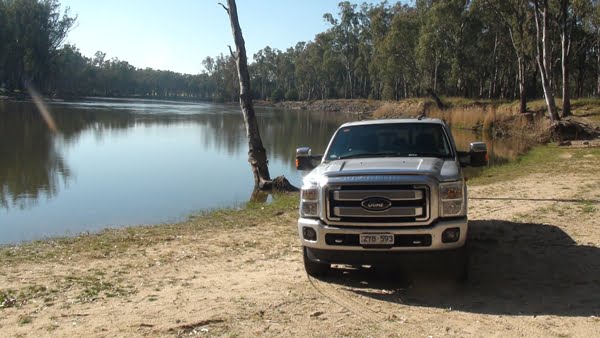 The external look is enhanced by the Platinum features including body-colour front & rear bumpers, bright chrome door & tailgate handles, 6″ angular chrome step bars, unique satin chrome grille, chrome exhaust tip, transfer case & fuel tank skid plates and 20″ Platinum Cast Aluminium wheels with LT275/65Rx20E OWL A/T tyres.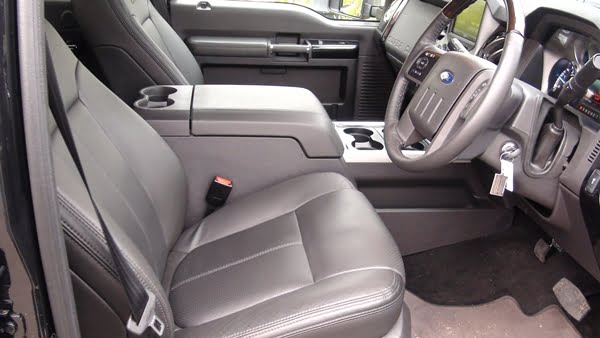 Inside the front seats are 10 way electrically adjustable, with 4 way adjustable head rests. They are both heated and cooled and are some of the most comfortable seats I have sat in for quite a while. There is more than enough shoulder, butt and head room.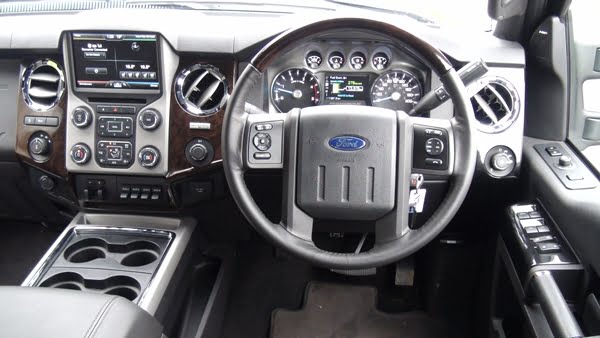 The thick rimmed steering wheel is also heated with a combination of leather and wood and feels just right in your hands. There are the usual controls on the cross members and while the centre pad is quite large by our standards it isn't obtrusive.
In front of the driver is a comprehensive dash display that is dominated by two large dials, a centre multi function display and four smaller ancillary dials on top.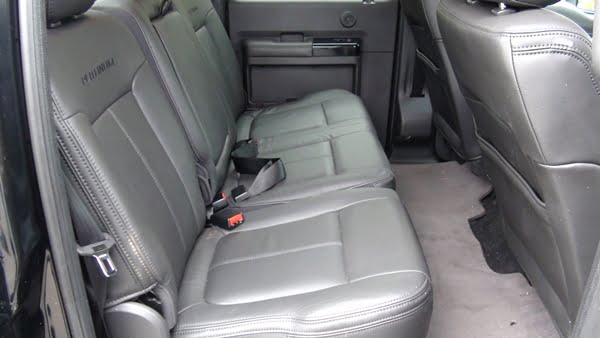 There is room for three very tall passengers (read 195cm tall) comfortably in the rear with plenty of knee, head, butt and shoulder room and a flat floor for leg room. The rear seats are also heated, with under seat lockable storage, fold down centre console, drinks holders and rear air conditioning vents.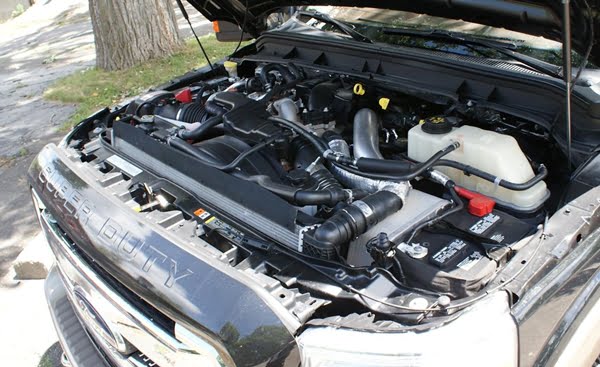 The F350 is powered by a 6.7L Ford Power Stroke Turbo Diesel V8 that delivers its power through a 6 Speed auto with progressive range select, integrated exhaust break & tow haul mode. The 6.7L produces 302kw of power @ 2800rpm and a massive 1085nm of torque @ 1600rpm.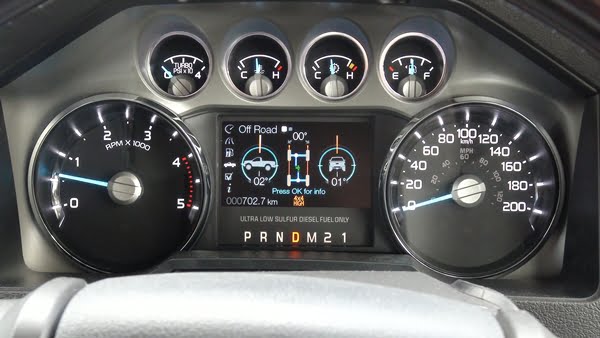 The F250 will comfortably tow up to 8319Kg when properly fitted out and will accommodate a 10,524kg 5th wheeler. In addition to these impressive figures the F350 has a payload of just over 3.3tonne.The engine pulls these easily.
So let's sum up my thoughts! It will seat five adults in comfort, is full of luxury features, will tow more than anything else on the market in this segment, has awesome power and torque, more than capable off the main roads, has huge cargo capacity and is super cool. I'd say it is without doubt the best dual cab ute in Australia and goes close to being the best outback tourer in the country. Nothing is perfect though, we did experience some unusual road harmonics with the wheelbase of the freeway which made for a loopy ride.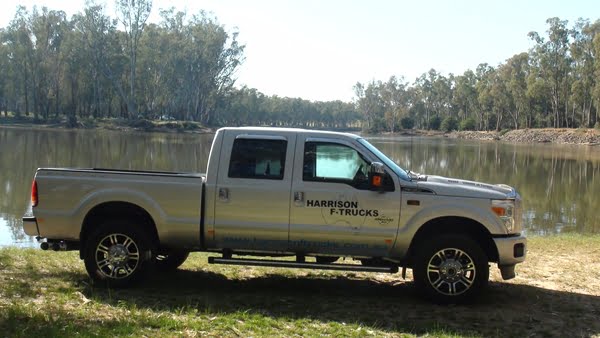 There is nothing else that has the same combination of features. Unless you need the extra towing capacity and pay load I would suggest the F250 as it seems better value and is basically the same. Either way given what else you could buy for the approximately $158,000 that this vehicle costs I am struggling to think of another vehicle I would buy as an outback tourer in its place.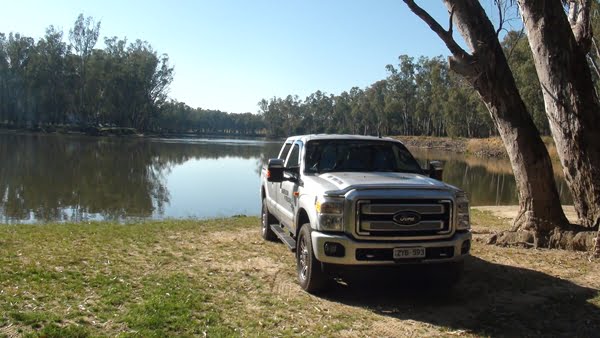 What is good:
• Awesome power and torque
• Room for 5 adults
• Outback Touring
What is not so good:
• Parking in Suburbia
• Cramped glove box
• Odd harmonics on freeway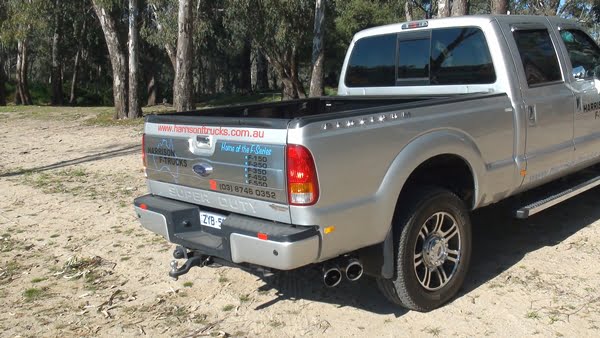 Model Ford F350 4X4 Platinum
Model Price $158,584 RDAP
Engine 6.7L V8 Diesel
Drivetrain 4WD 6 Speed Auto
Power 302Kw @ 2,800 rpm
Torque 1085 Nm @ 1,600
Safety TBA
CO2 Emissions N/A
Green Vehicle Rating N/A
Economy (ADR comb) 12.3 L/100km
Tow Capacity – Max 8,391 kg
Tow Ball Rating N/A kg
Servicing $Not Supplied
Warranty 5yr/100,000km with full roadside assist
Overall OzRoamer Rating 93/100
Behind the Wheel 9
Comfort 10
Equipment 9
Performance 10
Ride & Handling 10
Practicality 9
Fit for Purpose 10
Towing Ability 10
Off Road Ability 8
Value for Money 8