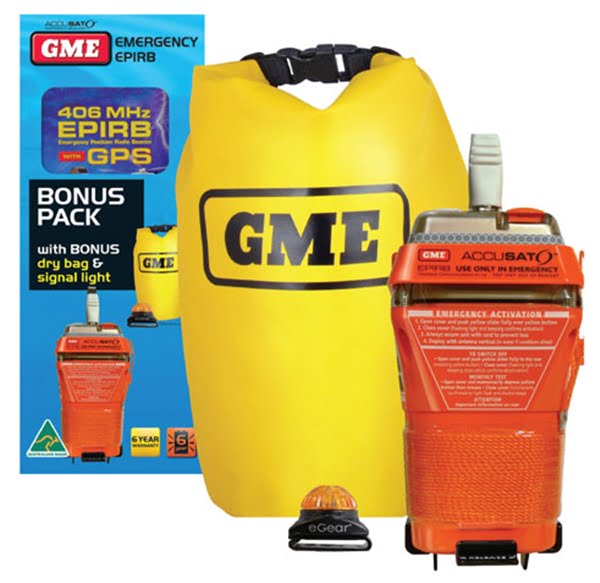 GME, one of the world's leading emergency beacon manufacturers will once again offer Australian and New Zealand customers an outstanding pre-Christmas special with their MT400,MT406G EPIRB and MT410G PLB integrated bonus packs.
Commencing in early November these three emergency beacons will be presented in clearly identifiable custom packaging containing the emergency beacon and bonus items. The award winning MT400 and GPS equipped MT406G EPIRBs bonus packs will include a 15 litre GME branded 'dry bag', along with a Guardian dual function signal light, recognised globally as the lightest, brightest and toughest product in its class. Both bonus items were carefully selected to provide genuine value for the boating fraternity.
GME's hard wearing PVC 'dry bag' is designed to safely transport wallets, keys, cameras and other such valuables. The bag can be made water tight by rolling down the top and sealing with the clip, it is also supplied with a convenient shoulder strap.
The Guardian light utilises an unbreakable LED bulb that will never need replacing, it comes complete with 2 lithium coin cell batteries that deliver over 250 hours of flashing light or 100 hours of steady illumination. The light is visible up to 1.5 km and submersible to a depth of 90 meters.
Matthew Heap, GME's Marine Marketing Manager, commented "These EPIRB bonus packs, coupled with our recent 6 + 6 year battery initiative represent the best safety at sea value anywhere in the world, and I challenge anyone to find a better offer. However this deal will only be available for a limited period during November and December 2012 or whilst stocks last, so make sure you watch out for the unique promotional packaging at your local GME marine dealer".
The MT410G GPS equipped PLB bonus pack will contain a 15 litre GME 'dry bag' plus a Sparkie™ the latest emergency fire starter from Ultimate Survival Technologies.
Matthew Heap again said; "The MT410G, dry bag and Sparkie™ really complement each other and are a tremendous addition to any outdoor adventurer's equipment". The GPS equipped PLB's value has been well documented in numerous survival stories. The Sparkie™ is a lightweight, one handed emergency fire starter that operates even when wet.
GME has been designing and manufacturing emergency Beacons in Australia for almost 40 years, in this time literally thousands of lives have been saved in Australia and around the world. Customers seeking additional information regarding these promotions can visit www.gme.net.au or contact their favourite GME marine retailer.