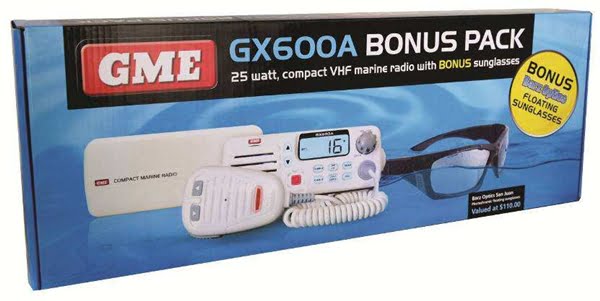 GME have joined forces with the iconic Australian sunglass company Barz Optics and will be offering a fantastic bonus offer over the 2013 Easter period.
During March and April, GME will package the highly popular white GX600A VHF radio with a pair of San Juan floating sunglasses from Barz Optics, valued at $110. The San Juan sunglasses are new to the Barz Optics range and are fitted with polarised photochromic lenses, these will darken when exposed to direct sunlight ensuring your eyes are well protected from damaging UV rays. The San Juan also float, so should they end up overboard they can be easily retrieved.
Peter Langbart, GME's General Manager commented: "The white GX600A is arguably Australia's best selling VHF radio; the GME / Barz Optics marketing campaign unites two celebrated brands, both known for quality, practicality and reliability. This promotion offers our customers excellent value and something rather special for the upcoming holiday period".
The GX600A bonus packs will be available for a limited period during March and April 2013, or whilst stocks last. Make sure you watch out for the eye-catching custom GX600A / Barz Optics promotional package at your local GME marine dealer.
Customers seeking additional information on this product can visit www.gme.net.au or contact their favourite GME retailer.