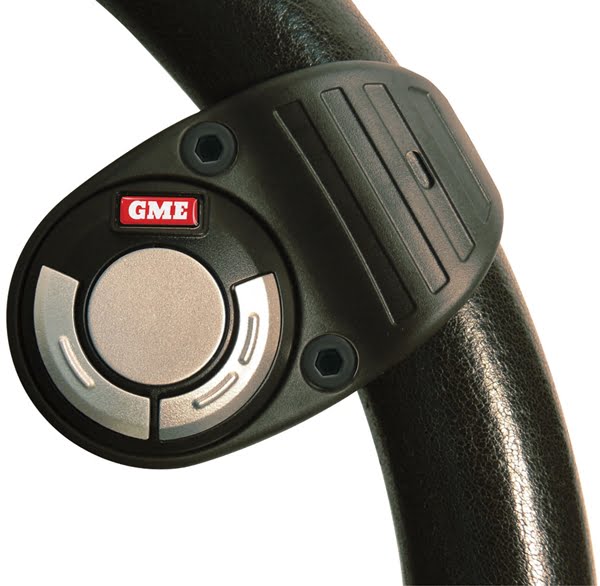 For some time vehicle manufacturers have recognised the advantage of steering wheel mounted controls. This feature is common place today, offering enhanced safety, convenience and ease of operation.
GME, the world's largest manufacturer of UHF CB Radio also acknowledges the critical benefit of steering wheel located, finger tip controls and is now offering a unique wireless steering wheel mounted PTT.
Two additional buttons offer user programmable functionality, including up/down channel change or scan function and priority channel selection.
The remote PTT can be removed from the steering wheel mount if required and mounted any where in the cabin using the adhesive pad provided. The handsfree microphone is supplied with 2.4 metres of cable.
The TX3510W and TX4500W are fully engineered and manufactured in Australia with a host of evolutionary features newly developed by GME's highly experienced two-way radio R & D team. Industry firsts that not only differentiate the GME brand from the competition, but take advantage of the latest digital technology to ensure ease of operation and optimum performance across all 80 channels.
Unique and practical benefits include GME's Full Spectrum Backlighting, the amazing, interference suppressing Advanced Signal Management System, the highly effective Dynamic Volume Control and voice inversion scrambling options. GME also retains all the key attributes that have long been associated with our robust and tough locally manufactured radios like Open/Group scan, Sellcal, CTCSS and a full 3 year parts and labour warranty available through GME's nationwide service network.
The TX3510W and its DIN sized companion the TX4500W are built specifically for the harsh Australian conditions where durability and reliable communications are paramount. The TX3510W and TX4500W epitomise GME's long standing reputation for innovation, quality and value for money.
Whether you are a professional truck driver or an occasional road user, the innovative GME W1 wireless PTT and handsfree microphone, available in the TX4500W and TX3510W, is set to revolutionise both your driving safety and radio communications experience.