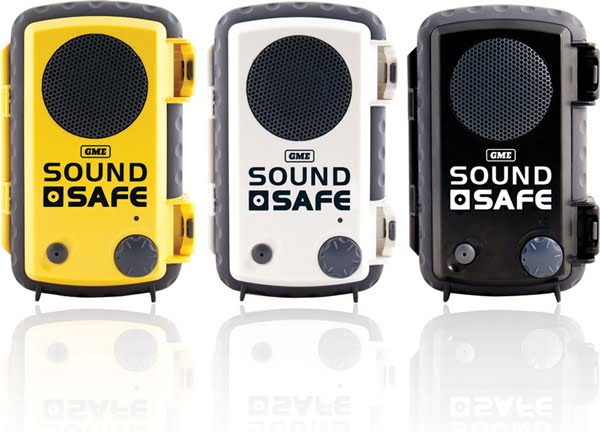 Today most of us appear to be inseparable from our mobile phone, iPod or MP3 player. We literally want to take them everywhere we go, whether it is to the beach, the rainforest, the building site or even white water rafting.
Of course our greatest fear is that we'll get it wet, drop it overboard or ruin it with sand or dust. Well, worry no more! GME are about to introduce the perfect solution for such challenging situations.
The GME Sound Safe is a robust, buoyant, waterproof case with an integrated amplifier and speaker which quickly connects to any media player 3.5mm headphone socket via an internal cable. So no matter if it's work rest or play, your device is fully protected from the external environment.
Virtually any personal media player, cell phone, including the recently released iPhone 5, fits securely within the Sound Safe's watertight housing, there's even a little additional space to hold car keys, money or other valuables; in fact the Sound Safe remains buoyant with a payload of up to an impressive 230 grams. A carabineer clip is also provided for additional security.
Matthew Heap, GME's Marine Marketing Manager commented; "Apart from providing tough, waterproof protection for your device, the Sound Safe also delivers exceptional audio performance. The clever design of the housing actually enhances the bass response of the media player without any compromise of top end quality." Heap continued; "A further astounding attribute of the Sound Safe, is its minimal power consumption, by utilising a highly efficient Class D amplifier, Sound Safe can deliver up to 30 hours of entertainment from a set of 3 AA batteries.
The GME Sound Safe is offered in three eye-catching colours, safety yellow, jet black or classic white. It will be available through GME's dealer network from early November. Customers seeking additional information on this product can visit www.gme.net.au or contact their favourite GME retailer."