Hankook Tyres' new enfren low rolling-resistance tyre has excelled in a real-world fuel economy challenge bettering conventional radial tyres by more than five percent.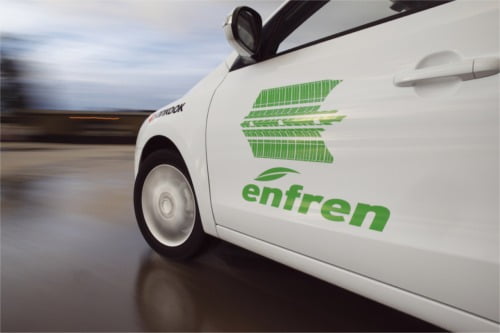 The challenge saw two identical Hyundai i30 SLX CRDi hatches driven in concert over almost 400km of city and motorway conditions. Tight experimental controls in place meant the only significant difference between the cars was that one was equipped with new Hankook enfren tyres while the other was fitted with conventional steel belt radials.
The Hankook enfren fuel economy challenge was observed and the results verified by officials from Sydney's North Shore Sporting Car club.
While Hyundai's i30 is already one of Australia's most economical vehicles the Hankook Fuel Economy Challenge showed that even an extremely economical car such as the 1.6-litre turbo diesel i30 can benefit significantly from fitting Hankook's new low rolling resistance enfren tyres.
Over the 382-kilometre course from Sydney to Goulburn and return the Hankook enfren equipped car used 5.5 litres per 100 km while the conventional tyre used 5.8 litres per 100km.
The Hankook Fuel Economy Challenge was co-ordinated by motoring journalist and industry engineering consultant John Cadogan who ensured that both cars were tested under tightly controlled conditions.
"A 5.1 percent advantage is a significant saving that can be achieved by any car owner simply by fitting lower rolling resistance tyres," said John Cadogan.
"Rolling resistance accounts for as much as 20 per cent of all automotive fuel consumed on earth. Advances in low rolling-resistance technology like that on the Hankook enfren offer a profound positive environmental benefit, as well as the capacity to extend the viability of the world's known oil reserves," he said.
"Very few things which genuinely improve fuel economy can be retro-fitted to cars that are already in service, however this test proves that low rolling resistance tyres such as Hankook's enfren delivers savings in both fuel consumption and therefore also in emissions, without owners needing to upgrade to a more modern car," he said.
"If every car in Australia were equipped with tyres such as the Hankook enfren it would save almost one billion litres of petrol every year not to mention saving around two million tonnes of greenhouse gas emissions," he added.
"Importantly, the Hankook enfren tyres were uncompromised in terms of ride and handling, offering comparable levels of road handling, comfort, on-centre feel, and braking performance to conventional premium tyres."
The economy challenge was run in adverse weather with heavy wind and rain at times lashing the course between Sydney and Goulburn, presenting an ideal range of conditions in which to demonstrate the on-road performance of the Hankook enfren tyres.
Both test cars were driven in 'real-world' mode and not for absolute economy to better reflect the way ordinary motorists drive their own cars under regular conditions with normal acceleration patterns and maintaining ambient traffic speed. Under motorway conditions the cars were driven at the posted speed limit of 110km/h.
During the challenge the two Hyundai's maintained a substantial gap of approximately 300 to 400 metres to ensure that both cars were subjected to the same aerodynamic influences, while both speed and distance travelled were verified and cross checked using GPS tracking.
During the test, tyre pressures on both Hyundai's were set and verified to the placard-specified cold-inflation maximum of 32psi, while both sets of tyres were 205/55R16, the size specified for the Hyundai i30 SLX CRDi.