Honda Australia Rider Training (HART) has officially launched their new off road facility and associated novice rider course at the all-new Somerton site in Melbourne's north.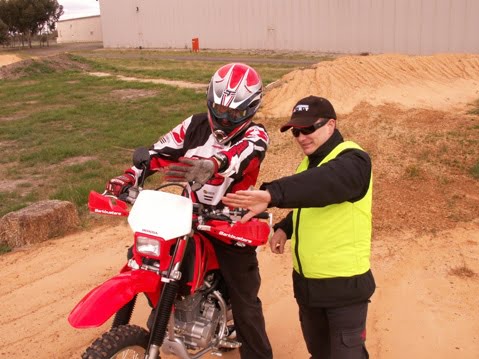 The off road training facility has been purpose built and is the only one of its kind in the metro area, making for a unique experience for anyone looking to gain a basic understanding of riding in the bush or on the track.
.
The HART course offers personal tuition focusing on individual feedback, achievable due to classes being kept down to a maximum of only six participants per course.
"With the launch of our new off road courses, we are now able to deliver the full spectrum of rider training," said HART's Victorian Manager Grant Carr.
"The facilities at our site are world class and because we have decided to keep participant numbers low we have a lot of time to spend with each person."
"This course is very much about introducing people to off road riding, as well as for those who have limited experience."
HART's purpose built circuit is an excellent blend of flat surface and hills, with an additional circuit featuring 14 corners and berms, plus five jumps to challenge all skill levels.
The half day course for adults and children includes exercises in posture, braking, hills, set-up and cornering. A Honda CRF230 or a CRF150 (for those who prefer a smaller machine) are inclusive of the course cost.
"The beauty of having comprehensive facilities in one location is that we can also licence adult riders so they can take their newly acquired skills into the bush immediately," Mr Carr said.
"We have designed the day to appeal to all members of the family including mum, dad and the kids because there is nothing better than being able to go out and have a day or a weekend away riding together."
"Our curriculum also includes providing information on where to ride legally and other tips from the Department of Sustainability and Environment (DSE). This is so that riders will be aware of what they should and shouldn't do in the bush."
A special $150 introductory price is on offer at the moment until April 1st, including use of a motorcycle, or $125 for those supplying their own registered, roadworthy bike. Children's tuition (under 18) is only $100, and they must supply their own motorcycle to use.
HART are also offering a special price on the one day Learner Permit course for anyone who books for both courses at the Somerton site.
For course dates, bookings and further details contact HART on 03 9270 1377.