Two of Honda's most popular ATVs now come with an added bonus. From now until March 31st, the TRX420TM* and TRX420FM both include $500 Honda Dollars that can be used in the Dealership at the time of the transaction for a wide variety of accessories, servicing or as a credit toward the ATV purchased.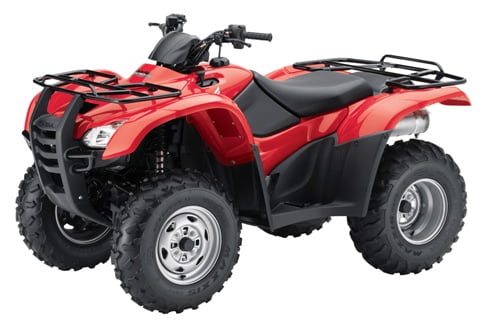 In addition to a fuel-injection system for consistent performance and improved cold-weather starting, both TRXs offer an OHV liquid-cooled fuel-injected 420cc longitudinally mounted engine that allows direct driveshaft alignment to rear wheels for improved drive train efficiency.
Whilst the TRX420FM features Honda's Traxlok 4WD/2WD selector, the TM version is a 2WD model available with manual shifting.
All of the 420s feature new dual front disc brakes for improved braking performance in all conditions, as well as a fluid body style that incorporates flowing fenders with integrated headlights and LED taillight.
Additional unique features include a large radiator with cooling fan to ensure optimal engine cooling under difficult operating conditions, a closed crankcase vent system to safeguard against engine oil contamination, and unique Honda-designed floorboards that allow the rider's feet to grip the footrests while keeping mud and debris away.
Honda Dollars are available on each model from now until March 31, 2010.