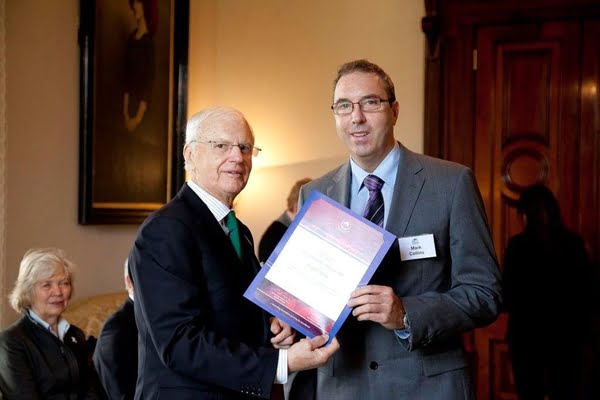 Honda Australia Rider Training National Manager, Mark Collins has been awarded a 2013 Churchill Fellowship which will enable him to investigate ways to improve motorcycle rider safety in Australia.
Mr Collins is among just 109 Australians to receive this prestigious Fellowship in 2013. He will embark on a project to increase motorcycle rider safety by updating training methods and curricula in Australia through researching best practice systems in Japan, the UK, the Netherlands, Austria and the USA.
Churchill Fellowships are awarded by The Winston Churchill Memorial Trust to innovative individuals who are filled with a spirit of determination and a desire to benefit their community. Each recipient undertakes a research project, travels the world and furthers their knowledge in their chosen field, before returning to make a real contribution to Australian society.
Mr Collins was presented with his Fellowship at Government House Melbourne by the Honourable Alex Chernov AC QC Governor of Victoria. Speaking after the event he said; "I am incredibly honoured to be the recipient of a Churchill Fellowship. I have been passionate for a long time about improving rider safety in Australia and I know from experience that there are many things we are doing here in Australia that are being done much more effectively overseas."
With the objective of bringing back new methods and research findings that can be included into Australian rider training programs, Mr Collins hopes to advance the delivery of training courses, improve course outcomes and ultimately rider safety.
Mr Collins went onto say; "I am incredibly fortunate to work for a manufacturer such as Honda who is a world leader in safety initiatives and through HART here in Australia, has been delivering a high level of rider training and licensing for over 20 years."
The Winston Churchill Memorial Trust was established after the death of Sir Winston Churchill in 1965 with the objective of perpetuating and honouring Sir Winston's memory by the awarding of Memorial Fellowships to be known as 'Churchill Fellowships'.
Honda has a strong global commitment to supporting the community and Honda Australia has long been an active campaigner in rider safety.
Honda Australia encourages proactive initiatives and applauds Mr Collins on his achievement.