Australian new car buyers continue to migrate into the Compact SUV segment. In 2009, 84,598 compact SUVs were sold in Australia, representing 9.0% of all vehicle sales (up from 8.45% in 2008). By 2014, the Compact SUV market is forecast to increase to 116,000 units, equivalent to 9.4% of total 2014 industry sales (Source: Hyundai).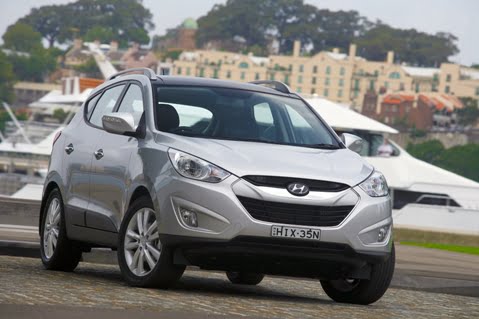 Into this increasingly competitive market Hyundai has launched the ix35 which is the replacement for the aging Tucson.
Make no mistake about Hyundai's intentions. They have launched a beauty and the ix35 is set to really shake up the market. It has unbelievably good build quality, is an exceptionally stylish design, is packed full of features and safety, has the segments most powerful diesel engine and is very competitively priced.
The competition should not underestimate the ix35 as it will grab market share from them immediately it goes on sale in mid February
What has been Released
Hyundai had released the ix35 which is the replacement for the Tucson.
The new ix35 is available in three trim levels, Active, Elite and top of the range Highlander. With a wide choice of engines and transmissions plus a range of premium features including rear camera, panorama glass roof and full iPod® integration, new ix35 brings 'designer' style and luxury to the compact SUV segment.
What's it's Purpose
A stylish, sleek crossover SUV for the urban nomad.
What's it Like
This is an AWD SUV that is set to shake up the market. It is chalk and cheese to the Tucson it replaces and if the Sante Fe and i30 didn't make Hyundai's competitors take notice the ix35 certainly will.
Overall the ix35 is very comfortable. All models come with electric drivers seats which helps to overcome the lack of reach adjustment in the steering.
You jump in set yourself and you immediately feel at home. The ix35 is the type of car that makes things easy. And yes it has some personality.
The 2.0L petrol Active has an impressive feature list for an entry model. In manual form it drives ok with the 5 speed transmission mated well to the motor.
The Elite comes with either the 2.4L petrol or the 2.0L 'R' series diesel and both are mated to Hyundai's very good 6 speed automatic. The 2.4 L petrol is obviously more powerful than the 2.0L and to be honest is better suited to the vehicle. However it is the 2.0L'R' series diesel that steals the show.
Our pick is the Highlander, very impressive
What's Good & Not so Good
What is Good?
It looks bloody fantastic
Powerful diesel motor combined with 6 sp automatic
Build Quality
What's not so Good?
Steering wheel is not reach adjustable
Bottle holder in door is in middle – a little impractical
No Bluetooth
Drive Notes
Outside
Designed at Hyundai's Design Centre Europe at Russelsheim in Germany, new ix35 symbolises the evolution of the brand's exterior and interior design, through the introduction of 'Fluidic Sculpture', an architectural language which will be embodied in future models from Hyundai Motor Company.
Starting with a clean slate, Hyundai's development team moved away from the two-box off-roader look in favour of a sleeker, more refined profile while simultaneously achieving a roomier cabin, extra storage capacity and excellent fuel economy.
The Hyundai design team has made much of its design philosophy of 'Fluidic Sculpture' which symbolises the flow of water. Clearly contoured surfaces are delineated by defined, naturally graduating lines. A subtle yet powerful double 'Z' form emerges from the body. The concave sills have a wedge-shaped profile extending rearward, wrapping around into the rear bumper.
Developed as an urban cruiser, ix35 is compact and agile for life in the city, yet tough and versatile for out-of-town travel.
Don't you love that manufacturer marketing speak! Whatever they say about it the ix35 looks bloody great.
The hexagonal grille previewed on the 'ix-onic' concept car moves into mass production on the ix35, a defining look which will serve to unify the family of future Hyundai products. The grille is body colour on the entry level Active model and finished with chrome highlights and complimented by chrome door handles on Elite and Highlander models. Swept back headlights, a lower air intake and heavily inclined A-pillar add to the sporting appearance, whilst prominent wheel arches impart a confident stance.
The rear quarter glass, swooping rear lamps, oversized bumper and sloping tailgate enhance the sporting look. The integrated rear spoiler further reduces fuel consumption.
All model variants are easily identified by their wheel designs – 17 inch alloy on Elite and 18 inch on Highlander – adding to the range's individuality.
Inside, Comfort & Features
Interior
Inside ix35's cabin, a definitive 'X' zone characterises the centre fascia with black and metallic finishes throughout the interior. On ix35 Elite and Highlander models have the push button start function and proximity smart key allowing the car to be opened at the touch of a button located on the front doors and tailgate.
On all model variants, the four spoke steering wheel incorporates controls for management of audio and cruise control systems. All instruments and gauges are backlit in Hyundai's signature blue colour.
Acceleration is via a modern organ-type pedal designed to offer high levels of comfort and sensitivity, by allowing the entire foot to rest on the surface of the pedal at all times and under all rates of acceleration. This is my preference of accelerator as it reduces driver fatigue over long distances
Active and Elite models come with air conditioning, whilst Highlander models are equipped with dual-zone climate control featuring a cluster ionizer that improves air quality in the cabin.
The Highlander's panoramic glass roof maximises light ingress and adds to the sense of spaciousness. An adjustable roll blind can be fixed to ensure 100 percent light block whenever necessary. The front glass opens electrically, while rear passengers can enjoy panoramic vision through the fixed glass overhead.
Seating
Across the range, the driver's seat offers six-way electric adjustment plus electric lumbar support, allowing taller drivers to find a comfortable driving position. Added seating conveniences include second row armrest with dual cup holders and multiple seating layout configurations.
Active models feature high quality cloth upholstery, Elite models are finished in a combination of leather and cloth and the top of the range Highlander features all-leather seating.
Storage
ix35 has heaps of storage including:
Console storage tray, glove box, overhead sunglass storage, armrest storage compartment, two front seat drink holders, two rear centre armrest drink holders, bottle holder in each door, map pockets in each door and two seatback pockets
Inclusions such as a standard luggage screen cover provide privacy and security for valuables in the cargo area, while a luggage net (standard on Elite and Highlander models), secures loose items
ix35 offers a host of standard equipment. The following is a short summary of key specifications found on ix35 model variants:
Safety
The ix35 is yet to receive its ANCAP rating however based on other experience I believe it should achieve a 5 star rating.
Active Safety
ix35 comes complete with a comprehensive suite of advanced safety features. Standard on all models is ABS (anti-skid braking system) EBD (electronic brake force distribution) and ESC Stability Control incorporating TCS (traction control system).
The braking system features four-wheel disc brakes controlled by an advanced four-channel ABS with Brake Assist, providing maximum braking force when a panic stop is detected, and Electronic Brake-force Distribution (EBD) to optimise brake performance with uneven weight distribution.
ESC Stability Control compares the driver's intended course with the vehicle's actual response. This hi-tech system assists driving safety by actively controlling engine torque and braking. It senses wheel speed, vehicle turning manner, angle of steering wheel and driver pedal input and if needed, ESC Stability Control then brakes individual front or rear wheels and/or reduces engine power to help correct understeer or oversteer in a critical situation.
ix35 introduces two new safety features – Hill-start Assist Control (HAC) and Downhill Brake Control (DBC) – which promote safer travel up and down steep slopes.
HAC is designed to minimise rolling backwards on steep ascents by maintaining brake pressure for a couple of seconds after the driver releases the brake. By selecting the DBC switch, the Hydro-Electronic Control unit manages the wheel speed sensors, steering angle sensor and acceleration sensor to maintain control and speed on steep declines without the driver having to operate the brake pedal.
In Elite and Highlander models, an advanced electronic AWD system designed by JTEKT automatically activates under any driving condition when needed, distributing the power equally and optimising driving performance.
Under normal driving, the system only distributes power to the front wheels thereby reducing fuel consumption. The system includes a driver-selectable AWD lock allowing for a 50/50 torque split between the front and rear wheels for off-road and very slippery conditions.
For safer manoeuvring in reverse gear, a rear-view camera is standard on Highlander models. Selecting reverse gear automatically turns on the rear-view camera which provides a wide-angle view of the area behind the car on an 8.5cm colour LCD built into the rear-view mirror.
A Smart Parking Assist System uses the rear-view camera to provide a graphical grid overlay to guide the driver safely into the parking spot. The rear-view mirror is also electro-chromic, automatically dimming during night-time driving to reduce the glare of the headlights from vehicles behind.
Passive Safety
The entire body shell makes extensive use of ultra-high tensile strength steel which comprises 68.9 percent of the shell. This provides a reinforced body/cabin with crumple zones and side impact bars.
Three-point seatbelts are provided at all five seating positions, while front row seatbelts have pretensioners and load limiters. There are three child seat mounting points.
A total of six airbags are positioned in the ix35's interior. Dual advanced frontal airbags are complemented by front seat-mounted side-impact airbags and roof mounted side curtain airbags. The combination of side and curtain airbags help protect the head and body during side impacts. All four doors have internal guard beams to protect passengers in a side-impact collision.
Performance. Engine, Transmission & Suspension etc
There are three engine variants across the model line-up.
ix35 Active – 2.0-litre petrol 2WD (five-speed manual and six-speed auto),
ix35 Elite – 2.4-litre petrol AWD (six-speed auto), ix35 Elite – 2.0-litre R-series turbo-Diesel AWD (six-speed auto) and
ix35 Highlander – 2.0-litre R-series turbo-Diesel AWD (six-speed auto).
A full-time electronic AWD system automatically controls power distribution in ix35 AWD model variants. The AWD ECU detects varying road surface conditions and driving inputs, distributing optimum driving force between the front and rear wheels.
The six-speed auto uses a step gate pattern to eliminate miss shifting, while leather shift knob improves look and feel on Elite and Highlander trims.
Like the i30, i30cw, Santa Fe R-series and iLoad, the suspension of ix35, has been developed and optimised for Australia's unique road conditions.
The ix35's front suspension has a 25mm hollow stabiliser bar to save weight. The rear suspension has an 18mm solid stabiliser bar.
Active aerodynamics are realised through intelligent windshield design, integrated rear spoiler, engine undercover and wheel deflectors.