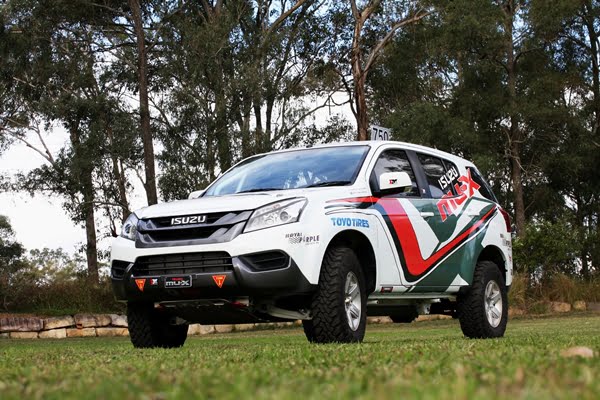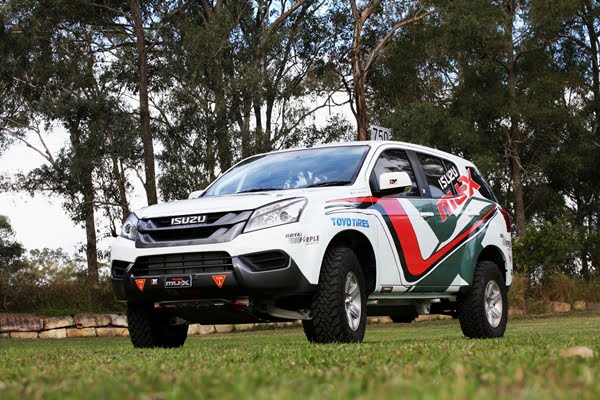 Australian off-road rally legend Bruce Garland and his Isuzu Motorsports team will debut a brand new rally-spec Isuzu MU-X at the 39th running of the Tatts Finke Desert Race in Alice Springs this weekend.
Based on the award winning 7-seat SUV of the same name, the Isuzu Motorsports prepared MU-X will be competing in Class 7 – Production 4WD (diesel – not exceeding 7200cc) in its first step towards competing at Dakar 2015.
"In the late '90's and early 2000's Harry and I had a very successful run in the Isuzu-powered Jackaroo – so to be back in a wagon – sorry, SUV – revives plenty of good memories," Isuzu Motorsports' Bruce Garland said.
"In recent times we've pushed the D-MAX to its limits in events like Finke, Safari and Dakar so with the arrival of the new MU-X it was only natural we give it the same treatment … and because it's a new rig, Finke is instrumental in testing set-ups for Safari later this year – and hopefully Dakar next year," he added.
The race-bred Isuzu MU-X is the first new 4WD wagon/SUV to compete in the Australian Off Road Championship in recent years.
"Our 3.0L turbo diesel engine build is stock-standard but tuned to a similar calibration we ran in last year's Dakar, giving us in the vicinity of 195kW and 600Nm – which is about 95% of its limit … you can see where these Isuzu engines get their reliability reputation from when you consider the road-going version in the showroom cruises around at 130kW," Garland said.
Backed by Isuzu UTE Australia (IUA), Garland's team is an integral part of the brands marketing push in the ultra-competitive 1-tonne ute and SUV markets.
"It's important for IUA to be able to prove their product's reliability and durability claims – and the best way to do that is test it in these sorts of events … the D-MAX has taken punishment in its stride, this weekend it's the MU-X's turn!" Garland excitedly beamed.
Joining Garland in #750 Isuzu Motorsports MU-X will be Channel 7's Sunrise weatherman James Tobin who will navigate the first leg of the Tatts Finke Desert Race. Garland's regular navigator Harry Suzuki will take over for the return leg back to the finish line in Alice Springs.
The Tatts Finke Desert Race is the second round of the Australian Off Road Championship, and will be held this long weekend near Alice Springs, Northern Territory. Prologue begins on Saturday, with the two-day 460km race held on Sunday and Monday.