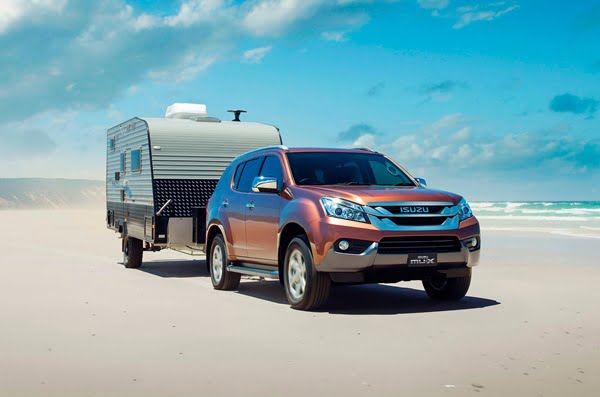 Isuzu UTE Australia (IUA) has been a quiet achiever in Australia. After years of selling here under other brands and model names (remember the Jackaroo and the Rodeo), Isuzu established their own brand for the D Max Ute and later the MUX in 2008.
The brand itself celebrates its 100 years anniversary this year so it is fitting that the Australian arm should celebrate this milestone with another significant milestone. In April 2017 the brand passed the cumulative 100,000 sales of its robust D Max and Ute based 4WD wagon the MUX.
After a slow start where it took two-and-a-half years for the first 10,000 Isuzu UTE vehicles to be sold after its introduction in 2008, the rise has been rapid with double digit growth each year. As an example of the growing popularity the most recent 10,000 Isuzu vehicles sold took just less than 6 months to achieve.
That level of success is put into perspective when you consider that for a good number of years there was only one model in the line-up, the D MAX and now Isuzu Ute has only two models, the D MAX and the MUX.
In unison with its rapid sales growth, IUA's dealership network has also expanded – from an original 39 dealers in 2008 to a group of over 130 outlets across the country today – with plans afoot for further strategic growth.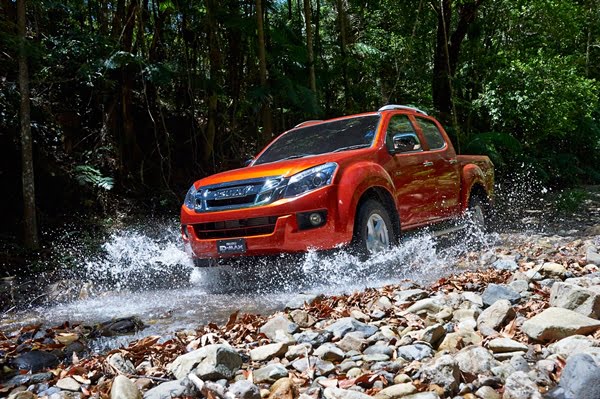 "Since launch, our products have been endorsed with awards both here and internationally leaving no doubt they are capable performers – and this is backed by the positive feedback we receive from both our private and fleet customers who put our vehicles to the test in some very extreme conditions day-in, day-out," IUA's Managing Director & CEO Yasu Takeuchi said.
"Our exceptional customer satisfaction results reflect our philosophy to deliver customers honest, reliable products that are not only fit for purpose, but exceed our customer's expectations," he added.
IUA has had its excellent product reliability and after-sales service claims validated in the recent Roy Morgan Customer Satisfaction Awards, which placed IUA second behind eventual winner Lexus in its 2016 Car Manufacturer of the Year.  IUA was the only other manufacturer outside of Lexus to score individual monthly wins in the awards.
"While our brilliant products lie at the core of our success, the quality of our marketing, sales and dealership service, as well as our after-sales care complete the positive customer experience that people expect when making a significant investment in a brand.
"I believe that if we can continue to deliver on our promises and respect the trust of our customers, our brand will continue to grow from strength to strength," Mr. Takeuchi said.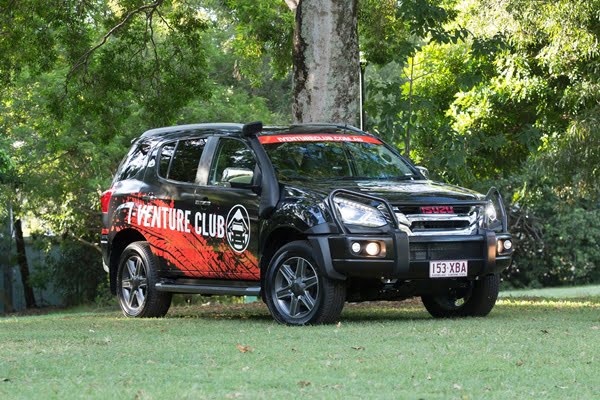 Isuzu also has the very clever, successful and well developed I VENTURE club program where owners are part of a true 4WD club with training days, events and tours.  This fosters brand loyalty and as has been experienced, many repeat sales.
Isuzu UTE in Australia – Road to 100,000 sales
2008 – 273 annual sales.
THE ISUZU D-MAX IS LAUNCHED IN AUSTRALIA
IUA launches locally with the internationally branded D-MAX, taking on the ultra-competitive 1-tonne ute market with a powerful and efficient 3.0L common-rail turbo diesel engine. IUA opens with 39 dealerships in its first year.
2009 – 3,566 annual sales.
The IUA-backed Isuzu D-MAX of Sydney's Bruce Garland finishes the 2009 Dakar Rally as the top-placed diesel ute, 11th place outright and first T1/2 Amateur in the 177-starter class.
2010 – 5,114 annual sales.
A STYLISH UPDATE STRENGTHENS THE AUSTRALIAN RANGE
The new-look Isuzu D-MAX is launched to the demanding Australian market, continuing the tradition of Isuzu UTE's tough, stylish and economical vehicle line-up.
2011 – 6,397 annual sales, 15,000 cumulative sales.
LEGENDARY FUEL ECONOMY PROVEN IN TEST
Bruce Garland and Harry Suzuki drive 3,452km from Melbourne to Cairns in an Isuzu D-MAX using just 189.67 litres of diesel to average 5.49 litres/100km in IUA's annual MAX RUN CHALLENGE fuel economy competition. Their refuels, odometer readings and load were verified and security-sealed on-site by RACV, NRMA and RACQ representatives.
2012 – 7,782 annual sales, 20,000 cumulative sales.
The dawn of a new era for Isuzu D-MAX. Retaining an exclusive 3.0L engine, the totally new D-MAX landed in Australia and brought with it new levels of power, comfort and safety.
2013 – 10,209 annual sales, 30,000 cumulative sales.
FIVE-YEAR WARRANTY CONFIDENCE
IUA introduces a five-year warranty with five years Roadside Assistance for all new vehicles – a testament to the immense confidence in the reliability, strength and durability of our engineering.
Eagerly anticipated for years, Isuzu brings back a serious 7-seat SUV that offers a balanced combination of performance, comfort, style and off-road ability. Sales commenced in Australia in December 2013.
Australia's leading precision driving team makes the switch to the Isuzu D-MAX and begins to wow crowds across the country with their daredevil performances that test the strength and capability of the D-MAX.
2014 – 16,674 annual sales, 50,000 cumulative sales.
5 STAR ANCAP & 3.5 TONNE TOWING INTRODUCED
IUA records the sale of its 50,000th vehicle since entering the Australian market in late-2008. IUA's accelerated growth in 2014 was in part helped by the introduction of the MU-X, as well as stronger fleet sales performance which was buoyed by the introduction of an ANCAP 5-Star safety rating and improved 3.5 tonne towing capacity on specific D-MAX models.
GRASSROOTS SPORTS SPONSORSHIP PROGRAM LAUNCHED
IUA's Local Sports Sponsorship Fund is launched, and in the coming years delivers over $1,000,000 of funding into junior community sporting teams and clubs around Australia.
2015 – 20,984 annual sales, 70,000 cumulative sales.
'GO YOUR OWN WAY' RE-BRAND INTRODUCED
The GO YOUR OWN WAY marketing platform is developed to reflect the spirit of Isuzu UTE Australia, its dealer network, its staff and its customers. The GO YOUR OWN WAY brand tagline is reflective of the new brand direction, which features the iconic song GO YOUR OWN WAY, covered by the Australian rock band Kingswood.
DEALERSHIP NETWORK GROWS TO 100 OUTLETS
The continual expansion of Isuzu UTE's dealership network reaches 100 dealers nationally. Additions to IUA's dealership footprint include a combination of high-profile metropolitan and regional locations along with several rural outlets designed to service and support IUA's growing mining fleet customers.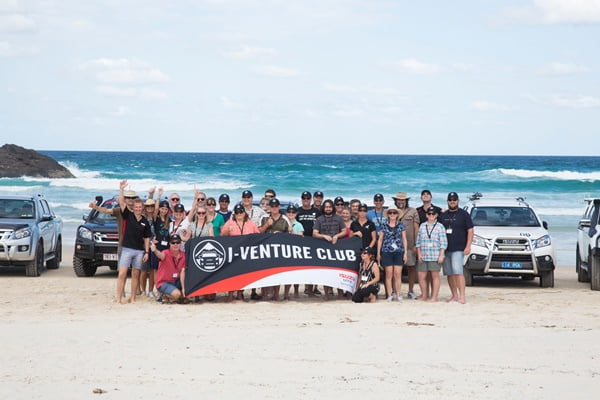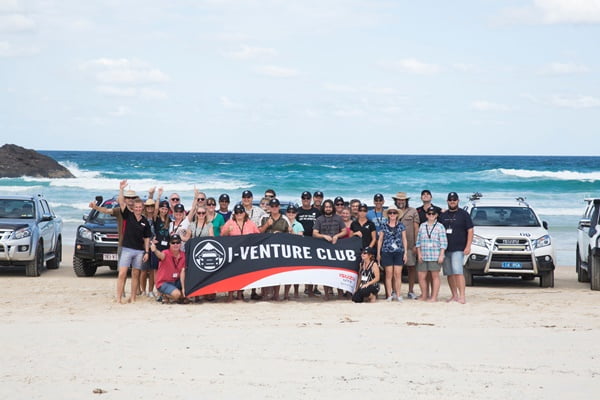 IUA INTRODUCES THE I-VENTURE CLUB
A new initiative to help their owners to get the most out of their Isuzu vehicle in a safe and structured environment under expert tutelage – The I-VENTURE CLUB quickly becomes a hit with Isuzu owners, offering them the opportunity to join excursions to some of Australia's most breathtaking — and challenging — off-road destinations.
2016 – 23,377 annual sales, 90,000 cumulative sales.
90,000 SALES IN AUSTRALIA
Following strong EOFY sales in June, IUA reaches a milestone of 90,000 vehicle sales in the Australian market since launch in 2008. MU-X cements its place as the top-selling ute-based SUV.
PROVEN CLASS LEADING CUSTOMER SATISFACTION
IUA validates its product, sales and service strengths, placing second behind Lexus in Roy Morgan's annual Customer Satisfaction Awards for the second year running.
2017 – 100,000 cumulative sales.
In Isuzu's centenary year, and in a world first for Isuzu, the 17MY Isuzu D-MAX & MU-X launches with a Euro5 emission compliant drivetrain developed exclusively for Australia. With the upgraded 3.0L turbo diesel engine producing 430Nm of torque and with new 6-speed automatic & manual transmissions, the new D-MAX & MU-X is designed to impress in the demanding Australian market and ensure continued sales success.