A Base for All Outdoor Pursuits. The RV that keeps pace with your imagination. For adrenaline junkies, motorbike riders or action-loving individuals who need their transportation space, weekends will never be better – now that the new and improved Base Station from Jayco has been released.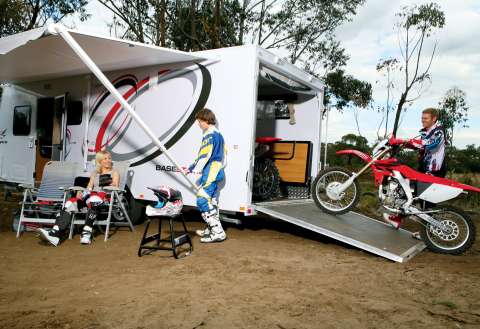 A proud member of the Jayco range, this addition offers both the trademark comforts of an RV and the vast storage space of a trailer, where you can pack the essentials vital to expanding your holiday experience. So much room in fact, a Base Station owner need never leave their mountain bike, jet-ski or even their Harley Davidson at home again. It's so good that Gary Reid from the Crusty Demons has one!
Jayco Marketing Director, Andrew Ryan, said that the new model Base Station is the ultimate merging of function and design.
"We've really gone all out on this one, from the superior strength of our millennium chassis to the custom designed Eurostyle furniture. The attention to detail is evident inside and out.
"The updated and innovative design adds a fresh contemporary feel, and is now even easier to set up," said Andrew.
"But what it's really about is combining two things that Aussies love – the freedom of travel and our love of being active."
The Base Station's unique design allows it to comfortably sleep up to eight people, with the front caravan compartment boasting a retractable double bed and of course a fully functional bathroom, dedicated kitchen and dining areas.
Its rear end is also packed with features; the built-in garage houses up to two bunk beds, a mechanics rack and of course your chosen leisure activity. An internal door links the two compartments and the fold-down garage ramp can be converted into a deck for summer entertaining.
Adventurer extraordinaire, Gary Reid – director of ShowTime FMX, TV host for the Australian Super X Series and announcer for the world famous Crusty Demons – is a proud owner of a Base Station.
His team has used the Base Station to tour Brisbane, Sydney, Melbourne, Adelaide, Deniliquin, Bathurst and everywhere in between.
"We love everything about the Base Station. Having the unit available at our events as a spot to hang out, have a rest and store our bikes is ideal," said Gary.
"When we travelled to the Bathurst 1000, we had four of our team staying in the unit, and they thought it was awesome.
"It's great to have a ready-made unit that we can live in and use to transport our equipment around the country. We've carried everything in our Base Station – from our golf cart, to our jet ski, four dirt bikes, some road bikes, and one time even two custom choppers," concluded Gary.
Other Base Station improvements include:
•A new hard lid over the bed end for increased protection, keeping the bed cooler
•Increased ventilation
•A new stylish interior providing an oasis of comfort after a long day of outdoor pursuits.
Top quality Enduro© foam is used in all of the RV's interior cushioning, ensuring a great night's sleep. A built in microwave, fridge, range-hood and grill allow you to enjoy home cooked meals on the road.
Built from solid foundations, the Base Station's millennium chassis is strong and lightweight. The frame of the RV features galvanised plating to support the internal furniture fittings, and the outer fibreglass skin is 150 percent thicker than standard aluminium.
As with all of Jayco's products, the level of customisation in the RV is second to none. With added extras including a 19" LCD television, DVD player, and MP3 stereo – there's no reason to be bored on a rainy day if you have to stay indoors.