It seems that more families than ever before are choosing an RV holiday. As the credit crunch bites, it is unsurprising that few people want to give up their annual vacation despite feeling the economic pinch. Caravan getaways are great value – a spontaneous and fun holiday choice, perfect for keeping the kids happy with an ever-changing landscape and places to explore.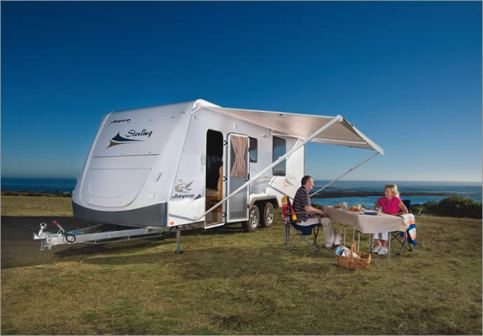 Jayco has responded to the demand of RV holiday enthusiasts across the country, by bringing the Starcraft Caravan and Pop Top to their range of luxury Jayco RVs. The Starcraft is perfect for the cost conscious buyer who appreciates all the qualities synonymous with Jayco.
"Our aim has always been to provide our customers with a range of options to meet varying budgets and requirements. At Jayco, we believe the Starcraft is a cost effective solution that will exceed market expectations as the price point is incredibly competitive. Affordability is very important, particularly in tough economic times such as these," said Jayco Marketing Manager, Andrew Ryan.
"The price point is so competitive that buyers looking at a second hand caravan will see the Starcraft as a financially viable alternative. The Starcraft comes with the added assurance of the Jayco warranty and support services, a luxury not afforded with a second hand van purchase," Andrew continued.
The Starcraft has been designed in five versatile layouts and the Pop Top has two alternative floor plans. The highly impressive external features of this van include a galvanised chassis, 14 inch alloy wheels, 12V annexe light, front pebble guard, stone shield, insulated roof and walls, external mains pressure tap and a choice of one or two 82 litre water tank, just to name a few.
Internal features include solid timber doors, aluminium corner furniture, lift up beds to maximise space with orthopaedic slats and Inner spring mattresses, flushing stainless steel sink with cover, microwave, rubber backed curtains & ties, designer box pelmets, splashbacks, domestic 3-way fridge, SMEV 4 burner gas grill with one 240v element, 12v ignition & flame failure device.
Jayco has developed the Starcraft model with a cladded aluminium frame, a product widely used by other RV producers which is less expensive to manufacture comparatively to Jayco's vacuum bonded fibreglass and aluminium frame.
The Starcraft is a perfect solution for those holiday makers who don't have a large budget but love the idea of a self-drive holiday around our sunburnt country.
For further information please visit www.jayco.com.au or contact your nearest Jayco Dealer