With an array of new design and safety features inside and out, the 2010 Sterling range provides an even better luxury RV travel experience for those who put comfort and style above all else.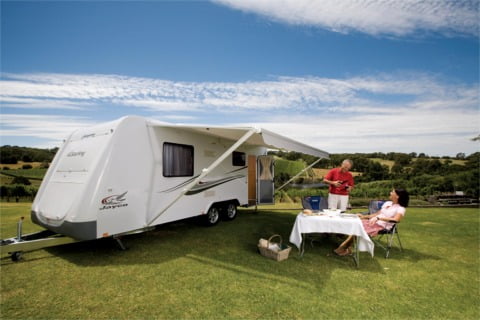 Updated with an impressive interior, including refreshed upholstery and refined finishes, the new design symbolises comfortable and easy living.
The combination of easy-to-clean vinyl flooring and full-height kitchen splashbacks ensures the interior is as practical as it is stylish, making it a perfect place to entertain family and friends.
The current range of options, such as leather upholstery and a selection of bench top finishes, allow travellers to add a personal touch to their home away from home. The modernised design also conveniently increases living space with an optional electric slide-out bed and lounge.
Standard features of the new Sterling range include a 22″ HD LCD television, a four burner SMEV gas griller/oven, air conditioner and water filtration system.
The exterior has been given a facelift too, with a new sleek front and rear design, as well as improved LED rear lights for enhanced safety.
Jayco Marketing Director, Andrew Ryan, said that the 2010 Sterling Caravan's superior styling and innovation make it Jayco's most sophisticated caravan yet.
"Developed in Jayco's state-of-the art manufacturing facility, the Jayco Sterling is engineered with comfort in mind. The 2010 Sterling really is 'Five Star' accommodation on wheels," Mr Ryan said.
"The only thing missing is room service."
The 2010 Sterling is available at all Jayco dealers across Australia and New Zealand