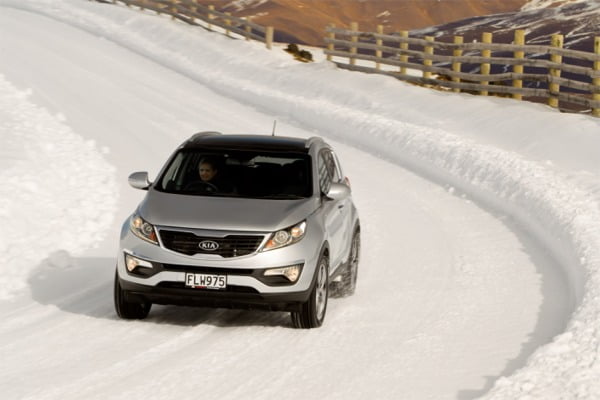 Kia has launched the new Sportage into the crowded AWD SUV market. The all-new Kia Sportage however is set to shake the AWD SUV market with its good looks and performance.
What are we Testing?
Kia has launched an all-new Sportage, which comes in three trim levels, a choice of three engines and two transmissions. Prices range from $25,990 – $38,990 MLP
What's it's Purpose
Kia moves upmarket with its AWD Family SUV and challenges the market segment.
What's Good & Not so Good
What is Good?
6 Speed Auto 2.0L 'R' Diesel combinations
Stylish good looks
'Australian Tuned' handling
What is not so Good?
No Bluetooth
Visibility through 'C' pillar atrocious
No reach adjustment for Steering
Drive Notes
Outside
The Sportage is a good-looking SUV, with almost 'coupe' like lines. Many of the new Sportage's external design features – the rakish windscreen angle, the radically angled C-pillar and the signature sculpting of the car's flanks, were first hinted at in the Kue concept car, star of the 2007 Detroit Motor Show.
"It's crucial that we draw real design inspiration from our concept and showcars, like the Kue, and inject that motivation into our production cars," says Schreyer. "The new Sportage is clear proof of that.
Schreyer's plan is to transform the public perception of Kia all around the world. "I want to give Kia global appeal, and I want that appeal to be about design above all else. The new Sportage is a major step towards achieving that goal."
The Kia Sportage is 4440 mm long, 1855 mm wide and 1635 mm high and has a wheelbase of 2640 mm. Wheels are either 17″ alloy wheels with 225/60 R17 tyres or 18" alloy wheels with 235/55 R18 tyres. All models have a full size spare.
Inside, Comfort & Features
Jump in any of the three trim levels and you notice that the seats are comfortable, more the higher the trim level, there is adequate seat travel and a general feeling of space surrounds the driver. In front of you there is the now familiar thick-rimmed four-spoke steering wheel and the 'three-cylinder' instrument cluster, which have clear and precise graphics.
Storage space within the cabin includes the larger glovebox (with cooling function standard in the Platinum), a larger 6.0-litre centre console (up from 3.0-litres), and four door pockets. Two large cup-holders are located between the gear selector and the centre console, while the folding centre armrest in the rear seat has twin cup-holders.
The new Kia Sportage comes in three trim levels
The Si is the 'entry level' comes with the combination of 2.0L Theta II petrol (122kW / 197Nm) and 5-spd manual / 6-spd automatic and is exclusively 2WD.
Features include 17" alloy wheels (225/60R17) with full-size spare, body coloured door handles & mirrors, metallic silver painted 'Schreyer' grille, electric mirrors with side indicators, front fog lamps, LED-look rear combinations lamps, steering wheel mounted audio remote, height adjustable driver's seat, 60:40 split folding rear seats, rear armrest with dual cup holders, rear seatback folding straps, flat woven cloth seat, 6 airbags (w. rollover sens) & Active front headrests, ESP with ABS, DBC, HAC, keyless entry with burglar alarm, CD player (USB/iPod) / 6 speakers, auto cruise control, manual air-conditioner.
The SLi is the next trim level and comes with a choice of either the 2.4L Theta II petrol (130kW / 227Nm) or the 2.0L R diesel (135kW / 392Nm). Both these engines combine with the excellent 6-speed automatic transmission and the new AWD (Dynamax system)
Features over the Si model include chrome door handles, chrome 'Schreyer' grille & belt line moulding, roof rails, rear spoiler, leather-wrapped s/wheel & shift knob, artificial leather covered door trim, rear view camera with in-mirror display, driver window auto up & down with safety function, auto light control (dusk sensors), 6-function trip computer, sunvisors with illumination and extension, dual zone full automatic climate control, electric driver's seat lumbar support, tricot cloth seat.
The top of the range Platinum comes with a choice of either the 2.4L Theta II petrol (130kW / 227Nm) or 2.0L R diesel (135kW / 392Nm) combined with the 6-speed automatic transmission and the AWD (Dynamax).
Features over the SLi model Include 18" alloy wheels (235/55R18) with full-size spare, privacy glass, LED type daytime running light (DRL), power driver's seat (8 way), ventilated driver's seat, front seat warmers, leather seats, 6CD changer with external amplifier & sub-woofer, panoramic sunroof, smart key with button start, windshield wipers with rain sensor, cooling glove box, luggage net and back warning sensors.
Cargo capacity is among the best in class and ranges from 740 litres (SAE method) with the rear seats occupied to 1547 litres with the rear seats folded down
Safety
Kia is keeping to its philosophy of attaining a 5 star ANCAP safety rating and the results will be out later this year.
The entire Sportage range comes standard with the customary long list of safety features including ESC (electronic stability control), HAC (Hillstart Assist Control), which prevents slipping backwards, and DBC (Downhill Brake Control) which limits vehicle speed to just 8 kph on steep descents. Driver & front passenger SRS airbags, Front side SRS airbags (pelvis & thorax protection) and Curtain SRS airbags (head & upper torso protection)
As an added safety feature the new Sportage is the first of several vehicles destined to feature Magna Powertrain's innovative, continuous and fully active AWD coupling system called Dynamax.
Performance. Engine, Transmission & Suspension etc
The Sportage comes with a choice of a 2.4-litre and 2.0-litre 'Theta' engine, plus a 2.0-litre version of Kia's all-new 'R' family diesel engine.
The 2.0-litre Theta II engine, will appear in a 2WD, Si spec and will be available in either a 5-speed manual or 6-speed automatic. The 2.0-litre Theta II is technically similar to its larger sibling, has a 1998cc capacity and produces maximum power of 122kW, with 197Nm of peak torque at 4600 rpm. Performance is strong with 100kph achieved in 10.4 seconds (manual) and 10.6 seconds (automatic) and a top speed of 184kph.
The 2.4-litre Theta II engine, will feature in the SLi and Platinum grades in AWD, matched to Kia's 6-speed automatic transmission. This combination is capable of accelerating to 100kph in 10 seconds and reaching a top speed of 188kph. Maximum rpm is 6000rpm, and maximum power output is 130kW, with 227Nm of peak torque at 4000rpm.
The 2.0-litre version of Kia's next-generation 'R' family diesel engine is now available in new Sportage in SLi and Platinum models only The 'R2.0' engine generates a highly competitive maximum power of 135kW (at 4000 rpm) and 393Nm of torque from just 1800rpm. When fitted with the R2.0 diesel, new Sportage with the automatic transmission reaches 100kph from standstill in 9.6 seconds.
The suspension and handling has been Optimised locally for a unique Australian Market. The reason is that when comparing Kia markets around the world and in particular speed limits and road conditions, Australia is unique. The development of a compact SUV with ride quality, responsive steering and dynamics that satisfied the type of quality demanded by Australian vehicle buyers was a challenge the Kia Australia dynamic (ride and handling) team, including Product Development Specialist Graeme Gambold, spent five months resolving.
The process began with a commitment to Kia Motors Australia from KMC to better match the dynamics of all future Australian bound models to local tastes and conditions. There is a premium that Australian drivers place on the balance of comfort and sportiness for this country's unique roads, The most significant step in the process occurred in early May when KMC engineers participated in a comprehensive local analysis designed to highlight a mismatch between the evaluation vehicle and typical Australian roads and conditions.
The four-day trial through two states and one territory covered more than 1700 kilometres of metropolitan, suburban and country roads. Surfaces ranged from smooth freeway to negotiating the rally proven 'mineshaft' at the foot of the Brindabella Ranges near Canberra. The end result is an all new Sportage with a focus on ride quality whilst also maintaining C-SUV agility and dynamics designed to meet the demands of the discerning Australian driver.
Off Road & Towing
Unfortunately the new Sportage continues the trend from robust 4WD vehicle to soft road AWD vehicles. With a reduced ground clearance of only 172mm, longer overhangs etc the Sportage is limited to forest roads, hard packed sand and dirt trails. If you take it too far off road the end result will not be pretty.
Having said that though it handles itself pretty well on dirt with a couple of tracks thrown in the launch. One particular track was the hill climb that features in the Race to the Sky hillclimb in Central Otago. Without pushing the car to dangerous limits we drove the hill with gusto and only on a couple of occasions did the traction control kick in. The Sportage was relatively surefooted and handled the bumps with ease.
The new Sportage is the first of several vehicles destined to feature Magna Powertrain's innovative, continuous and fully active AWD coupling system called Dynamax.
Dynamax continuously monitors driving conditions keeping the AWD system in a ready state for faster reaction to a change in surface or conditions. Dynamax's intelligent control unit continuously analyses data from the vehicle controller, and through a multi-plate clutch, the coupling system is fully controllable via an electro-hydraulic actuation system. This Dynamax system behaviour is completely transparent to the driver.
Maximum efficiency is achieved through intelligent control electronics, which provide the ideal amount of torque and traction for each and every driving situation. As a result lower fuel consumption and reduced CO2 emissions are achieved. All electronic components are optimally sized for minimal energy usage.
The Sportage will tow a healthy 1600Kg braked with a tow ball weight of 200kg which makes it ideal for towing mid range campers and caravans etc. In fact the diesel makes a perfect mid sized tow vehicle. Many people would be better off with one of these than a bigger 4WD.
Off-road credentials for the new Sportage include a 172mm ground clearance, an approach angle of 28.1 degrees, a 28.2 degrees departure angle and a ramp-over angle of 17.7 degrees. For drivers interested in tackling more demanding terrain, the maximum climb angle is 44 degrees and the potential roll over limit angle is 45 degrees.
Summary
The Compact-SUV segment is one of the most competitive in the Australian market. In 2009 the 22 entrants accounted for 45 percent of total SUV sales. Kia sits firmly in the mix of that segment.
Kia has continued the renaissance that started with the Sorento and Cerato. The new family design has resulted in one of the better-looking AWD SUV's in its class. I really like the 'coupe' like styling and it looks even better in the flesh. Combined with a choice of engines, transmissions and models there is something for everyone.
You can definitely notice the 'Australian Tuning' of the suspension and handling is better than most of its competitors as a result. The pick for me is the Platinum 2.0L 'R' diesel with the 6-speed automatic. It has plenty of power, super economical, only a little noisy and heaps of features. I could give the 2.0L Petrol SI a miss, as it is noisy and underpowered, constantly looking for more.
There are a couple of annoying things though. The lack of bluetooth is atrocious, as is the lack of reach adjustable steering. The 'C' pillar can hide a semitrailer it is so big and with no sat nav option the ability to compete at the upper level of the market is limited. It is a pity as the handling and diesel engine can do so against the best of them.
Remember this is a soft road AWD SUV not a 4wd. That is both good and bad, however the advances Kia has made in refinement and design far outweigh any loss of off road ability. It is surprising just how versatile the Sportage is though and it should satisfy the adventurous nature of most buyers.
For its price range the all-new Sportage is a fantastic lifestyle SUV and Kia should and will sell heaps of them.
MyRV Ratings
Article Copyright © all rights reserved – Auto Alliance Group Pty. Ltd. 2010