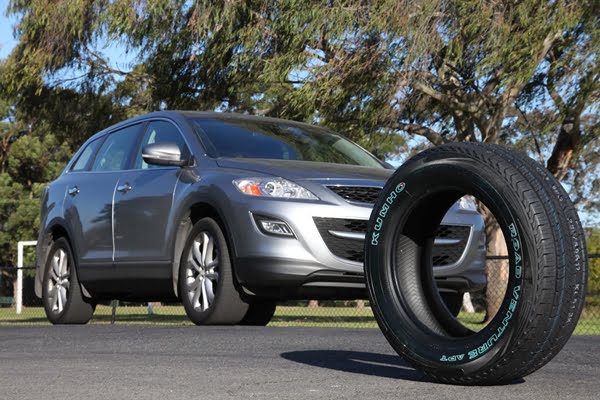 Leading tyre manufacturer Kumho has launched an innovative mileage guarantee on its top selling SUV and four wheel drive tyre.
Kumho is guaranteeing that its Roadventure KL51 range will last at least 80 000kilometres, or your money back on the lost kilometres.
According to Kumho Tyre Australia's national marketing and training manager, David Basha, the mileage guarantee provides customers with the confidence that Kumho is the best engineered and most durable tyre for their SUV.
"To promise 80 000 kilometres from tyres is a big claim but Kumho is so confident in the Roadventure KL51 we have done just that," said David Basha.
"Kumho is committed to providing the most durable tyres to the market and with the rapidly growing SUV market Kumho is delivering increased peace of mind to a increasing number of tyre customers.
"If a Roadventure KL51 does not meet the guaranteed mileage the customer will be refunded on the difference on a pro-rata basis.
"That is to say if 95 per cent of the guaranteed distance is achieved, five per cent of the original purchase price will be refunded."
To be eligible for the Kumho mileage guarantee, customers fill out a guarantee card in store and retain their original receipt along with the 'tyre service card.'
Then it's as simple as getting a tyre health check every 10 000km where your local Kumho dealer will inspect the tyre, check pressures, rotate the tyres and conduct a wheel alignment as needed to ensure the tyres wear evenly and fill in the service card.
"All motorists should inspect their tyres on a regular basis to get the optimum life from the tyre as well as rotating tyres so even wear is achieved," explained Mr Basha.
"Not only does proper tyre maintenance extend the life of the tyre, but it can also give savings at the petrol pump."
Since its inception in 1960, Kumho Tyres has been a model of steady growth amid dramatic changes of business landscape. Driven by innovation in management and technical development Kumho has become one of the top ten tyre companies in the world.
Over the past half-century Kumho Tyres has built the foundation for a sustainable company, which has thrived through a full range of business environments.
Kumho has succeeded in the development of superior tyres for all vehicles including high performance, passenger, sports utility and recreational vehicles, as well as light trucks, heavy truck and buses, industrial, agricultural, mining and construction vehicles as well as aircraft.
Kumho produces more than 68 million tyres annually with a massive research and development program which comprises more than 600 research personnel and 300 testing machines at proving grounds in South Korea, China, Europe and North America, Kumho leads the world with the latest in tyre technology, safety and performance. In Australia Kumho markets an extensive range of tyres for cars, 4WD's, light commercials, trucks and buses with a network centred around five state locations with the ability to distribute tyres to retailers across all areas of Australia.