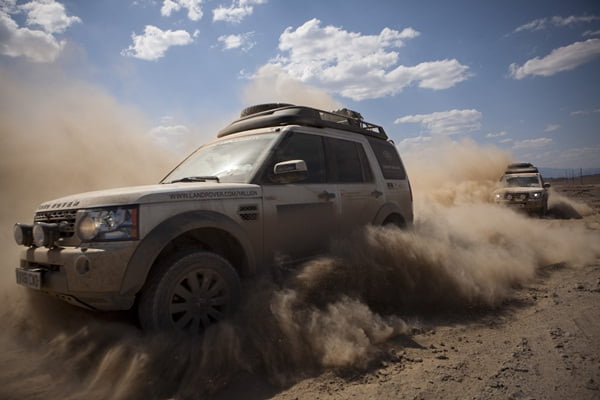 In the middle of the Taklimakan Desert, deep in China's wild west, the Land Rover Journey of Discovery meets up with a unique group of sand racers to experience what they claim is one of the world's finest off-road driving destinations¦
Parked beneath a towering dune on the arid fringes of an otherworldly desert landscape, our vehicles sit dusted in sand, baking in the hot sun after two hours of high-adrenaline adventure. If they could smile, they'd be beaming from wing to wing.
This is the sprawling Kumtag Desert Park, a hidden gem of off-road terrain sitting on the edge of the town of Shanshan. It may be in China, but it's as far apart from the urban hubs of Beijing and Shanghai as it is far away.
In all, the Taklimakan Desert in which it sits has an area of 337,000 sq km and is the world's second largest shifting sand desert, with about 85% of it consisting of constantly moving sand dunes. Two branches of the Silk Road cross it at its northern and southern edges, and we are on the upper one.
For the Xinjiang Extreme Rallying Society, a club with about 200 petrol-head members from across the province, this is the recreational stomping ground of choice. According to the group's stocky and friendly leader – who when asked his name insisted "just call me The General" – the Taklimakan is increasingly seen as one of the world's finest off-road driving locations.
The annual Taklimakan Desert Auto Rally Race – China's version of the Dakar – has taken place every September since 2005. Its growing field now attracts around 150 cars each year and in 2011 the cheerily named 'Beijing Cool Car Time Team' was triumphant.
"It's a seriously tough competition," said The General, explaining that the rally takes in terrains ranging from ancient glacier landforms, wind-carved 'yadan' canyons, dried-up salt lakes, riverbeds, bare-rock mountains, grasslands and dunes. "The temperature at 7am is quite comfortable at around 20 degrees Celsius, but by about 2pm the sand temperature can rise to over 70 degrees Celsius. That's pretty tough conditions to compete in – how about we show you around."
After driving more than 6,000 miles on the 'Journey of Discovery' to reach this remote Chinese location we had taken on all types of terrain, from the city streets and smooth motorways of Europe to the punishing rutted roads of Uzbekistan; we'd encountered snow and ice in the Alps, intense rain and storms in Tashkent and relentless sunshine in the remote deserts of 'the Stans'.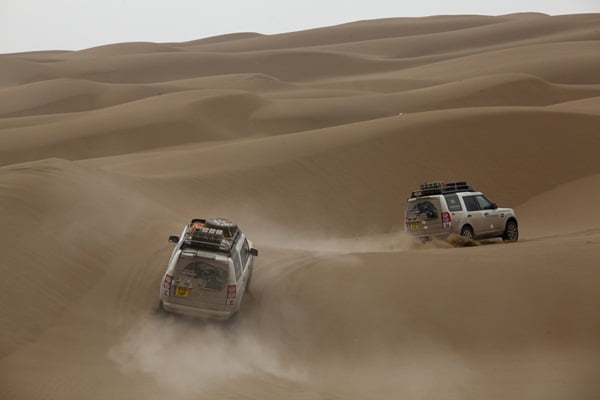 So, with a sand playground laid out in front of us, the offer was hard to decline.
The Discoverys hit the dunes with gusto, and enjoyed a few hours of thrills, trailing through the dunes led by The General and his adventurous accomplices.
Visions of the classic Dakar desert scape were around every corner as the all-terrain technology on the Land Rover Discoverys kicked in to get us over the shifting hills and around the steep sided sand cliffs that looked a little too ominous even for us to try.
Once off the road, this is a place where all compass points lead to the same drifting yellow landscape and every bit of the group's expert knowledge of the area was essential to avoid getting lost in this unique location. But there was no avoiding getting stuck.
It is claimed that Taklimakan, in the traditional native Uigur language, means 'place you can get into it but can never get out' – and as one of our vehicles became lodged in the sand, that claim, for a brief moment, appeared highly appropriate.
Laden with essential heavy tools and spares to help take us on our long journey, it was unsurprising that all this weight on soft shifting sand would eventually bring us to a halt. But then, rallying was never for the faint of heart.
With educated drivers, classic off-road techniques and our trusty winches, we proved more than a match for the desert, and each time it tried to claim us we were more than capable of getting our Discoverys back on course.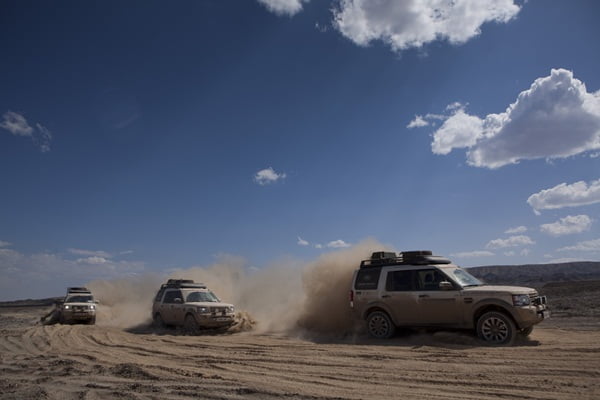 All too soon, though, the adventure was over. And as The General and his gang raced away throwing up a thick dust trail, it was gratifying to note the park's polite and poetic anti-littering signs at the foot of the dunes. "Wind Rushes by Noiselessly. Please Pass by Without a Trace."
In days, this notorious desert, which has devoured entire rock formations and is so desolate that it is inhospitable to man and most animals, will consume our trails as it continues its ever-changing journey. And as we continue ours, it's clear the memories of this great off-road adventure will never fade.
Follow us on our journey and please help us reach our target.
Find out more at www.landrover.com/million
http://www.facebook.com/landrover